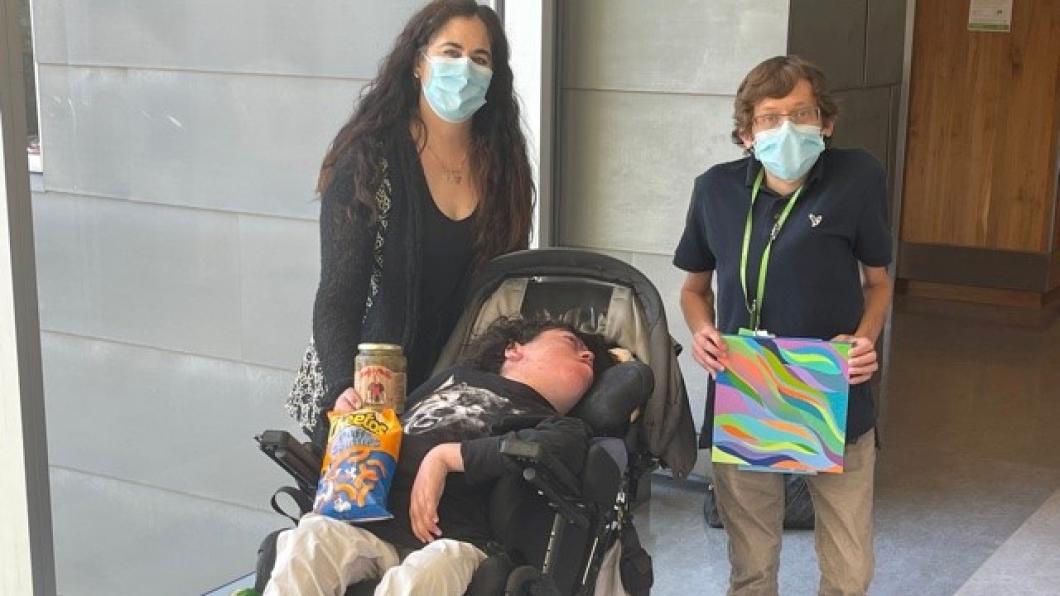 Brendan Prince awarded inaugural Jake's Award for Amazing Healthcare Providers
Launched in April 2021, Jake's Award honours and celebrates health professionals at Holland Bloorview
In April 2021, Jake's Award for Amazing Health Care Providers, named for Jacob (Jake) Trossman, was launched to honour and celebrate the skillful, compassionate care that health professionals at Holland Bloorview provide each and every day. Read more about Jake's Award, eligibility and selection criteria here.

We are thrilled to celebrate Brendan Prince in recognition of being selected by Jake's family as the award's first winner.

Nominated by Lauren Kofsky on behalf of the Resource Team Bloorview School, Brendan is described as "the smartest guy here. He is really good at understanding kids' feelings." At every opportunity, Brendan's goes above and beyond to share his empathy and care. He has even created a cast using genuine casting materials for a client's stuffed animal to identically match the client's cast.

"It meant a great deal to Jacob and I to present Brendan with the inaugural Jake's Award. A lot of work went into the program design, winner selection and execution of the award," says Marcy White, Jake's mother. "My family (my husband, Jake, his twin sisters and I) all agreed that Brendan was very deserving of Jake's Award because the stories described in the nomination form illustrated several concrete examples of how Brendan made a client's situation a little bit easier. Sometimes small things can make a huge difference in someone's life and that merits recognition."

"I was completely surprised when I heard my name called as the recipient of the 2021 Jake's Award. I was also honoured and proud to receive such an amazing award. I'd like to thank all the different team members for their support and guidance," Brendan describes. "I have been working here at Holland Bloorview since September 2019. I love seeing the resiliency of the children and their different personalities, and I absolutely love working here. From day one, I have felt welcomed and comfortable. I'm proud to say I work in a hospital that supports those with differing abilities in the workplace."

This year's award was further made special by the unique art of J.J. Smolkin that was selected to represent Jake's Award. True to the spirit of the award, the bright, multi-coloured and highly-textured painting evokes a sense of creativity, positivity and joy.

"The idea behind the painting was to find a way to commemorate the diverse group of health care providers that work together daily to help better our community. Taking into account Jake's favourite colours, I intermingled them with various textures and shapes to highlight the individuals that work together to provide the outstanding service at Holland Bloorview Kids Rehabilitation Hospital," J.J. explains. "It was a tremendous honour to be part of this project and to have the opportunity to create the painting that will serve as Jake's Award."

We thank all who submitted nominations this year and look forward to the exceptional stories that will be shared next year.