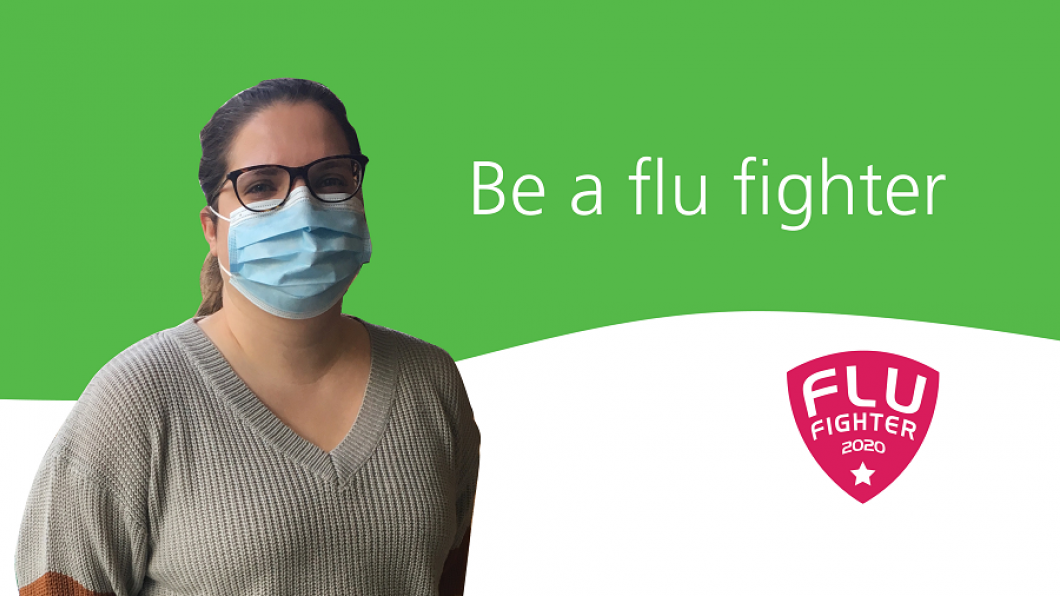 The benefits of getting a flu shot amidst the second wave of COVID-19
Kaley Carveth, Occupational Health Nurse at Holland Bloorview, urges Canadians to get a flu shot.
The truth of the hour is that the second wave of COVID-19 is here, and Canadians need to be brave and ready to flatten the curve yet again. Inevitably, the seasons of fall and winter are also when influenza or 'the flu' begins to resurface, and the best way to protect ourselves is to get the flu shot. Influenza and COVID-19 have common symptoms, and are highly likely to affect the elderly and people with weak immune systems.
With cases going up across Canada, we all have a part to play to reduce anxiety and pressures around these infections and protect ourselves, our families, and communities from facing what could now be called a 'twindemic.'
Kaley Carveth, Occupational Health Nurse at Holland Bloorview Kids Rehabilitation Hospital, indicates the pressing need to get a flu shot this year.
Q: Why is it important to get a flu shot?
KC: A flu shot is the best prevention against influenza. Influenza is one of the top 10 infectious diseases in Ontario and like with COVID-19, is more likely to impact vulnerable populations such as the elderly and those with underlying medical conditions.
Children, especially those with underlying medical conditions – like many of our clients - are at increased risk of developing flu-related complications, such as pneumonia. Every year we encourage all of our staff to get vaccinated and to make it easy for them, we provide it on-site.
Q: Why should one get a flu shot during the COVID-19 pandemic?
KC: Getting a flu shot reduces the risk of influenza and helps identify COVID-19 symptoms easily; it simultaneously helps reduce strain on healthcare facilities and valuable frontline workers. Influenza and COVID-19 share similar symptoms (i.e., cough, cold, fever, body ache, chills, etc.), so it will be challenging for health care providers to tell the difference. Getting a flu shot means health care providers may be able to better determine what illness their clients actually have.
I would like to also note that, while the flu and COVID-19 may look the similar, the flu shot does not minimize the risk of contracting COVID-19. Even after the flu shot, everyone should continue to protect themselves by masking, frequently washing or sanitizing their hands and physical distancing from people outside of their bubble.  
Q: In the other countries around the world lower rates of influenza cases are being reported due to physical distancing, masks, and sanitization measures. Does one still have to get a flu shot?
KC: Absolutely, influenza cases may have been low due to strict hygiene measures, physical distancing and self-isolation. Even so, it is crucial to be a step ahead and get a flu shot. It is safe and the most accessible prevention to getting the flu.
With case counts on the rise, we must do everything we can to avoid overburdening healthcare systems during the second wave of COVID-19. One less visit to the hospital can help reduce their backlog.
Q: Who should get the flu shot? Is it safe for babies, pregnant women and the elderly?
KC: The flu vaccine is safe for children above six months of age, pregnant women and the elderly. A flu shot can help protect the mother and baby from getting infected by the flu. Pregnant women should get a flu shot and not the nasal spray flu vaccine. Elders above the age of 65, must be administered with a higher dose of the flu shot. Be sure to consult with your primary care physician for instructions depending on your condition.
Q: Can someone experiencing COVID-19-like symptoms get a flu shot?
If you are experiencing COVID-19 symptoms (i.e. cough, difficulty breathing, temperature equal to or over 38°C, fever, chills, weakness, body aches, loss of smell or taste, headaches, gastrointestinal symptoms (abdominal pain, diarrhea, vomiting), etc), get a COVID-19 test first. Proceed with getting a flu shot only when you're sure of a negative COVID-19 result, do not have a fever and your symptoms are improving.
Q: Can someone who has recovered from COVID-19 get a flu shot? Is it safe?
If you have recently recovered from COVID-19, it is best to consult with your doctor before getting a flu shot.
Q: If one decides not to get a flu shot, or cannot due to medical reasons, how can they protect themselves?
KC: You must wear a mask, maintain physical distancing, sanitize often, eat healthy, get enough exercise, and maintain low stress levels. Your overall well-being must be a priority.
The Government of Ontario is investing millions of dollars for our safety. To learn more about the flu shot, including on where you can access one in your community, visit myflushot.ca. Do you part, be a flu fighter.
---
Flu vaccines available for clients and family caregivers
Every year, Holland Bloorview offers the annual flu vaccine (also referred to as the "flu shot") to all staff and inpatient clients. This year, we are happy to be able to also offer the vaccine to inpatient family caregivers.
Flu vaccine clinics for family caregivers will begin on Wednesday, October 21. Family caregivers interested in receiving their flu shot on-site must make an appointment through the Pick-a-Time platform. Flu vaccine clinics will be available Wednesday and Thursday for the first two weeks, and every Wednesday starting November 4 until the end of March, 2021.