Community Event
Print the page
Youth work experience participation programs: Information & application session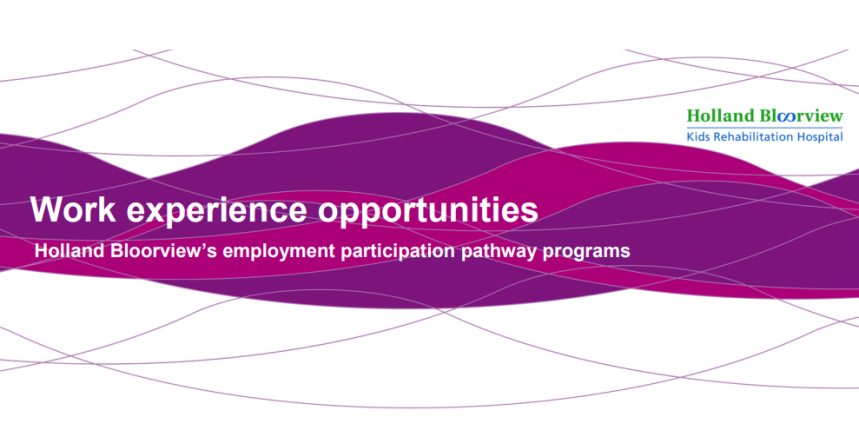 Many teens with disabilities want to participate in the world of work. High school students often start by doing chores, volunteering, taking co-op and getting part-time or summer jobs.
Do you have questions about how to get started or are you looking for support? Join us to learn more at one of our Information & Application Sessions.
Who's invited:
Youth
Living with a disability1 who want to start to build work experience
In high-school2 - grades 9, 10, 11 or 12
Have questions about how to start or are looking for support
And their parents/caregiver
Date options for our virtual session:
January 25 2022 4:00-5:30
OR
February 15 2022 4:30-6:00
You must attend one of the date options if you are new to our employment service. Application forms will be available at the session.
Youth and a parent (or other family member) must attend the Information Session together.
Session overview:
Why early work experience is important and how it helps – hear from Youth Mentors
What programs/services are available to support you 
Youth: See what our programs are like. Participate in a work experience activity and a team ice-breaker
Question & answer discussion
Brief personal consultation and application (if you wish to join our programs)
After attending this session and if you complete an application form, we will recommend programs or services to support you.
To register:
Please email our shared mailbox employmentparticipation@hollandbloorview.ca or call x3328
Holland Bloorview's work experience programs are:
Part of the Transitions, Recreation and Life Skills services at Holland Bloorview
Linked to our organization's strategy to support transitions to adult life
Supported by donations to the Holland Bloorview Kids Rehabilitation Hospital Foundation. 
Notes about eligibility:
Our programs are open to youth who are in high school and who have a physical and/or intellectual disability and/or an autism spectrum disorder. We also support youth who may have mental health challenges in addition to their physical or intellectual disability. During high school, if not already a client of Holland Bloorview, youth with disabilities listed above can join our experience programs
Past clients of Holland Bloorview who are now in post-secondary education may be eligible for some programs and/or consultation services. If you are an eligible post-secondary student with employment goals, please contact us to arrange an appointment.