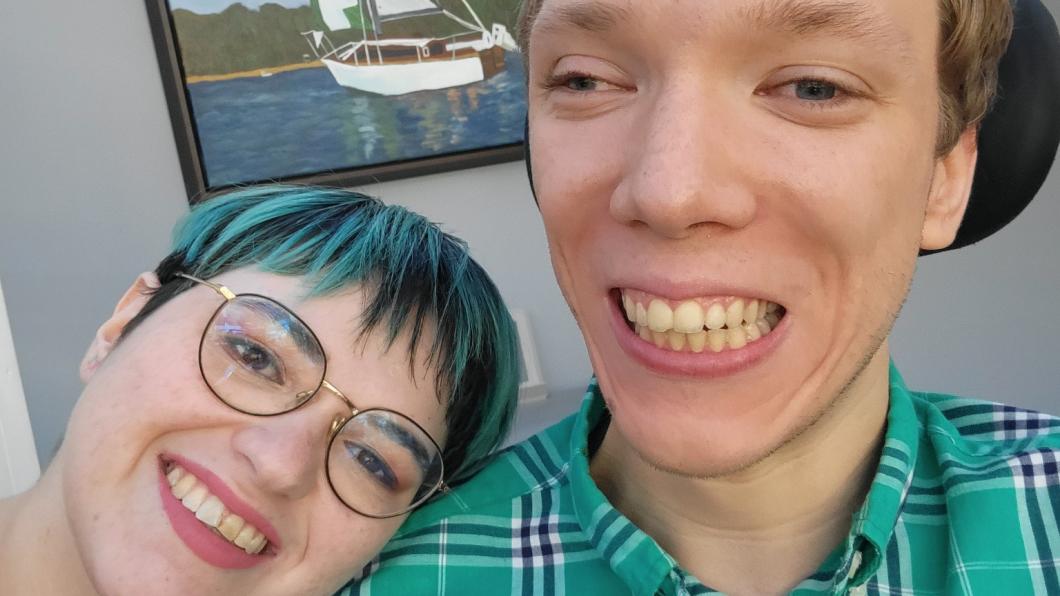 Website on disability and sex breaks taboos while it educates
Photo of Wesley Magee-Saxton with partner Katy Brown
By Louise Kinross
Let's Talk Disability and Sex is an online hub designed to spark conversations between teens with disabilities, parents, health workers and educators.
"Sexuality means to me that I am a human being just living my life with sexual feelings and with all the sexual experiences as everyone else," says Alex, a college student who is one of a number of young adults interviewed in videos on the Holland Bloorview website. "As a daughter of immigrant parents, one of my parents often made me feel like disabled people shouldn't have the same experiences or aren't worthy of having the same sexual experiences." 
A common myth is that disabled people don't have sexual needs, says Amy McPherson, the senior scientist at Holland Bloorview who developed the website with Christine Provvidenza, knowledge translation lead on our evidence-to-care team.
"People with disabilities may have more complex information needs, and yet are often assumed to not want that information, which is problematic," Amy says. "Young adults told us they want to talk about sex but it's awkward, and health professionals and parents say they don't know how to raise the topic."
The new website includes videos of young adults talking about what sexuality means to them; hand-outs on how to start conversations and which words to use; simulations of how clinicians can broach the topic; research papers; and resources from around the world.
Wesley Magee-Saxton (photo above right) is a 22-year-old actor and artist. They (Wesley uses they/them pronouns) use a wheelchair and did the video narration. They say they wished they had these resources earlier in life.
"I only realized I was queer and non-binary about two years ago," Wesley says. "What sparked the conversation for me was a gender studies performance course I took at York. Before that I wasn't aware of the flexibility of gender identity. When I was younger, my idea was that there was male, female and then a perfect half-way point between the two that was non-binary, and I knew that wasn't me. Only when I learned more through that course and at other talks at Holland Bloorview, did I go on to the questioning process and arise at: 'Maybe I'm more queer than I thought.'"
Wesley faced barriers to exploring their sexuality. "Because I'm an electric wheelchair user, my high school gave me the option to dial out of gym, where they do general sex education. They brought a public health nurse in to talk to us about sexual health, but those workshops were very lacklustre. It was as if the person giving the talk didn't know how to talk to people with disability about sex. I needed the regular education, but also education specific to my disability."
Media representations of disabled people are damaging, Wesley says. "People with disabilities are viewed as desexualized. They're either really cute, as in a puppy is cute, or we're repulsive to a lot of folks."
Stereotypes about disability and lack of education made it harder for Wesley to talk to their parents. "I'm grateful to be a part of the hub because it's a resource that lays everything out flat and deconstructs the taboos, and that will help parents too," Wesley says.
"We wanted to create a sex-positive approach," Amy says. "Most of what is written currently about sexuality and disability is about risk—it's about being assaulted or being taken advantage of. While this is important, we wanted to create the sense that it's all right for your kids to have sexual ideas, thoughts and desires. And it's also all right if they're asexual. Just don't make assumptions." 
The hub "doesn't get into the mechanics of sex," Amy says. "It's not sex education. It's about people with disabilities having the right to make choices about their sexuality." 
Wesley would like to see Holland Bloorview develop a resource on the practical side of sex for people with specific disabilities in the future. "An organization as respected as Holland Bloorview could provide accurate and safe information," Wesley says. "A lot of people don't expect people with mobility issues to want to have sex. It's only just now that I'm coming to terms with the fact that I'm allowed to have sexuality and be viewed as sexual and attractive. I have a wonderful partner and it's been an adventure."
A new book Amy and Christine are writing for pre-teens on disability and identity will discuss issues like how to masturbate when you have limited hand movement, or how to ask your parent or personal support worker to help you ask someone on a date. Another project is bringing disability and sexual health organizations across the country together to share resources and build knowledge. 
Like this story? Sign up for our monthly BLOOM e-letter. You'll get family stories and expert advice on parenting children with disabilities; interviews with activists, clinicians and researchers; and disability news.