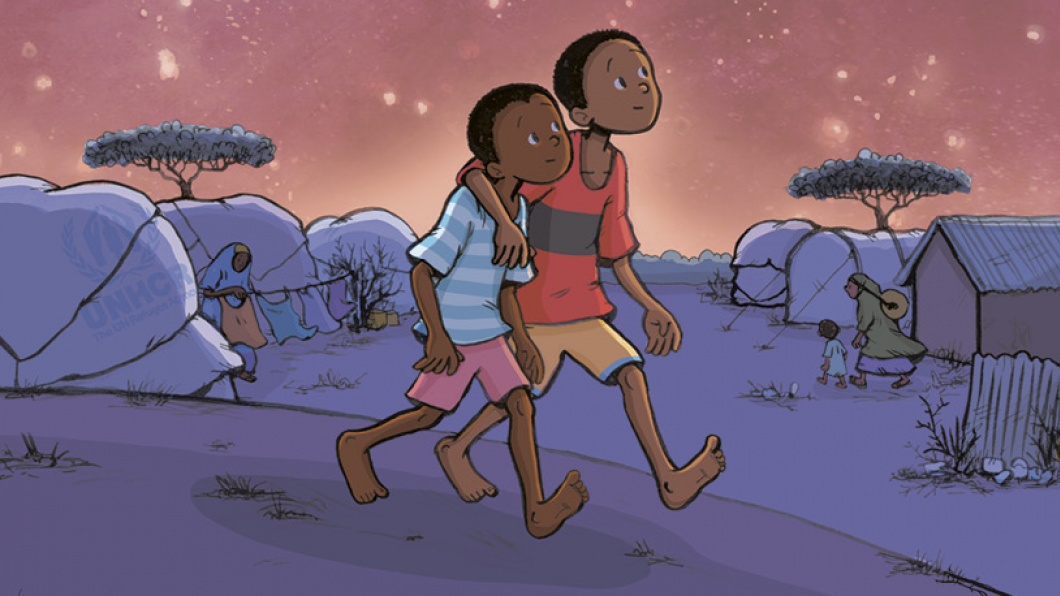 A tale of brothers, disability and dreams in a refugee camp
By Louise Kinross
When Stars Are Scattered is a brilliant graphic novel that centres on the relationship between two Somali brothers in a refugee camp in Kenya. Omar, the older brother, is the narrator, and Hassan, the younger brother, is non-verbal and has seizures. 
The boys' father was killed in the civil war in Somalia and they were separated from their mother. Omar, who arrived in the camp at age four, feels the weight of caring for Hassan in a place with little food and no medical care.
"The doctors say Hassan is doing better now," Omar tells us. "He used to have a lot of seizures when he was younger. Those were really scary. But he hasn't had one in a while. I don't like to think about those seizures. I don't know what I would do without my brother. He makes life here bearable."
Gorgeous illustrations document the everyday lives of the boys who share a tent, their foster mother, who has lost four children, and their friendships. Omar is torn about leaving Hassan during the day to go to school, but people in the camp step up to support Hassan and he gains some independence. For years the boys live in the hope that they will return to Somalia to find their mother, or be resettled in the United States.
The book covers issue of family trauma and loss, disability, gender inequity and community.
It's targeted to kids aged nine to 12, but anyone interested in disability, siblings and the experience of refugees will find it fascinating.
The author, Omar Mohamed, spent his childhood at the Dadaab camp in Kenya and this is his story. He and his brother Hassan now live in Pennsyvania. Omar is the founder of Refugee Strong. Victoria Jamieson is the book's co-author and illustrator.