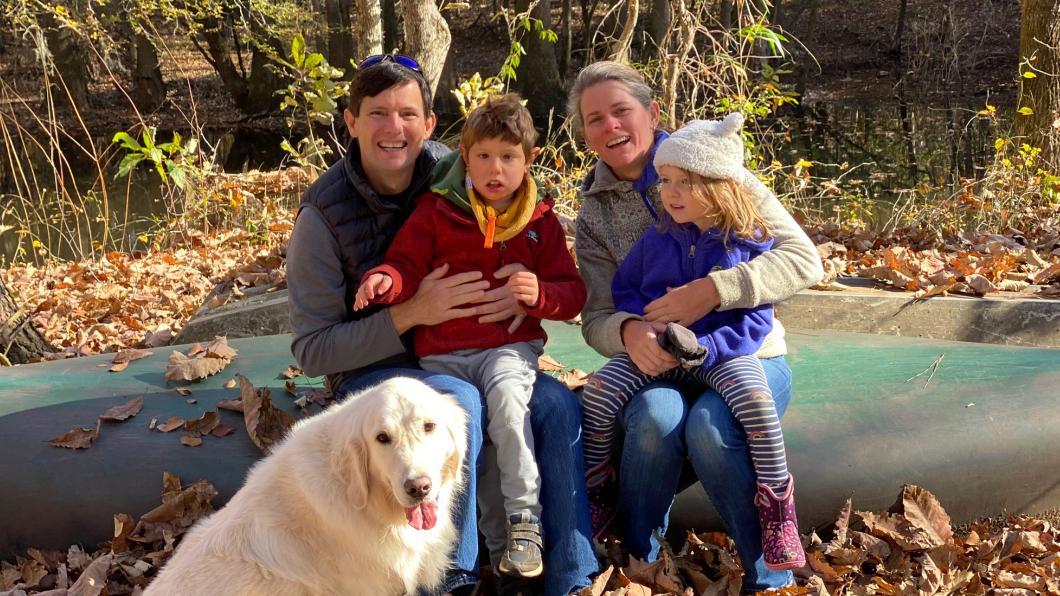 Son's mysterious disorder leaves dad feeling 'adrift'
By Louise Kinross
John Cooper lives with his wife Celia and their children James, 8, and Claire, 5, on the edge of their organic farm in Winterville, Georgia. Celia grows over 70 kinds of vegetables and fruits on the farm, while John manages an immigration law firm from an office there. On top of that they're juggling their kids' schooling at home during COVID-19. John first reached out to BLOOM several years ago. "We were stuck in the hospital in Halifax with James, and we had an incredible neurologist who mentioned you by name," he says. James has an undiagnosed disorder, epilepsy and autism, and is doing school online through hospital homebound services. We spoke about the sense of isolation that comes when your child doesn't fit a particular diagnosis.
BLOOM: Tell us a bit about James.
John Cooper: He's so wonderful, but he also gives us a run for our money everyday. James was born with some sort of disorder that we're still trying to determine. James has autism and severe epilepsy and is non-verbal. And he's a wonderful, smiling force of nature that never stops moving from one minute to the next. James loves the outdoors. We had moved to a small city in South Carolina, where my family is from, but we decided to move back here because this nature-oriented life really suits James and us. 
The first thing James wants to do when he gets up at the crack of dawn is go out in our backyard. We have a wonderful sensory porch that Celia put together on our screen porch. There's a ball pit, soft flooring, chimes, a mini trampoline and a sensory wall with everything you can imagine—textures, sounds, chains. James also loves sifting and picking up rocks. So we have a rock box under the shaded trees in the backyard with really nice small gravel, toys and sifting buckets. Then beyond that is the farm and the woods and a stream he can go to explore. He thrives in that. Being outside is his favourite thing.
James loves to laugh and he wins everyone over with his huge, mischievous grins. He can be so rascally. He makes his opinions known. From the moment he wakes up to the moment he goes to sleep, he's extraordinarily active and on the move.
BLOOM: How are you managing James' school at home?
John Cooper: It has been next to impossible, extremely difficult. My wife has been on the forefront of that. She turned a whole room in our house into James' school. She bought a big cabinet and filled it with all of his sensory boxes and work boxes, and set up a little desk. It involves one of us, or one of his care providers, sitting behind him to facilitate it, and give him lots of breaks every few minutes. We are beyond exhaustion, but we make it work.
In some sense we find our sanity in having something meaningful outside of the house, because we do put so much emotional energy into James and his sister Claire's care and wellbeing. So it's a welcome respite to get to work. At the same time, you feel pulled in every direction. I feel like I'm rushing through my work to get home at 4:30. And the farm is endless work: Celia has a crew of 12 people and families counting on her.
BLOOM: What's been the greatest challenge of raising James?
John Cooper: I think communication. My wife and I are so wanting to know his thoughts, wants and needs. It can just break your heart when your child is frustrated and stomping his feet and scratching you, and you can't figure out what's wrong. I think a lot of the time we're pretty close, and we know. We get so worried about life beyond us, his two primary caregivers, and him being able to communicate in the world. 
We continue to work on many modes of communication and we want to give him any and all of those that he can use. He has a Unity-based device that we're working on, but he doesn't like to use it consistently. Our device is very heavy. In this age, when you can get an iPad that's like air, why are these kids' devices five pounds? And it is cumbersome. I'm a technology kind of guy, and I have to stare at the device for some time, especially when you get into the different pages. We have a graveyard of devices that we've used for a while and then abandoned. We haven't had a lot of success, but we're not giving up.
He also has a picture exchange communication system, so he can pull a card down to show us different activities and wants and needs. His receptive language is quite extraordinary. He may not look at us or appear to be listening, but he certainly is. If we mention the word 'outside' or 'wagon ride' or 'going swimming' he's at the door and jumping up and down.
BLOOM: What are some of the greatest joys in parenting James?
John Cooper: We are endlessly surprised by him and his abilities and he has opened up all of these doors to a world that I didn't even know existed. I try to look at the world through his eyes. I know it sounds cliche, but before he was born I didn't really notice the disability community. I was so out of touch with that. I took for granted all of the abilities that I was born with. He's taught me so much. 
BLOOM: You mentioned James has seizures. 
John Cooper: His seizures are so scary. The first time he had a seizure we didn't even know what it was. His seizures aren't often, but they happen every couple of months. They'll progress for a couple of hours and you can't get him to stop. I'm knocking on wood now that it's been almost one year since he had the last one. On two occasions he's stopped breathing altogether, and required intubation and it was a real life-or-death situation. So it's created an incredible fear of seizures. 
BLOOM: How do James and his sister Claire interact?
John Cooper: Claire sees James as a sponge for our attention, and how every atom in our bodies is involved in helping James. She sees that, and she picks up on that. Some days she understands and is okay, and some days she's just not having it. She waxes and wanes between incredible kindness towards James—bringing us something he needs or holding his hand down the stairs—and saying 'I hate James, I want a different brother,' as any typical five-year-old might say. 
We used to take James occasionally when we dropped Claire off at her Montessori school, and at first Claire liked it because her brother was coming on the playground. Then she quickly picked up that people were staring at James, coming right up to him and looking at him. She decided that she was embarrassed. I'm trying to be sympathetic and understanding while at the same time teaching her life lessons.
BLOOM: You talked about how James remains undiagnosed.
John Cooper: We've been everywhere with James. Celia's dad is a physician in Canada. We went to Johns Hopkins, we went to geneticists in Atlanta. We have a nice neurologist in Athens who recommended a geneticist in Chattanooga, Tennessee. We saw her. She didn't have anything new to add, but encouraged us to apply to the Undiagnosed Disease Network run by the Harvard Medical School and funded by the National Institutes of Health. They do cutting-edge, whole genome sequencing and analysis at no cost to us. We got accepted into the program and spent a day meeting with physicians and the team and having blood taken from all of our family members. That was 18 months ago and they wrote to us recently to say they're looking at some possible areas of concern. We hope to eventually get some feedback.
BLOOM: How has the lack of a diagnosis impacted you?
John Cooper: We feel sort of adrift. I don't think a diagnosis will change our medical treatment or cause us to start or stop therapies with James, but it would give us a group to be a part of and get support from. We don't really fit anywhere, and we haven't found our community. 
BLOOM: Is there anything specific you do to manage stress?
John Cooper: My wife Celia pushes herself to make a point once a week of going out and seeing friends. But I'm beyond exhausted and I can't. I have started fitting in a quick run everyday. It's just a short run through the woods and down the street, but it makes all the difference. 
I was a big guitar player and loved playing music, but I didn't even touch my guitar for seven years. This past year I was having a lot of effects of stress, so when James is asleep, I make a point of picking up the guitar. 
BLOOM: You said you were doing some writing about your experiences with James?
John Cooper: I studied creative writing and philosophy in college and I used to write poetry and short stories and I loved that. I hadn't made any time for that, but I decided to start. I'm writing about James and our family. I'm not at the point of sharing with anybody, but writing things down on paper helps me process things. There's something about putting it down on paper, where it's out of your mind and it's visible. It's something you can confront. It feels intensely personal and private, and I'm terrified that there's no ending, that I can't tie it up in a bow.
BLOOM: I don't like stories that have a nice tidy conclusion, because I don't think that's real life for anyone. How do you feel about the care James has received?
John Cooper: I have a lot to say on that. We've been completely blown away by the wonderful care providers who have helped us over the years. They're our lifeline. They are mainly younger women who have been incredible in terms of their kindness to James and us, and they've allowed us to function. In terms of medical care, we've had really smart, well-trained people, but everyone is so ultra-specialized in their little area of the body. It seems that the old-fashioned idea of comprehensive care is totally lacking in the U.S. 
BLOOM: So it feels like James isn't treated in a holistic way?
John Cooper: Yes. They're going to look at their little piece under the microscope, and then pass him on to the next person.  
Something that's very stressful is when we take James into the Emergency Room during a seizure. Our small, regional hospital isn't set up to care for someone like James, and you can see the fear in the eyes of the physicians. James has been transported by ambulance to Atlanta about 15 times. As soon as we get in the door of our small hospital, they're making arrangements to get him to the children's hospital in Atlanta. I've written up a guide to give them that even specifies the medication and dose per kilogram he needs, what medications he's currently on, and warnings about doses that can cause him to go into respiratory failure. I've cut it down to a laminated front and back sheet. They're grateful to have that.
Logistically, it's really stressful, because we have to pack up at a moment's notice to go to Atlanta, and James needs all of his specialized food and medicine, and Claire needs to be taken care of at home.
BLOOM: You don't have universal health care in the U.S. Is that challenging?
John Cooper: I spend so much time working on health-care related stuff with James that it could be a full-time job. If you're not an expert in filling out government forms, you would be so swamped by this. We have private insurance which provides a lot of coverage through work. But it's quite expensive. Then James has coverage under Medicaid, which covers anything the insurance won't cover. It's wonderful. We effectively have no health costs. But for James to maintain that Medicaid approval, the paperwork is beyond daunting. 
We just had to do an intensive three-day psychological exam to confirm James' diagnoses and it's honestly silly. It serves no purpose except to check that box for Medicaid approval. Every other year you require this intensive psychological exam, as if the child is getting diagnosed for the first time. I spent US$1,200 of my own money and a very nice therapist at a university here did it, but everyone knows it's just to check the box, and is of no value to James. I hate the language they use. Their measurements are designed to draw a picture of a child's weaknesses, with no regard for the things he can do and the person he is. 
BLOOM: I just realized that the dog in your photo above is James' service dog. Can you tell us about him?
John Cooper: Leonard is awesome. He's a huge, white golden retriever. He's super sweet—a gentle giant. He's trained in mobility and behaviour disruption, but companionship is the biggest thing. He's a big ice-breaker. Before COVID if you went on the playground, people were moving away from James. With Leonard, it's the opposite. They're interacting with James. 
BLOOM: Is there anything we didn't speak about that you'd like to talk about?
John Cooper: At first I felt the need, as James' dad, to fix something. Or that I needed to do something, or find some specialist that could do something. It's taken me seven or eight years to realize how ridiculous and wrong that was. James doesn't need to be fixed, and he's perfect just how he is. We don't wish for seizures, but we love James for who and how he is.