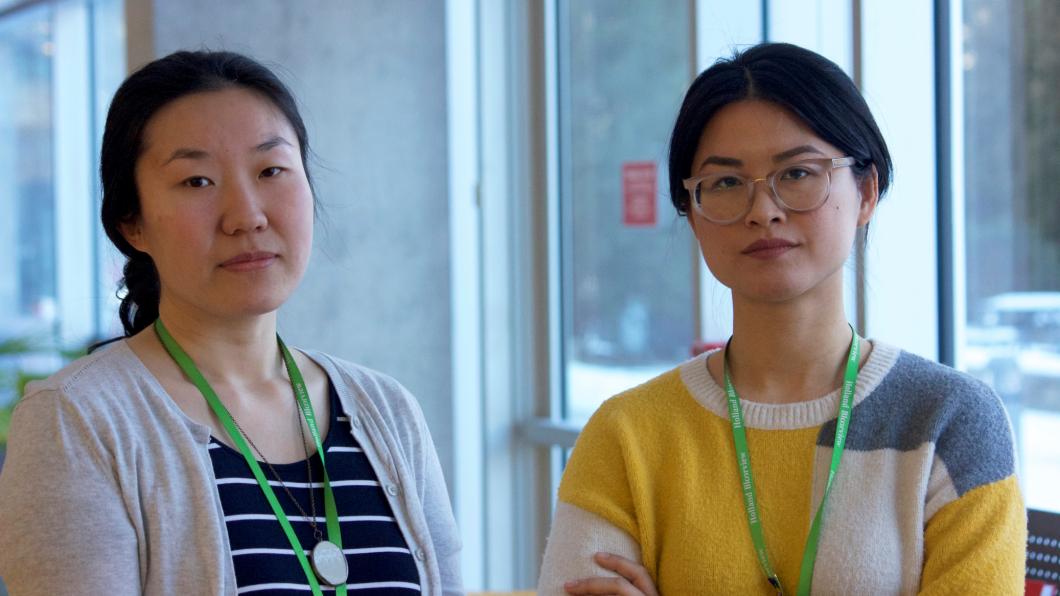 For some hospital staff, coronavirus-fuelled fear and racism is personal
By Louise Kinross

Amy Hu (above left) was taking the bus to work when she felt a sneeze about to come on. "I have allergies so I sneeze often, but I became scared to sneeze on the bus," says the Holland Bloorview pharmacist. Ever since the outbreak of the new coronavirus, "I feel more visible, as someone who looks Chinese, and some people give me looks if I sneeze. I don't want people to be afraid of me."
At work, Amy is part of Holland Bloorview's Quality, Safety and Performance team, which is tasked with mask-fit testing for staff, should an inpatient be tested for, or have a confirmed case of, the virus.
"I'm helping to protect our staff against this infection that I am somehow associated with," Amy says. Balancing work with worries for the wellbeing of her family living in China has been a struggle.
Every morning, Amy wakes up to dozens of messages from her relatives in China, who have been in lockdown for three weeks. "It's a very chaotic situation, with high emotions and real fear. Yet I'm coming to work in a relatively safe environment, where the risk is low. I'm living in these two dichotomous realities. It's disorienting and hard to really speak up about."
Clara Ho (above right), manager of Client- and Family-Centred Care and Partnerships at Holland Bloorview, finds herself in the same emotional bind.
"My family in Hong Kong are afraid to leave their homes and are under community quarantine," Clara says. "For my family here, we see messages shared by other community members on WhatsApp like 'Don't go to this Chinese restaurant in Markham.' One Chinese woman had to shut down her business because someone spread a rumour that her employees contracted the coronavirus. We've worked so hard to support each other as a diaspora, and for this virus to be connected with suspicions linked to the Chinese community, it feels like internalized racism. 
"This is a human virus,"  Clara says. "It's not a Chinese virus. It doesn't selectively infect East Asian people. Trying to dispel misinformation in a compassionate way, and guide people to reputable news sources, is tough."
Like Amy, Clara says she carries worries for her family with her to work. "Sometimes I'll hear offhand comments from co-workers like 'Don't touch that—coronavirus'—or 'Make sure you sanitize your hands—coronavirus' that are said in a joking way. But I'm aware of the gravity of how it's affecting my family, and it's like a shock to the system."
Amy and Clara say they want to raise awareness of the human side of the virus, and how it may be impacting Holland Bloorview staff who are Chinese or assumed to be Chinese.
"I do wonder whether some of our East Asian staff have experienced differences in how they are treated by families or other staff," Amy says. "In Markham, I don't necessarily feel like I'm a minority, but in this hospital I feel that way."
Amy says she's been reaching out to staff to share her story "so that they have more context. The response I get is often a greater understanding and empathy, and a sense of 'Wow, I didn't know that.' In the West, we get exposed to numbers in the media, but when you have family connections who are Chinese or who live in China, then you are aware of the deep personal and emotional impact. There's been a significant disruption to the lives of millions of people across the globe."
Together, Amy and Clara would like to create an informal support group for Holland Bloorview staff who have been personally affected by the virus. They'd also like to see a facilitated discussion with all staff. "It might not be an easy conversation to have, but it will be a helpful start," Amy says. "Holding so much fear and worry inside is hard, but there has to be a sense of psychological safety to share it.
"We haven't talked enough here about racism that our staff may experience, and we may not be aware of what challenges other racialized groups are experiencing. It's also important to think about what education our leaders may need to support staff with challenging experiences, and how to provide a psychologically safe space."
Clara says Asian employees at Holland Bloorview have been informally been sharing their experiences. "We've found a lot of solidarity through it, and the main thing is not feeling alone. We help carry the weight for each other."
Clara is at 416-425-6220, ext. 6420 and Amy is at ext. 3619. They encourage affected staff to contact them.  You can read more about Holland Bloorview's response to the coronavirus here.