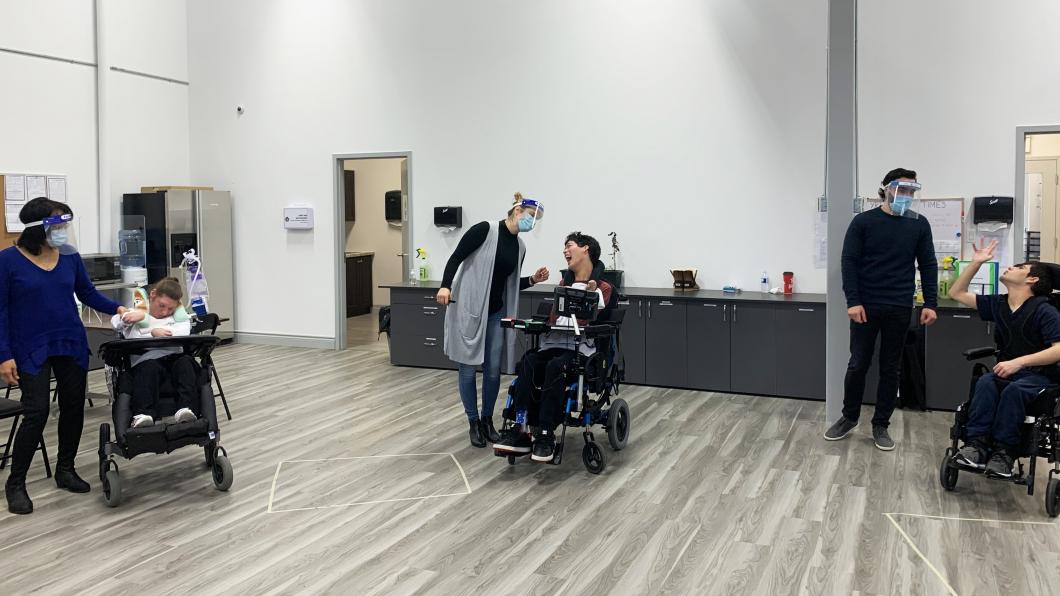 PPE shortages, costs push an Ontario day program to sell chocolates and a parent to take out a loan
By Louise Kinross
Steer Friends is selling chocolates to help the Stouffville, Ont. day program for adults with disabilities and complex medical needs cover the cost of masks and other personal protective equipment (PPE) during the pandemic.
The program spends $1,430 each month on hand sanitizer, gowns, masks and shields for staff. 
Toronto families using self-directed funding to care for children with complicated medical needs at home are also struggling to pay for PPE. Mairead Cavanagh had to take out a bank loan to cover the $730 she now spends each month on masks, gloves, sanitizer and other cleaning supplies for herself and a team of six to eight home-care nurses.
"The two overlapping issues are ability to procure supplies and the cost," says Mairead, who is completing her PhD in Policy Studies at Ryerson University. "My son is trached and 24/7 on total parenteral nutrition (TPN) and IV meds and fluids, so nurses need to be masked for their whole shift and gloved for multiple procedures. With my current Local Health Integration Network (LHIN) contract for self-directed funding, no supplies of any kind are provided."
Mairead used to receive about 60 masks per month from her local children's hospital, "but they stopped providing masks reliably in March and told me to source cloth masks."
Mairead's PhD dissertation is on the health and social impacts of intensive caregiving on "mom-nurses" like herself.
She spends hours each week scouring the Internet for supplies "because I'm not technically a health-care provider, so I can't access supplies prioritized for the frontline."
Some of her sources are Amazon, dental supply companies, a Korean mask manufacturer and Etsy for cloth masks.
Steer Friends has received donations of shields and masks from the Town of Stouffville and the Municipality of York. "It is very challenging to come up with the money to support our PPE costs, and this is going to be a long-term expense that isn't going away soon," says Jacqueline Hall-Fusco, Steer Friends program director.

The program has nine participants and eight staff members. "The most expensive item is the gown, which makes up for the majority of our costs," Jacqueline says. "We usually find inexpensive masks from Costco and we clean, sanitize and disinfect shields, so they can be reused." Steer Friends' monthly $1,430 PPE bill doesn't include the cost of cleaning supplies for frequent disinfecting of surfaces. 
This recent BBC article reports that people in the U.K. are also struggling to obtain masks and other PPE for home-care workers, and that other medical equipment is in short supply. For example, a woman who uses a portable ventilator was told by a local hospital to boil and reuse a filter that is supposed to be changed daily. She's been doing that for six months!
Meanwhile, a British man with spinal muscular atrophy who uses feeding tubes that must be changed daily saw the number he received monthly from the NHS drop from 28 to 17, without explanation. He was then asked by a clinician if he had any to spare, even though they can't be reused. "These experiences make me feel like my life and disabled lives are seen as less valuable, and more expendable," he told The i newspaper.
The deadline for ordering chocolates from Steer Friends is Nov. 25. You can also donate directly to Steer Friends.