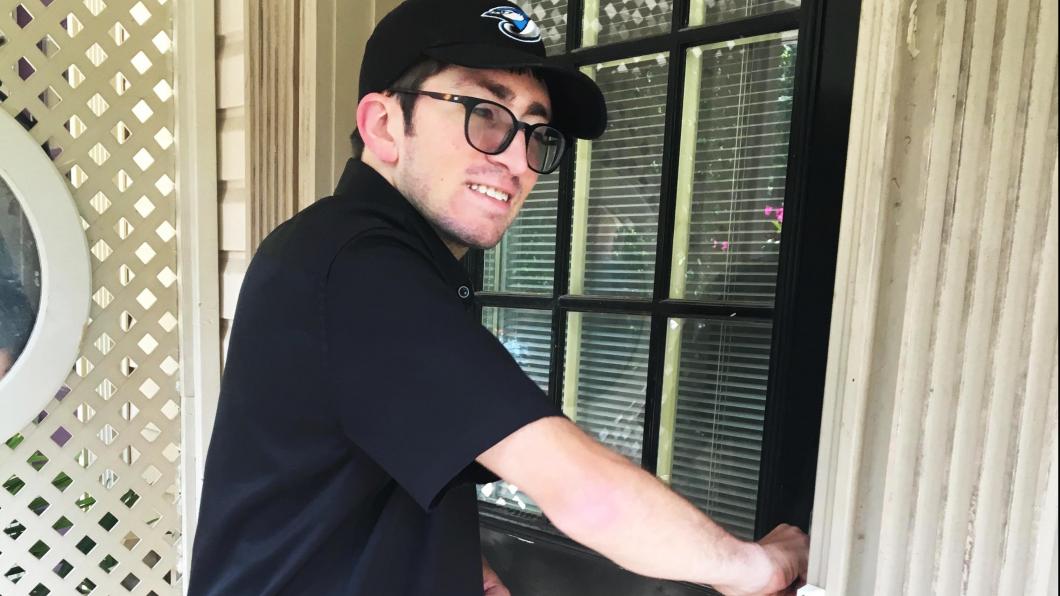 A place of their own
By Louise Kinross
Noah Banton (above) moved out of his parents' house and in to a townhouse as part of a project by eight Oakville, Ont. families to create homes in the community for their adult children with disabilities.
"I can live a more independent life and I don't have to worry about my parents telling me what to do," Noah says.

Before COVID-19, the 26-year-old worked three days a week in a restaurant and had a busy calendar of sports practices and competitions, piano lessons and trips to the gym. He now spends his days playing video games, reading, and baking—cookies and muffins are his favourite. Noah has a roommate with a disability and another roommate who provides support in exchange for reduced rent. Each person has their own floor.
In 2018, The Community Oak Park received a two-year grant from the Ontario government "to set up this group and help a certain number of individuals move into homes and launch their own fulfilling lives in the community," says Karen Alexander, a parent and co-founder. The Community Oak Park is a family network for parents of adult children with developmental disabilities. Their grant included funding to contract Eric Goll, a community facilitator, to work with each individual and family on a vision for their future, and to do the planning to get there. The grant also covered a few hours of in-home, one-on-one support per week.
Since then, eight people aged 22 to 35 have moved into rental apartments or purchased homes.
"Because we had a grant, timelines became a big driver of action," Karen says. "To move as quickly as we did, having Eric as our community facilitator was key. He worked with each individual and family to help them put together their vision for how they wanted to live. The model we used gives the family member autonomy and choice. We didn't tell anyone where to live, except it had to be within a certain area of Oakville where we were focused. Otherwise, they chose their own homes—they paid the rent or purchased the home."
Eric, who has a sibling with a disability, notes that each family came up with a unique plan. "The answer isn't grouping people who don't know each together into a home. We treat each person as an individual with their own dreams and aspirations and goals—then think about how do we support that person? We want to create an awesome, ordinary life vision. Thinking five years out, where do you want to be? What are your dreams in key areas of your life? What do you want your home to look like? What relationships do you want? How do you want to contribute to the world?"
People in the group chose different kinds of housing. Karen's family moved to a new house with a separate apartment attached to it for daughter Jacqueline, then 22. "My daughter needs a lot of support," Karen says. "She's pretty non-verbal, and there wasn't enough support for her to live independently, so this was the only way we could move forward. She's totally fine on her own over night, but safety is an issue, so we wanted her close by. Since COVID-19, Jacqueline does yoga and dance online, gets together with friends online, and paints. We've started looking at her interests, and how we can expose her to more hobbies. We worked on her kayaking this summer. A few times a week she has a paid support worker who assists her with the 'how-tos' of living on her own, and my husband and I cover off the rest. We're really working on letting her stay on her own.
"Jacqueline wouldn't do things when she was living with my husband and I, but when we brought a new person in to work with her, and she was involved in engaging them, she happily acted much more independently. Within three weeks, it was very obvious to us that Jacqueline was loving it and wanted it and I never would have predicted that. She's grown so much in such a short time.  Jacqueline has proved that given the opportunity and experience, she is capable, and she does so much more and so much better than I expected. I need to work on my own fear and let her grow."
Another family in the group bought a house and the person with a disability has ownership of it. Others are renting one or two-bedroom apartments.
Eric says the process is an emotional one for families that requires a great leap of faith. The "magic" of the group is regular meetings where families gain emotional support and inspiration from each other.
Funding is an ongoing concern. "For most people with a developmental disability, the Ontario Disability Support Program (ODSP) and Passport is not enough to live a full life," Eric says. "With ODSP, you can spend up to $500 on rent. Where can you rent something for $500 a month? Most of our participants don't receive enough Passport funding, and it's not supposed to be for in-home support."
Even during the grant, each person only received five to 15 hours of in-home support each week, with "most on the lower end of that," Eric says. It covered things like assistance with making meals or cleaning or doing laundry. That funding has now ended. Only one of eight participants was approved by the local health integration network for a personal support worker—and only for two hours a week.
The group is now "trying to convince the government to continue to pay for supports on an ongoing basis," Eric says. "I don't know how long families can continue to do this without some long-term support."
A number of participants are on a wait list for affordable housing in Halton.
It took participants different amounts of time to adjust to their new place. "Some were like 'I'm good, I'll come over for dinner, and then I'm going back to my house,'" Eric says. "For others, they started by spending a day at the new place, and then going back to mom and dad."
Karen says the greatest joy of the initiative is "seeing your loved one live such a better life and seeing the growth and transformation. It blows you away and you think 'Why didn't I do this sooner?'" 
Watch this video to learn more about the Oak Park Family Group. Or visit The Community Oak Park. Eric's blog and other resources are available at Empowering Ability.