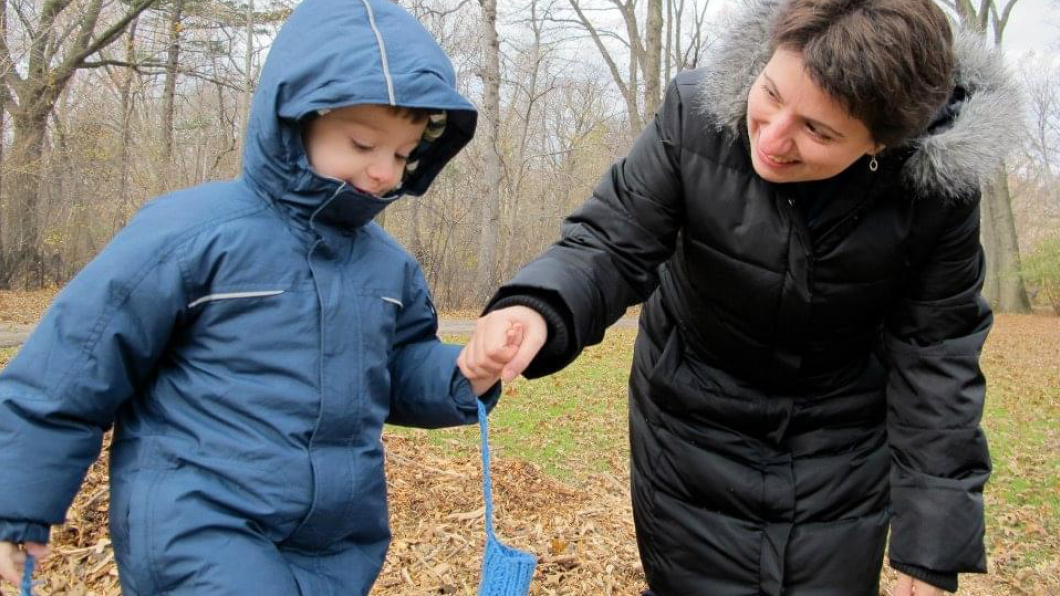 'People who need care are devalued.' A new group aims to change that
By Louise Kinross
The Canadian Centre for Caregiving Excellence launches this Thursday. This is exciting news for parents of children with disabilities and the caregivers in their lives. The centre, funded by The Azrieli Foundation, has a bold vision: "A Canada leading the way in quality care, where caregiving is valued, caregivers are supported and people accessing care are central to policies and practices." Liv Mendelsohn (photo above right) is the executive director. You may recall her work with the Wagner Green Centre for Accessibility and Inclusion at the Miles Nadal JCC, and the ReelAbilities Toronto Film Festival. Liv has been a carer since she was a child. We spoke about her new role.
BLOOM: How did you get into this field?
Liv Mendelsohn: I've been working in the disability support field for most of my career and I've also been a caregiver over the course of my life. I was born into a caregiving role as a carer to a grandmother with Alzheimer's who lived with us till I was eight. She then moved into a small long-term care home and I remained an important caregiver and advocate for her there. She was a really important person in my life, and someone I learned a lot from about resilience, and really about love. I also care for an aging dad and saw my mother through her cancer and palliative care journey. My parenting... has involved embracing neurodiversity.
This role seemed like a natural fit to me as I've been involved in both systems change, which is a longer-term piece of work, and in identifying and filling gaps right away. 
BLOOM: How have your personal experiences with caregiving influenced you?
Liv Mendelsohn: What emerged from walking with my mom through her cancer and palliative care journey was seeing both the incredible role that care providers play, and how well things can work when there's a real team around someone accessing care, but also seeing the limitations in resources and supports for caregivers' mental health and other needs, and the lack of understanding of their role in medical systems.
At its heart, caregiving is about relationships. Not every caregiver will identify as a caregiver, but as a friend, a daughter, a neighbour, a spouse. When you step back you see the unmet needs these people have in common, and the failure of our society to value caregivers and the people who access care. That's when people start to see themselves as part of a larger story.
BLOOM: Why was there a need for The Canadian Centre for Caregiving Excellence?
Liv Mendelsohn: The Azrieli Foundation is a large philanthropic foundation that's been involved in work supporting people with disabilities for many years. Something that emerged in their research and scoping was that whether it's [about] disability or aging or illness or mental health, people do better and live better when there's a robust network of caregiving support around them. Caregivers are often unacknowledged, overlooked and under-valued, and care providers often have challenging, precarious work conditions. 
The idea was to come together to identify and fill gaps and scale things that work across the country. So if you're a caregiver in Lethbridge or Iqaluit you can have resources that are appropriate to you.
There's a specific advocacy piece to this because caregiving has been fragmented by region, province and territory, and there are silos in the way we fund care, whether in health-care systems, disability support systems, or systems for aging. Our goal is to knit together the voices of caregivers, providers and caregiving organizations across the country and plant caregiving as the next frontier in Canadian public policy.
BLOOM: What are your first priorities?
Liv Mendelsohn: We've identified four areas to focus on. One is building networks and knowledge sharing. That is really key to creating better access and experiences for people during all parts of the caregiving journey. 
We're also looking at leadership development and training for both caregivers and providers. We want medical teams to better understand the roles and stories of caregivers, and to offer care providers really great training and career ladders and opportunities to take their vocation and make a good living wage at it. 
Caregiving is often largely a newcomer, racialized and female workforce, and there are a lot of equity issues around that. Especially, and not only because of what the pandemic has revealed, the levels of exhaustion and real burnout are important to pay attention to.
Our third area is equity in underserved communities. One of our projects is the first mapping of caregiver systems and needs in Nunavut, where there hasn't been any data and we're working with an Indigenous led project to explore what the unique needs are and to advocate to meet them. Another is the needs of francophone caregivers outside Quebec. 
Our final area is around policy and advocacy. We know we need to work with governments to see the changes that we want to make the caregiving experience one that is well supported. We want caregivers to be able to focus on the relationship, not on navigating systems and the almost full-time job that can entail.
BLOOM: When you say care providers, are you referring to personal support workers?
Liv Mendelsohn: We're talking about a range of people: personal support workers, direct support professionals, and health-care aids. The people who are on the frontline doing the direct work of caring for us.
BLOOM: What kind of training programs might you be offering?
Liv Mendelsohn: We're working with care providers and those who employ them to look at competency approaches and to look at what the needs are. We're still doing important scoping and listening work. 
We know around 70 per cent of leaders of agencies in the developmental disabilities sector will be retiring in the next decade and we're working with a U.S.-based organization called the National Leadership Consortium on Developmental Disabilities to create a Canadian curriculum and leadership institute that will provide training and opportunities for operational leaders and frontline workers. We want to make sure the leadership in the next generation is disability informed and has the supports and skills they need.
Our training will be coast to coast to coast. It will be online and include ongoing mentoring and communities of practice and some in-person events.
BLOOM: How can your centre be a resource for parents of children with disabilities?
Liv Mendelsohn: In several ways. We're taking the group The Sibling Collaborative national and offering support for siblings of all ages. In 2021 we'll have a conference to support a research agenda around siblings and public policy, but also around the programmatic and day-to-day support needs. Melissa Ngo at Holland Bloorview is involved in the planning of that.
I think parents may want to join our caregiver advocacy network to get involved in advocating for better policies to support.
BLOOM: How can people stay up to date on your activities?
Liv Mendelsohn: We have an e-letter coming out May 12.
We also have some curated resources on our website. We're working with Community Living Toronto on a couple of on-the-ground projects. We're supporting their Moms Retreat this Mother's Day at Shadow Lake Camp. It will welcome 35 Ontario moms over two days. Following the retreat, Community Living Toronto will host monthly meetings for this network. We're also supporting them to offer a one-day sibling retreat and to hold an Ontario-wide train-the-trainer course with the Sibling Support Project.
BLOOM: What are the greatest challenges of your new role?
Liv Mendelsohn: I think it's a big mandate and a broad mandate and so making sure that we're in touch and really led by caregivers across the country is the first mark of success. I think knitting together a really fragmented set of sectors is going to be a challenge but also the greatest opportunity.
BLOOM: Why are caregiving roles so devalued in our culture?
Liv Mendelsohn: I think a number of reasons. First and foremost, people who need care are devalued. Any vulnerability is experienced as a weakness. So whether you have a disability or whether you're aging, I think our society measures people often in terms of economic productivity and undervalues relationships. I think that's a big factor. I also think caregiving has been seen as work that is done by women and hasn't been valued for that reason, even though we know everyone can give care. And I think our health-care system hasn't valued relationships.
BLOOM: What emotions come with the job?
Liv Mendelsohn: A lot of emotions. A lot of excitement, a lot of hope. A lot of responsibility. I definitely feel very accountable and responsible to caregivers and care providers. A lot of optimism. Gratitude to all the caregivers and providers who have been sharing their stories and needs with us, and to the Azrieli Foundation for investing in us.
BLOOM: Do you do anything specific to protect your own mental health given the caregiving roles you have in your life?
Liv Mendelsohn: I'll say two things about that. Personally I have various ways of taking care of myself. One of the most important things for me has been having a network of support where I support people who I care about and they support me in turn. Having that network has been key to surviving and thriving. I also think when we talk about self-care we put so much responsibility on the individual, and I really think we need to be talking about creating community care and systems of support that are there on your best and worst days.
BLOOM: What could that look like?
Liv Mendelsohn: We've learned a lot from the disability community during the pandemic about mutual aid and about how communities can step up to support each other. I think that's vital and needs to be nurtured and encouraged. But I also think there's a more systemic role for support. When you go to a medical appointment with a loved one or friend who is accessing care, at what point does that medical professional check in on the caregiver? At what point do we turn and identify the caregiver as a key part of the team who needs to be supported so they can stay well to provide support?
We're looking at some different assessment tools for caregivers to make sure they have their own appointment to check in about their health, physical and emotional. 
Like this interview? Sign up for our monthly BLOOM e-letter. You'll get family stories and expert advice on raising children with disabilities; interviews with activists, clinicians and researchers; and disability news: https://bit.ly/3xfj4jc.