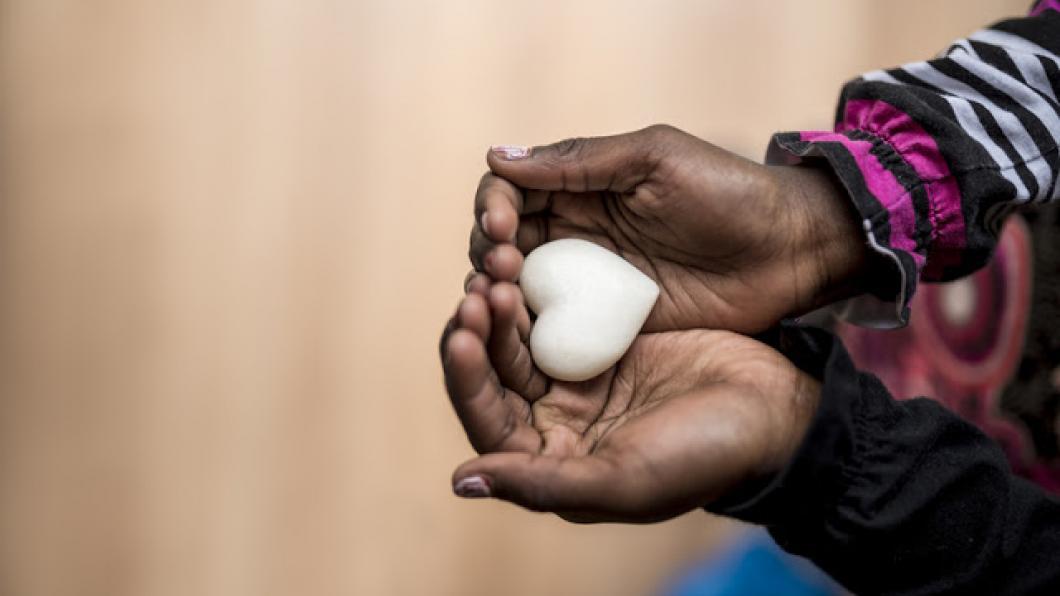 For parents coping with a child's chronic pain, acceptance is step one
By Louise Kinross
When families of youth with chronic pain come to Holland Bloorview, they may be surprised to learn that our interdisciplinary pain program is not aimed at ending their child's pain.
"By definition, chronic pain is persistent, and they've already tried countless things to try to address it, without getting satisfactory results," says Ardith Baerveldt, a psychologist with our Get Up and Go service. "Now the question is, given the pain is still persisting, how can they get back to the things they care about?"
Paradoxically, acceptance is a key principle. "The type of mental health therapy used previously with this group was cognitive behavioural therapy, which involves challenging your thoughts," Ardith says.
But that approach often led to "ruminating—rather than actually having the ability to change the thought, and that left them feeling stuck," says Melissa Joseph, a social worker in the program. "It was like throwing gasoline on a fire."
For three years, the entire Get Up and Go team—including physical and occupational therapists and a therapeutic recreation specialist—has been using a treatment model based on the principles of acceptance and commitment therapy (ACT) with both children and their parents.
ACT involves learning to accept unwanted thoughts and feelings, rather than struggling to suppress or extinguish them, and committing to, and working towards, a life based on what matters to them.
Holland Bloorview's Get Up and Go is the only pediatric intensive pain program in North America that uses ACT extensively with parents—in one-on-one work, parent groups and as part of family therapy.
"Parents have often put their life on hold, leaving a job because the child's situation requires so much extra attention and support, and they may be really struggling with how to get their child to go to school," Melissa says. When they can't find a solution, anxiety and a sense of helplessness can set in, causing "changes in relationships, in mood and in happiness."
At Get Up and Go, parents are encouraged to be gentle with themselves. "We're not trying to change their thoughts or feelings, but to notice them, to accept they're there, and see if they can look at this in a different way," Melissa says. "It can be really scary for parents to sit with the idea that there isn't a magical solution to their child's pain." With mindfulness exercises, parents learn to make room for their difficult thoughts and feelings, without fighting to banish or control them.
The second important principle of ACT involves identifying, and committing to, a life that the parent values. "While they're here, parents spend time figuring out what their important values are when it comes to parenting a child with chronic pain," Melissa says.
An example might be promoting their child's independence. "Often parents have been so focused on the pain that they've jumped in to do many things that the child may have been doing previously on their own," Melissa says. Or perhaps they value more open communication with their child, or want to make sure the time they spend together is enjoyable.
ACT "really captures Holland Bloorview's idea of personalized pathways," Ardith says. "We try not to tell people how they should be doing things. We use metaphors and we use the client's or parent's own understanding of what a meaningful life means to them. The end result will be different for everyone. It's more about moving in a direction toward something, rather than a predefined end goal."
Prior to attending our program, children may have avoided activities like sports, going out with friends, and attending school in an effort to reduce their pain. "The problem is that often the pain remains, but there is a sense of disconnection from the things and people that matter to them," Ardith says.
The Get Up and Go team hopes to do a formal research study on ACT in the future. 
A 2009 randomized clinical trial found children and teens with chronic pain who received ACT improved significantly more than those receiving multidisciplinary treatment in levels of pain-related fear, overall quality of life, pain intensity, and pain interference. 
Parents often comment on why ACT was helpful to them when giving program feedback. "I felt like I could move away from my typical 'fixer' role and allow my child to take the lead with his care and decisions," one said, noting she'd "made progress with the length of time I get caught up with my emotions and recurring thoughts. I am working on mindfulness, increased self care and reminders to myself to notice thoughts and feelings, without allowing them to overwhelm me and move me away from what is important to me as a mother."
Melissa says the approach could be useful for parents of kids with a wide variety of disabilities. "Parents here are in that fixer mode of always having to be an advocate. Because they're in the fight-or-flight response to stress so often, they may not have had the experience of being gentle with themselves, or taking time to focus on the present moment. This is an opportunity to have people step back a little bit, and see if it feels different if they don't fight some of this. If they can notice it, but not try to push through it or push it away."