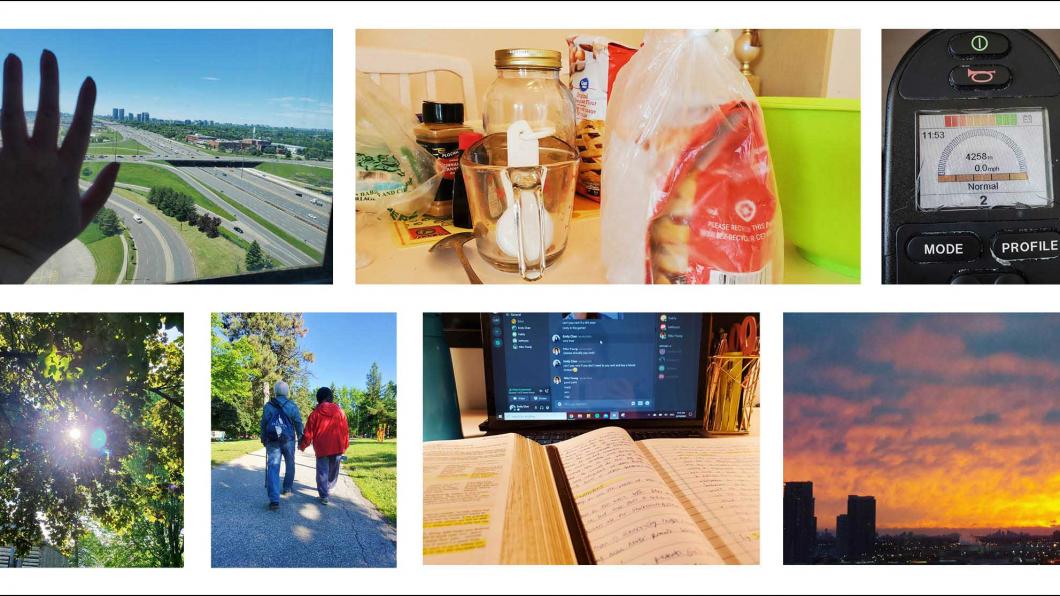 This is pandemic life when you don't 'dare risk going outside'
By Louise Kinross
In Still Lives, young adults with disabilities chronicle their experiences during the pandemic shutdown through photos and words.
The exhibit is a collaboration between Holland Bloorview's youth leaders and Toronto's Koffler Centre of the Arts. "Over the course of six weeks, participants engaged in a series of virtual photography workshops to create a collection of visual diaries that gave insight into what life can look like for individuals living with disabilities," says Mary Anderson, manager of literary and public programs at Koffler.
The images above are part of Emily Chan's submission called 24HRS. Emily, 23, is completing her first year in the Master of Social Work program at the University of Toronto. This is what Emily wrote to go with it.
"There are 24 hours in a day. Twenty-four hours can seem like excruciating silence or just enough time to check off all your daily tasks. For me, 24 quarantine hours have been both long and short, both dynamically exciting and empty. Some days, 24 hours are spent scrolling through social media and seeing friends go on walks and hikes while I'd be longing for fresh air. Some days, 24 hours entails me wrestling with the reality and limitations of being an immunocompromised and fragile body who wouldn't dare risk going outside. Other days, 24 hours are spent immersing myself into new and exciting hobbies like baking and cooking, activities that—ironically enough—were never explored because of time constraints. Still, another 24 hours invoke a sense of trapped helplessness as I realize it may be months before a broken wheelchair display can be fixed safely.
"As I reflect on the malleability and flexibility of 24 hours, I realize that every moment counts. Every moment spent with your loved ones engaging in long midnight talks or embarking on afternoon walks become all the more meaningful when you dissect 24 hours into moments to create memories. New appreciations for nature and the simplicity of spending family time come to light in 24 hours. Finally, as the sun sets and my 23rd and 24th hours are filled with the laughter of friends through my computer screen, I'm reminded that there are 24 hours in a day and that every moment counts."
In an e-mail interview, Emily said she found the Koffler project fulfilling. "Mostly, I was able to appreciate the small, seemingly mundane parts of quarantine that hold so much meaning once you take time to slow down, think about it, and photograph it," she wrote. "For example, the photo of my parents walking in the park was a really special moment as we don't typically spend a lot of quality family time together, but this was a fantastic moment and I'm so glad I captured it. Mostly, this project has shown me that everyday objects and occurrences can hold so much meaning once you begin thinking about them and trying to capture those fleeting moments in a photo.
Go to Still Lives and check out Emily's journal and those of 11 other young adults.