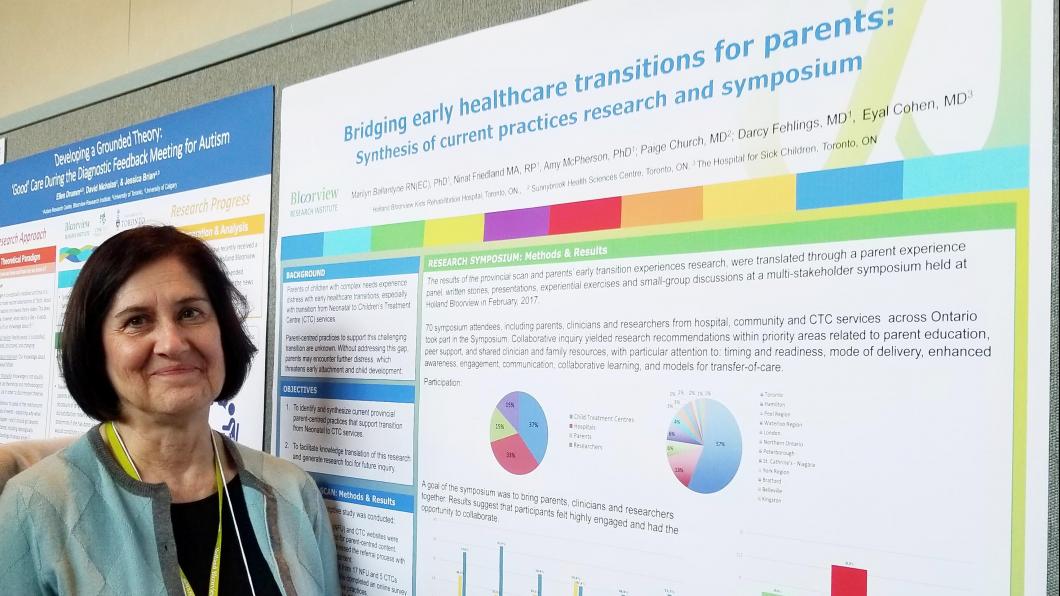 Nursing chief reflects on 'beautiful view of life and all its complexities'
By Louise Kinross
Marilyn Ballantyne has spent over 40 years caring for children in acute-care and rehab hospitals. Her first job was as an intensive care nurse working with newborns at SickKids. Today she is chief nurse executive at Holland Bloorview, where she creates clinical environments that enable teams of nurses to provide exceptional care to children who are in rehab following traumatic accidents, serious illnesses and painful bone surgeries. Marilyn's deep commitment to care began on a small family farm in Stratford, Ont. "Small pigs get immunized just like small children," she says, recalling the days she helped her dad with the piglets. "You hold them and you comfort them. I spent my childhood surrounded by animals that you cared about and cared for. You paid attention to their needs and how they changed. That was a good foundation for health care, where to be exceptional you have to be very sensory to read the room and notice what's different and changing in a patient, in addition to looking at hard data." Marilyn retires in September.
BLOOM: How did you get into this field?
Marilyn Ballantyne: At the time, I was the first generation in my family to go to university, and for women, nursing and teaching were options then. I had some really good role models. I had an aunt who was a nurse who was incredibly curious and passionate and exciting to be with. I wanted to work with kids because I'm fascinated by the way they learn and develop, and they're so joyful.
BLOOM: What does a typical day look like now?
Marilyn Ballantyne: It's a lot of things. Most importantly, it's grounded in standards and excellence in our practice—so caring about, and caring for, the people who are providing care. Understanding their needs and creating the situations and tools and resources so they can provide care in the best possible way. In order to achieve amazing quality and safety, you have to have the perfect work environment: the teams, the standards, the excellence and the relationships, all working together beautifully to deliver on it.
I go to morning huddle to see what situations we need to be aware of, what learning might be needed, what new admissions are coming in. It might be a new diagnosis we haven't seen before, or a new piece of equipment that is very technical. So paying attention to all of those things and enabling the people who take care of that—the educators, clinical resource and collaborative practice leaders, operations managers, directors—to do their work.
It's also paying attention to the system, to partnerships in the system, and workforce planning and leadership growth. When I say leadership growth, I mean taking leadership in every role and in everything we do—to notice and speak up and create solutions.
We have to know what's going on in the pediatric world—the trends and what's new evidence. It changes constantly. A big portion of my job is understanding pediatrics in the community and acute-care and connecting us together. I always had a dream that we would be able to deliver on one team approach that looked the same across the system. With our collaboration with the Connected Care program for children who are technology dependent—parents experience the same education, language and materials at SickKids, here and in the community. We're thinking full system for a child.
BLOOM: What is the greatest challenge of the job?
Marilyn Ballantyne: When I first started, one of my colleagues who I deeply respect said to me 'One of the biggest challenges is that every hour is a different audience, but the topic might be the same.' You're switching constantly. You may be with people involved in care, then at a senior management meeting, then at a family leader meeting, but the topic is the same. The talent is to be true to the message but read the needs of the group you're with. You're changing channels constantly, but staying focused and true to what the goal is—best possible care and experiences.
For example, in the six years I've been here, the types of feeding tubes have grown from a few to nine or 10 different types and locations, and they're all technical and important. That has to be standardized in a really safe way. You stay true to your message that we're delivering the best possible, safe approaches to feeding, but now we're doing it nine or 10 different ways. How do you do that so it's seamless for families and kids, and a good experience for staff?
BLOOM: What's the greatest joy?
Marilyn Ballantyne: There are a million. The joy of the kids obviously. The joy of being part of something that grows and grows and grows. I love watching other people grow and flourish, and watching people grow together.
What our nurses have accomplished in the last six years is breathtaking. Our nursing engagement scores and nursing's view of how meaningful their work is has gone steadily up.
I love that I arrived at the time that our research institute was working on engaging families in research, and I think I was the first person to present to their committee. My research is in supporting parents and caregivers with a child who enters the world with complexity, or has been born premature. They've had a birth story that isn't the story everyone else shares, and then when their child is diagnosed with a disability, they come here and enter the rehab world. I could see parents needed much more support.
I feel I've lived a bit of a parallel journey. I started in the NICU, and then I became a nurse practitioner and worked in follow-up with families for 10 years. When I first came here I worked as a nurse practitioner in a locum on our neuromotor team. Many of the children I worked with then had been born extremely premature and had cerebral palsy. I had the pleasure of meeting two families here that I had cared for years before.
When I worked in neonatal, we would have as many as nine deaths a month. You navigated all of the most amazing and saddest things. Those families gave me this beautiful view of life and all of its complexities.
BLOOM: Is there anything you wish you'd learned earlier in your career?
Marilyn Ballantyne: I think probably slowing down and paying attention to the subtleties and that things are never black and white, they're always grey. What I love the most about getting more experience in health care is getting more appreciation of the greyness and complexity of situations. It isn't formulaic. When you start out as a nurse it's so technical. You're paying attention to the 100 things in front of you and everything looks of equal urgency. As you become more experienced, you understand the subtleties of priorities and you understand that the technical things need to be perfected, but it's the child and the family in it that becomes the richness.
Figuring out how to wayfind for families in a very gentle, compassionate, way, without telling families what to do—that's a true talent and takes growth. It might be saying 'Other families have told me that these things might be helpful. Which do you think would fit best for your family?' Rather than 'This is the policy.'
BLOOM: What's an achievement at Holland Bloorview you're most proud of?
Marilyn Ballantyne: In the last five years, we've done something like 230 clinical improvements—whether that's standards of care, or medical directives or consultations on clinical practice with other groups. We developed the feeding-tube standards and standards around vital-signs monitoring, and we implemented bedside pediatric early warning score. That takes all of a child's vital signs and scores it, so that early on we can detect a change in the condition. We now have nurse practitioners on all three inpatient units with acute-care backgrounds, which complements well with our physicians when taking care of children with more complexity.
When we developed our family communication whiteboards for inpatients, we had family leaders and nurses in a room together talking about 'this is what families need to know' and 'this is what nurses need to know.' The questions on the board speak to who and what matters most to a child, so the nurse has a more holistic picture of the child and family.
BLOOM: We've interviewed a number of DAISY award winners in BLOOM. The DAISY award recognizes a nurse that uses a strengths-based approach and combines top-notch clinical skills with deep connections with families. Why is this recognition important?
Marilyn Ballantyne: So much of being on the health-care side is you don't know the end of the book. You know the intro and the chapters you lived through with the family, but you don't know the next chapter. If a family takes the time to tell you how much the care you gave meant to them, there's no price tag on that. It's magic and a priceless gift.