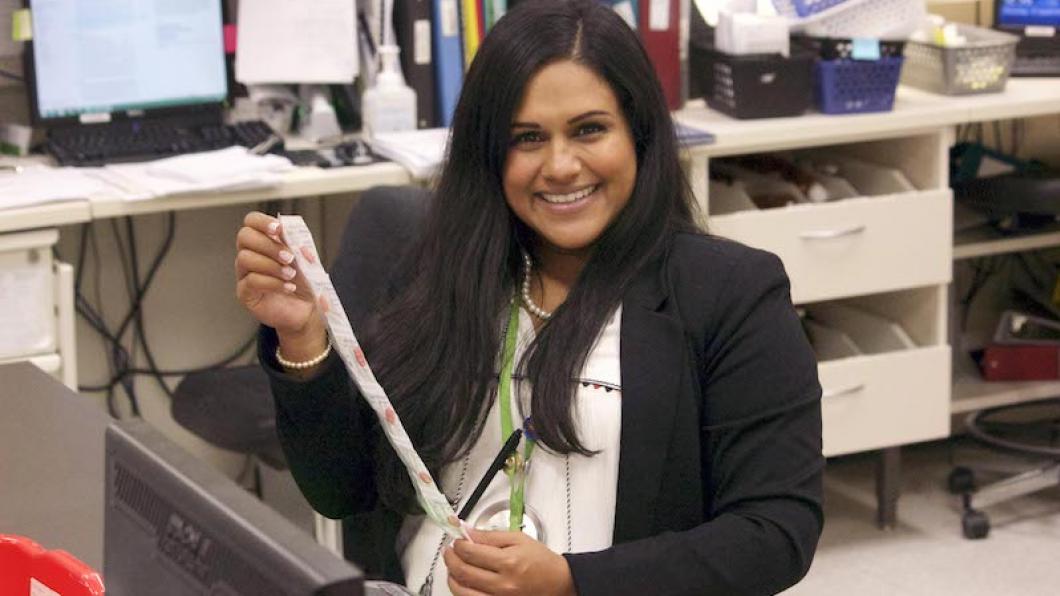 Medication for children is 'not a one-size-fits-all approach'
By Louise Kinross
Danielle Paes is a clinical pharmacist at Holland Bloorview who had two placements as a student before joining the hospital in 2018. Kimberley Siu-Chong, our client and family relations facilitator, suggested Danielle would be a great staff interview:" I love the way she talks about kids and their families. She's an extremely caring person, and she's one of those clinicians who do their work wholeheartedly."
BLOOM: How did you get into this field?
Danielle Paes: I've always loved science, I knew that early on. Chemistry was my favourite subject and I studied pharmaceutical chemistry in my first degree in university. From there I ended up with a great position at Johnson and Johnson where I got to apply my skills as an analytical chemist. I really enjoyed the science part of the role and working in the lab. It was a great company and I had wonderful colleagues, but there was something missing.
I realized it was the people connection. I was sort of behind the scenes in the pharmaceutical world, and I'm a people person. I was missing the fulfillment of making meaningful human connections and having a more direct impact. So I made the bold move to give up my full-time position and go back to school. I knew I wanted a career where I got to live my passion. I didn't want a job where it felt like a job. So an extra four years turned out to be six years of educational investment to get my Doctor of Pharmacy degree. But it was worth it, and I have no regrets.
BLOOM: How did you get interested in pediatrics?
Danielle Paes: I've always enjoyed being around children, but I hadn't quite committed myself to serving that particular population until I had my first placement here. It was truly eye opening. I got to transform the theory I learned in school into a practical application in a real-life setting with a specialized population that we don't learn much about at school. In the adult world medication doses are standardized. For example, a 20 mg tablet would be a good dosing strength for all adults. With children it's not a one-size-fits-all approach. It's based on weight, and doses are personalized to the individual child. So the thought process for selecting medications in pediatrics is a bit different.
BLOOM: What is a typical day like?
Danielle Paes: Eighty per cent of my day is spent doing clinical work up on the units, rounding with the interprofessional team, working closely with our physicians and nurse practitioners who are prescribing, and checking in with nurses about how our clients are doing.
We're heavily involved in the admission process. We want to make sure the transition from SickKids to Holland Bloorview is smooth and safe. Then, while the clients are here, we're following up on their care and the evolution of their rehab journey. That means activities like monitoring pain management and adjusting medications to meet their needs as they continue to recover and get back to normal—or adjust to their new normal.
On the other side, we also help transition children back into the community. That means connecting with their community pharmacy team and doing a lot of patient education on medications. Sometimes clients weren't on medications before their hospitalization, so we need to make sure that they, and their family, understand what they're taking, why they're taking it, as well as how to take it correctly.  
We're able to have this direct patient care because our dedicated pharmacy technicians play a big role in pharmacy operations and the technical aspects of dispensing the medication. Our electronic health record system is highly computerized, so from a medication safety standpoint it's wonderful. Physicians and nurse practitioners will enter a medication order and before it gets dispensed, it goes through a clinical check and is verified by one of our pharmacists.
BLOOM: What is the greatest challenge of the job?
Danielle Paes: Juggling everything. The pharmacy team is involved in working with the Bloorview Research Institute, we consult with outpatient clinics and our chronic pain program, we look after our inpatients, and we provide medications to support our onsite dental service. We're sort of a hub, and are connected to a lot of different teams and projects in the hospital. Making sure that we're able to give everyone the best of pharmacy can get a little complicated.
BLOOM: What's the greatest joy?
Danielle Paes: I love connecting with our clients, especially through patient education and opportunities to share my knowledge. Sometimes medications can be really intimidating. Being able to break down that information and optimize treatments by figuring out how they're responding to the drugs and whether or not the medications are doing what they're supposed to be doing, is really rewarding.
Not everyone speaks the medical language. When a client takes a medication they don't always know what to expect, and what to look for. If they're feeling a new sensation, is that to be expected or is that a concern? So having one-on-one time with clients where they can share their experiences, and we can identify any red flags right away, is so important. I get my energy from being able to help others. Those are the moments that fill my bucket.
The other thing I love doing, which is counter-intuitive, is taking kids off medication. When they come to us, children may be on 10 medications, but by the time they transition home, they're only on as-needed medications. I enjoy evaluating whether medication is still needed, and safely weaning them off those that aren't.
BLOOM: What qualities do you need to be good in your job?
Danielle Paes: You definitely need to be a good communicator and problem-solver. Creativity goes a long way, and resourcefulness. Our days are relatively unpredictable. So one of the biggest things is being adaptable. We have no idea what issues might come up overnight, and we get a lot of feedback from nurses and clinicians as the story unfolds. As the clinical picture changes, we have to be prepared to respond, to work closely with the interprofessional team, and often to make recommendations to find solutions.
BLOOM: Do you do anything specific to help manage stress?
Danielle Paes: It can be very stressful. We're a fun bunch, and we all have a really good sense of humour. Working with people you get along with makes those stressful times so much more manageable. We laugh a lot together. We eat a lot together—there's always a secret stash of treats hidden in pharmacy. The other practice I've adopted personally is mindful self-compassion.
I took the course offered here, and it was truly beneficial to the way I process situations and handle stress. I'm much more kind to myself in those hard moments. I have an increased sense of awareness of how I'm feeling, so I'm able to work through any challenge with a lot more ease.
We see a lot of families that are struggling and suffering, which evokes feelings of compassion. One of the benefits of having such a close team is that we debrief. We always lean on each other for support and there are many, many times when we take a moment to talk through our experiences and allow each other that space. That happens almost daily.
BLOOM: If you could change one thing about the system you work in, what would it be?
Danielle Paes: Funding is a big challenge, especially for medication, as there are drugs that aren't covered by health plans. We want to send our kids home safely and make sure they're going to be able to continue using the medication that's best suited to them.
While children are here, we offer compounding services, which is the process of making solid doses into liquid suspensions. This allows us to give unique, personalized doses to each child. So instead of only being able to give a 10 mg tablet, we can now provide a 7.5 mg liquid dose, which may be the ideal quantity required. Unfortunately, the government often doesn't cover the costs of these special products.
The government typically covers tablets or commercial products. Sometimes we have to reach out to the hospital's Family Support Fund for funding, or we have to get very creative and change medications prescribed as liquid into tablets. In those cases, a family may have to crush a tablet and mix it with food if their child is not able to swallow pills. But anytime you're manipulating a medication like that, there's a possibility that the integrity of the dose may be compromised. You also have to be careful to ensure there are no food-drug interactions.  For example, some drugs should be spaced away from calcium, so mixing with yogurt should be avoided. A lot of our clients don't have private insurance, especially those who may be refugees and those on social assistance.
Funding for children's medications is definitely something I wish was easier.
BLOOM: What are your hopes for the future?
Danielle Paes: I would love to be more involved with clinical research. This is a huge area where we can learn from our clients and add to the body of evidence that supports clinical decisions in pediatric medicine. Contributing to that science would be lovely. One of the things I'm most excited about is the potential to transform my clinical practice using solution-focused coaching! I'm so motivated about the opportunity to use this lens in my approach to help our children and their families build resilience and achieve positive health outcomes.