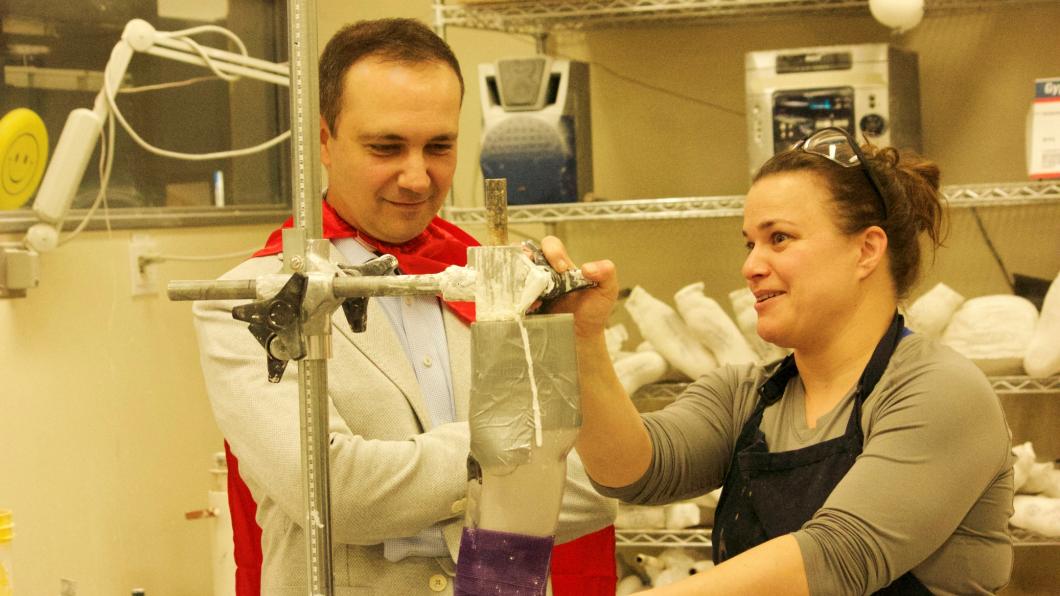 Mazen has a mind for business and a heart for helping
By Louise Kinross
Mazen Almaoui was hired at Holland Bloorview three years ago for his business expertise: he's a management consultant and computer engineer. But on his first day here, he offered up a different skill. "I was walking down the hallway and I heard someone say 'Does anyone speak Arabic here? We need an interpreter.' So I got pulled into translating for a family. It was really cool." Mazen grew up in Lebanon and developed a passion for health care when he worked as a Red Cross paramedic at the Lebanese-Israeli border. We spoke about his role here, which involves working on strategy and removing operational barriers for three clinical programs, and providing business consulting across the organization.
BLOOM: How did you get into this field?
Mazen Almaoui: Straight out of high school I worked for the Red Cross at the Lebanese/Israeli border. It was a turbulent time in the Middle East. My experience was amplified by the Qana massacre in 1996, where over 100 people were killed and more than 100 injured. That meant all hands on deck for our Red Cross team.

I had to apply new skills on the fly: How do you clear a gun wound? How do you take out a bullet? How do you stitch? Ever since I was born, there's been war in Lebanon, so I was used to that. But to be thrown into the conflict was traumatizing. On the weekends, I went back to Beirut to work as a DJ, to support myself financially.
There were a lot of tragedies, but small moral victories along the way, when people would thank us. That kept that light inside me, in terms of that passion for helping people. My family begged me to go back to school, so I did computer engineering at the University of Toronto.
During my undergrad, I went door to door, and office to office, asking people if they needed a website, and I built a tech company organically. I developed a relationship with customers, and they kept giving me harder things to do. The company grew to 21 people while I was at school.
After that I spent five years in the computer hardware industry, but I realized I didn't have a passion for engineering. I did my MBA at U of T, and spent five years in management consulting. Health care was always still top of mind for me. Then my wife found this opportunity online.
BLOOM: Yes! I didn't know until today that you were married to our autism scientist Azadeh Kushki!
Mazen Almaoui: We met in undergrad and we have two sons now who are seven and four.
BLOOM: What is a typical day like here for you?
Mazen Almaoui: I like the morning. I have quiet time between 7 and 9 a.m. where I do e-mails and work. Then 9 to 4 is meetings, meetings, meetings, followed by a couple of hours of e-mail catch-ups and deliverables.
BLOOM: What is the core of what you do?
Mazen Almaoui: About 30 per cent of my time is clinically focused, supporting our dental, orthotics and prosthetics, and concussion teams. I help them drive strategic projects and remove operational barriers.
BLOOM: What's an example?
Mazen Almaoui: Right now a strategic goal in orthotics and prosthetics is implementing 3D scanning and printing. Instead of the more costly and lengthy process of making a plaster cast to capture the shape of a child's limb, we'll be able to use a 3D scanner, which has the potential to be much more accurate and specific. We want to be the first children's hospital in North America using 3D digital technology as a core service to enhance quality and experience for our children and families.
The other 70 per cent of my role is providing business operations consulting across the hospital.
BLOOM: Such as?
Mazen Almaoui: A typical problem might be building a business case to support a new investment. So let's say we want to open up program X, what should we consider? We need to consider the cost side, how the operating model will look, what we need in terms of staffing, and associated risks.
BLOOM: What qualities do you need to be good in your role?
Mazen Almaoui: You've got to like people. One thing that intrigued me about doing an MBA was to get into positions that engage with people. I'm talking to people seven to eight hours a day, and although we'd all like more time to do actual work, a lot of co-design happens with these groups of people. I'm not only working with management. I'm working with clinicians and physicians and clients and families. The work we did with client journey mapping was a rewarding personal experience.
I had the opportunity to work closely with families and youth to understand what they'd like to experience at Holland Bloorview and beyond: the barriers, what we're doing well, and how we can improve. They helped co-design that work.
One of the things I realized about health care is you have to accept that sometimes things can't move as fast as you need them to move. That requires patience, and a different, tactful approach to keep things moving. I was hired because of my diverse experiences in finance, operations, business architecture and leadership.
You have to be very flexible, and you have to be a doer.
BLOOM: What's the greatest challenge?
Mazen Almaoui: Recognizing that we don't work in a vacuum in health care. It's a complex partnership—not so much internally, but the external forces that come with it: policy changes, financial barriers that require us to be creative. Having willing partners, as we do, with other hospitals, but recognizing the challenges of us trying to integrate and move forward together.
BLOOM: What's the greatest joy?
Mazen Almaoui: I've been able to see success in different ways. In my career in the consulting world, I'd come up with a strategy for a client to grow their business, but it was hard to see a direct impact on a person's life. Here, I can see my work translating into meeting the needs of clients and families.
BLOOM: What emotions come with the job?
Mazen Almaoui: Despite the joys of being able to see your work translated directly, and impacting our clients and families in a positive way, I always walk away from the work with this feeling that we've been able to help clients with maybe a small fraction of their overall needs, and still feeling somewhat helpless that we aren't addressing everything they need from a whole life perspective. I struggle with this all the time, and it's deflating for me.
I'm trying to figure out how to turn that into a positive, and convert it into positive energy that could be brought back to benefit the organization as a whole.
BLOOM: How do you manage stress?
Mazen Almaoui: Early in my career I didn't handle it well. I recognize I need to re-energize at night when I go home, and dedicate myself to my family, and be present there. The kids keep us busy going to their events. I also play floor hockey here, and I enjoy that.
BLOOM: What is it like sharing your place of employment with your partner?
Mazen Almaoui: Our paths don't cross a lot. We are working on a dental project together. Azadeh, in partnership with the dental team, is bringing virtual reality to help clients be able to experience what a dental visit is like prior to coming here, to ease their anxiety. We definitely bounce ideas off each other and use each other as resources, especially to connect across operations and research. And sometimes we use lunch time to catch up on kid stuff.
BLOOM: If you could change one thing about children's rehab, what would it be?
Mazen Almaoui: The change is to look at the client and family from a whole life perspective, as opposed to a functional perspective of the client coming in for physio or speech. We're on that journey now. We need to look more broadly at life goals, and let the life goals dictate what rehab looks like for clients and families.