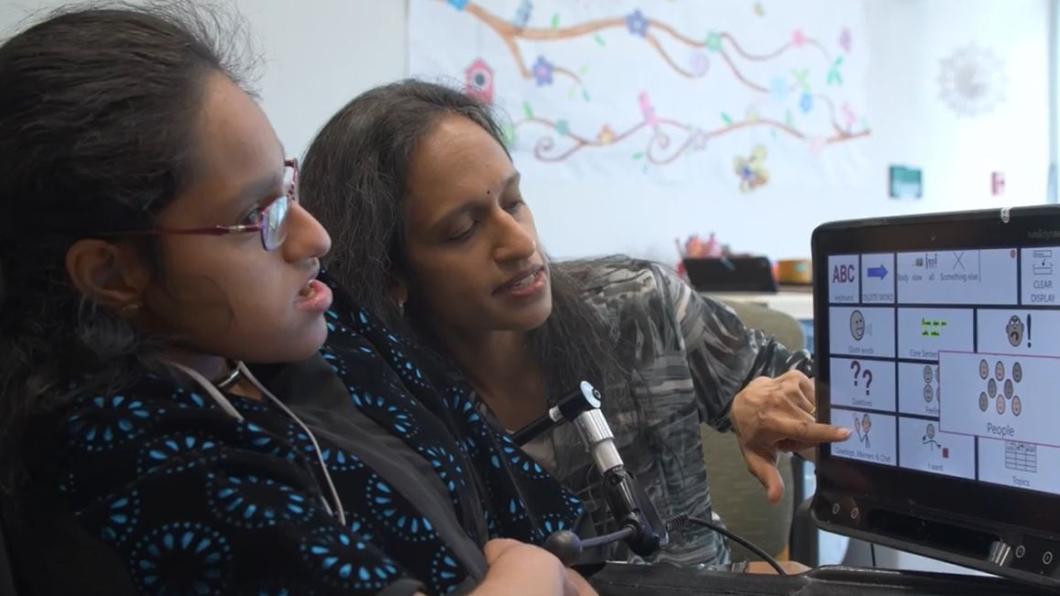 Hummingbird turns teen's sounds into voice
By Louise Kinross
For years, Oviya Devan's family have tried to "find a key that would give us a link between what she's thinking and what we can understand," says her mother Ramya.
Oviya, now 15, is non-speaking and doesn't have the fine-motor dexterity to use a touch screen. 
The Hummingbird, a new assistive technology at Holland Bloorview, has given her a novel path.
It's a switch that detects vocal-chord vibrations when a child makes a sound or hums and turns them into computer functions or voice commands. Oviya wears a sensor on a neckband that turns her "voice into a mouse she can scan across a computer screen to pick words to speak," Ramya says. "To select words she hits an upper arm switch."
Ramya says she's surprised on a daily basis by what Oviya says. "A lot of people assume non-speaking is non-thinking, so it was hard to tailor her school classes to meet her needs. Once she had the Hummingbird she started saying 'I'm bored' a lot."
The Hummingbird has "distinct advantages over sound-based technology," says Leslie Mumford, a research engineer on the project. "They [are], for the most part, all microphone-based, which can be great for picking things up, but once you move into a classroom or other noisy environments that our clients go into, then all of a sudden the background noise drowns everything out, and you can't use it any more. Our switch, because it's picking up directly on your own vibrations in your vocal chords, it's completely unaffected by environmental noise."
Oviya can access words and a keyboard with the Hummingbird. "Now she can communicate not just her immediate needs, like I'm hungry, but she can tell us what kind of music she likes, who she wants to hang out with, or what she wants to do," Ramya says. "She's a teen with a lot of opinions."
Researchers at Holland Bloorview have spent over 10 years developing the technology. "We're launching a campaign to raise funds to manufacture the first 300 devices so families in clinics around the world can get access to it," says Dr. Tom Chau, vice-president of research at Holland Bloorview.
"The people who care for these children know they understand everything going on around them and they have their own preferences and feelings they want to express, but there's no outlet, no channel. We believe that every child deserves the right to communicate."
Learn more about the Hummingbird.
Like this story? Sign up for our monthly BLOOM e-letter. You'll get family stories and expert advice on raising children with disabilities; interviews with activists, clinicians and researchers; and disability news.