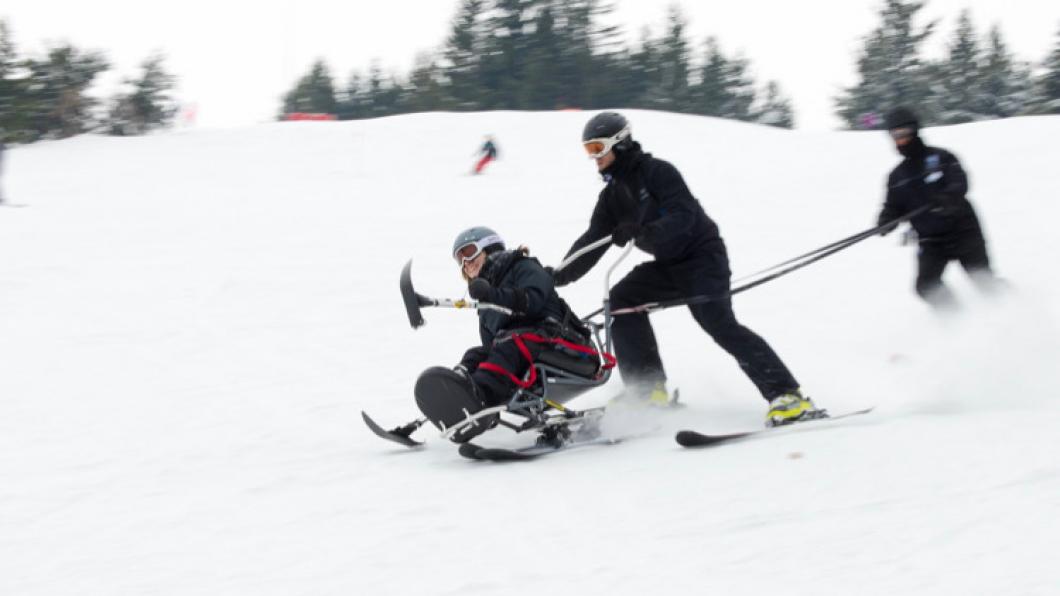 How one Toronto woman with a disability survives our winter
By Jessica Geboers
I'm not too fond of winter. 
I know I'm not unique. Few people seem to like the cold, the snow, the freezing rain, the ice or the slush, regardless of whether they're walking or driving. Shoveling seems like a thankless chore. And getting salt or sand on your shoes and boots is a pain. But having a physical disability can take the struggle to the next level.
I have cerebral palsy.
I live in Toronto, near Greek Town, and walk and take the TTC almost everywhere. The cold weather makes my already too tight, and often sore, muscles hurt even more. I walk pretty well with my canes in the right conditions, but a surprise obstacle or strong wind can quickly bring me down. Add in lots of snow and ice, and I fall a few times a week.  Sometimes I hurt myself, but more often I'm annoyed that my clothes get soaked, or covered in salt. 
I do have a manual wheelchair, which I use for speed and distance, and it significantly improves my stability. But it's impossible to get over the snowbanks that our plows so thoughtfully push in front of crosswalks.
In my wheelchair, a snowbank might as well be a cement wall. With my canes, it's a mountain to summit. I often fall, but I usually eventually make it across. On the bright side, falling into a snowbank can be a great way to make friends.
Getting around a snowbank in a wheelchair often means wheeling on the road between the first two shoveled driveways I find, while praying not to get hit by a passing car. Most people know what it's like to get salt stains on their boots or shoes. In a wheelchair, those stains end up on your coat sleeves, which drag on the wheels, or pockets, which don't usually stay behind the clothing guards.
I'm lucky to have the ability to choose between mobility devices; not everyone has that luxury.
If possible, I only go out when it's above -5 degrees Celsius and/or there's no snow on the ground. 
If I had my choice, I'd be a snowbird. My maternal grandparents are from Edmonton, but began spending winters in Palm Springs about 15 years ago. Since then, I've visited every year or two, usually in January or March, depending on when most of my family can go.
Palm Springs is pretty accessible, thanks to its aging population. Seniors and people with disabilities have a fair bit in common in terms of aches, pains and mobility challenges, and share an appreciation for anything that alleviates those concerns. I've noticed that we both tend towards guided tours: most aspects of the trip are sorted for you, particularly transportation, which is helpful for those of us who can't drive or walk long distances.
My family and I spent this past Christmas in Palm Springs. It was fantastic to spend the holidays with my grandparents and to be warm, with no snow to contend with. Most days it was 15 to 17 degrees Celsius. The evenings were chilly, but not cold. Locals knew we were visitors when they saw us in a t-shirt and a hoodie at night, while they wore puffy jackets and toques. On Christmas day, they were surprised to see us swimming in the community pool.
Unfortunately, I'm only 30, and not in the position to fly South each winter. Here are some of my local winter survival strategies.
I order my groceries online from Grocery Gateway, and have them delivered about once a month. Honestly, I do most of my shopping online now. I even get my quad canes from Amazon. This was my last pair. 
Otherwise, I'm mindful of my outings, and complete multiple errands at one time. I plan my route along wider sidewalks, because they tend to be cleared of snow, or use connected buildings that I can walk through, to avoid the outside. I work from home whenever possible. This is particularly handy when freelancing.
I do struggle with mental health, so to keep isolation and depression at bay, I try to stay busy and social. Spending time with friends, on the phone or in person, is vital. We'll often get together at my apartment and have food delivered via DoorDash or Uber Eats. Tacos from Mi Taco are my go-to.
I've also taken up sit-skiing. About four years ago, I decided I needed an activity to get me out of the house during the winter, and maybe improve my relationship with snow. I'm not athletic, but I love a thrill.
Weaving downhill in a sit-ski is a thrill, even if I fall on my face. I'm still learning, but make progress each season. Rather than a volunteer holding on to my ski to keep me up, they're now a couple of feet behind, supporting me with tethers. So, I have to keep myself up and I get to make my own turns. I recently figured out how to catch myself with my outriggers, which are like ski poles, when I lose my balance, avoiding a full wipe-out. That's a major accomplishment. I hope I can do it again.
Joining the Adult Disabled Downhill Ski Club at Mansfield Ski Resort has kept me moving and learning new skills, while making new friends, some now very close.  I'm even a little fonder of winter and dislike snow a little less, at least on the ski hill.
I still dream of being a snowbird. In the meantime, I'm making the best of winter in Toronto and on the slopes.