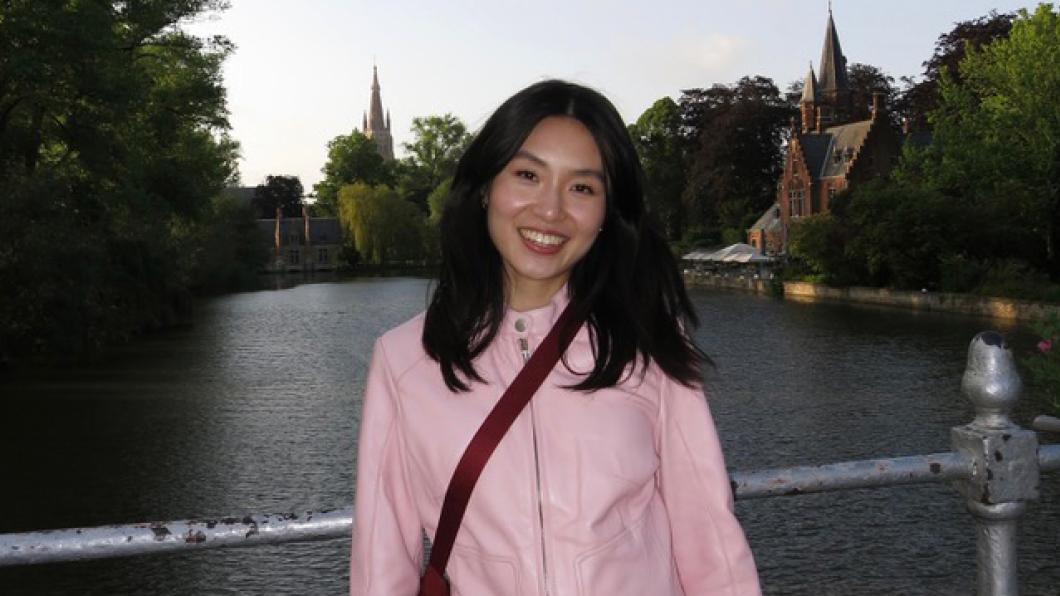 Hospital volunteer heads to medical school: 'I learned how to show I care'
Subin Park, on a recent trip to Brussels.
By Louise Kinross
At age 15, Toronto resident Subin Park became a volunteer at Holland Bloorview. "I began as a respite swim volunteer and later helped out with the recreational programs and March Break camps as well," she says. "I also worked as a COVID-19 screener and a family visit coordinator during the pandemic.' This fall she starts medical school at the University of Toronto. Subin says her roles at Holland Bloorview gave her the experience to know she wanted to become a doctor. We did this interview over e-mail. 
BLOOM: What was your favourite volunteering role and why?
Subin Park: My favourite role was helping out with the March Break respite camp. I got to build so many new connections with patients and staff. The activities that brought smiles to the children's faces also made me really happy, and it became one of my most memorable March breaks. I really enjoyed learning about each child's personality, fostering a safe and friendly community together, and watching everyone uplift one another to spread positivity throughout the week.
BLOOM: Did you have experience with disability before coming here?
Subin Park: I didn't. However, Holland Bloorview taught me a lot about disability, inclusivity, equity and diversity. It also taught me the importance of patient advocacy, empowerment and empathy. I carried what I learned from Holland Bloorview and my passion in educating others about social issues at my university as well. I was part of a club called Women and Gender Equity Network at McMaster University where we provided peer support to students, including those with disability. We also ran campaigns to educate folks on ableism and intersectionality, and trained our peer support volunteers on topics such as inclusivity.
BLOOM: What was most challenging about volunteering here?
Subin Park: I thoroughly enjoyed volunteering at Holland Bloorview and always felt supported by the staff and faculty there. If I needed help, I wasn't afraid to ask. However, if I had to pick a challenging part, it would be the initial phase of getting to know a patient well.
Every patient I worked with had unique needs, communication styles and personalities. Learning about these individual characteristics with a new patient took time. [But] once I got to know them well by spending time with them, doing arts and crafts activities and playing games together, it was easier to connect and understand them better to ensure they felt heard and seen.
BLOOM: What was most rewarding?
Subin Park: Seeing the smiles and excitement on the children's faces. Whether it would be singing along with the music therapist, drawing, playing board games or crafting, it was always nice to see a smile on their faces and look forward to our next time together. It was lovely to see them happy and to help them grow their new interests and hobbies.
BLOOM: What did you learn that may be valuable to you in the future?
Subin Park: Volunteering taught me many important lessons. I think one of the biggest... was on empathy. I learned empathy can come in many different forms. From understanding that a child doesn't want me to draw something for her, but instead to 'assist' her to draw something, to paying attention to the smallest body language to understand their wants and needs, I learned how to show I care and empower others. I think empathy is one of the most important qualities in a physician, and as I enter medical school, I hope to continue to apply it in my daily life and patient care.
BLOOM: Did your experience here influence your decision to apply to medical school?
Subin Park: Yes. I began volunteering at Holland Bloorview to further explore my interest in health care. My time as a volunteer and staff was amazing and I really appreciated the friendly, welcoming environment of Holland Bloorview. It made me realize that I enjoy working in health care and would want to work in this type of environment in the future. Without this I wouldn't have the foundational experiences needed to know if I wanted to pursue medicine.
BLOOM: Have your ideas about disability evolved since working here?
Subin Park: Since volunteering here, I've learned about visible and invisible disabilities, how to promote inclusivity, ways to address societal structures and barriers, how to advocate for patients, and more. Beyond Holland Bloorview, I am still continuing to educate myself on topics related to disability and ableism through conversation and participating in related advocacy work.
Like this interview? Sign up for our monthly BLOOM e-letter. You'll get family stories and expert advice on raising children with disabilities; interviews with activists, clinicians and researchers; and disability news.