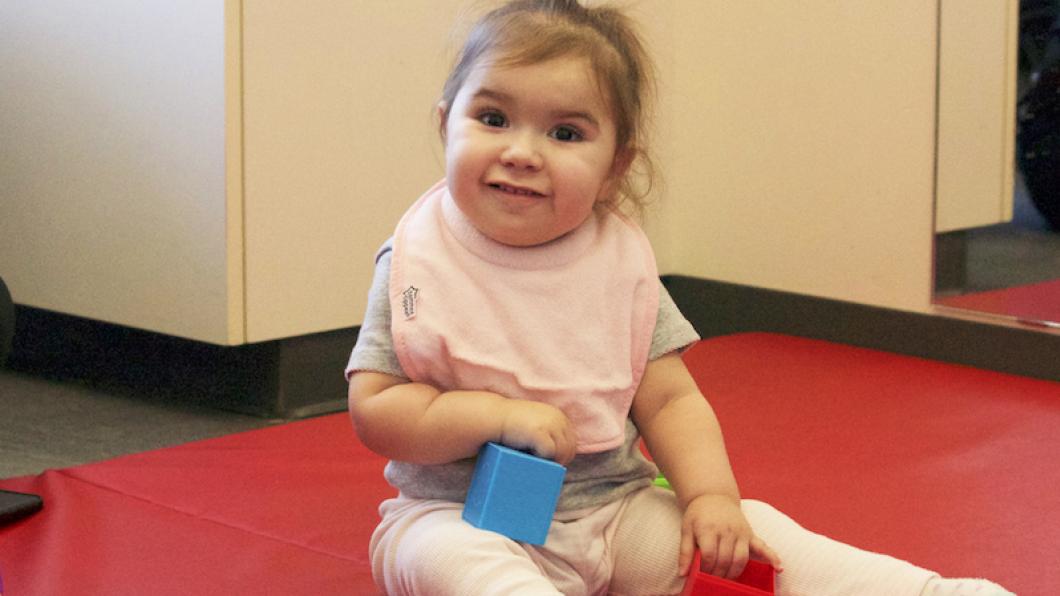 Eva is doing 'things we never thought would be possible'
By Louise Kinross
"Hello," says the tiny toddler in a very grown-up voice.
Eva Batista, 18 months, is sitting on a red mat holding a toy pink pig that she places in and out of plastic boxes. It seems natural play for a young toddler, but for her mother Jessica, it's nothing short of miraculous.
"She's showing strength and interest in things we never thought would be possible," Jessica says. "To go from losing all mobility to where she's at now, weight-bearing and holding her four-point position for crawling, it's mind-blowing."
Eva is part of a new intensive, inpatient rehabilitation program at Holland Bloorview for children with spinal muscular atrophy (SMA) who have been treated with two new breakthrough drugs. Eva received one of the drugs—Zolgensma, a gene therapy that costs $2.8 million per dose—when she was picked in a worldwide lottery by drug manufacturer Novartis to receive it for free.
SMA is a rare genetic condition that causes muscle atrophy and weakness. Children with type 1, like Eva, don't typically gain the muscle strength needed to sit unsupported. Without the use of a ventilator, most die by the age of two. Muscle weakness doesn't just affect mobility, but "also chewing and swallowing food and breathing," says Dr. Laura McAdam, physician director of the child development program at Holland Bloorview. 
Our outpatient neuromuscular team and inpatient complex continuing care team have developed a six-week rehab program to "optimize functional gains due to the increased muscle strength we are seeing in children treated with the new drugs," Laura says. "We are seeing gains in muscle strength and abilities that we had never seen before."
Eva has been receiving inpatient physical, occupational and speech therapies as well as time in our therapeutic playroom and heated therapy pool.
"The gradual increase in Eva's strength over time means that she can play in a variety of positions for longer and that she's able to be a more active participant in play," says occupational therapist Sarah Davidson. "We've been working on strengthening through play—sitting, reaching outside of her base of support, and transitioning into side sitting. We've also been strengthening her grasp by playing with toys that pull apart."
Jessica said her hopes were for "Eva to get stronger, and so I could learn things I can take home and work on."
The North York, Ont. family has lived in isolation to prevent Eva from getting sick. "A simple cold could end her life," Jessica says. "We're always walking on ice because any stress on her respiratory system is dangerous. I hoped by coming to this program that Eva would get to socialize in a safe place and be a little toddler, too. She doesn't know anything else besides physical therapy every day and mom and dad. One thing that surprised me was the huge improvement she's made here in speech therapy. I'm so focused on the physical that I almost ignored the speech. She's much more vocal and more outgoing."
Eva has received both of the new drug treatments for SMA. When she was three weeks old, she lost all movement. At seven weeks she was diagnosed, and shortly after received Spinraza, which is publicly covered in Ontario. It improves survival rates in patients with type 1, and helps children and adults with all types of SMA to maintain or improve their function. It's given by lumbar puncture every four months.
For the first year of Eva's life, her parents desperately tried to raise funds to cover the $2.8 million cost of a second treatment, called Zolgensma. It's a gene therapy that replaces the defective or missing gene. They enrolled her in an international lottery run by manufacturer Novartis. The company provided the treatment to some patients free of charge. "It's the most expensive drug in the world," Jessica says. "Bi-weekly, they would choose a few names. We won the lottery! It's a one-time IV infusion therapy. Ever since she got that on Nov. 25, she's made amazing, amazing progress."
Jessica says parenting Eva has been an emotional rollercoaster. "Most challenging has been feeling alone, and not having anyone who understands. You're going through all of these postpartum emotions and then you get a terminal illness diagnosis. What helped me the most was an SMA support group on Facebook. You meet strangers who completely understand. They give me insights and suggestions and a shoulder to lean on."
Before Eva was born, Jessica was an esthetician. "I went from beauty to medical," she laughs. "Now I'm a rookie nurse." In addition to carrying out therapies at home, Jessica feeds Eva by tube, suctions her secretions, and gives her treatments to help clear her lungs. At night, Eva uses a BiPAP machine to help her breathe.
Before the end of Eva's admission, the family will meet with the inpatient and outpatient rehab teams to discuss her progress and plans to transition back to outpatient therapy and a program Jessica can implement at home.
"She has pulled everything out of me that I never knew I had," Jessica says. "All the strength and determination and motivation—it's all for Eva."