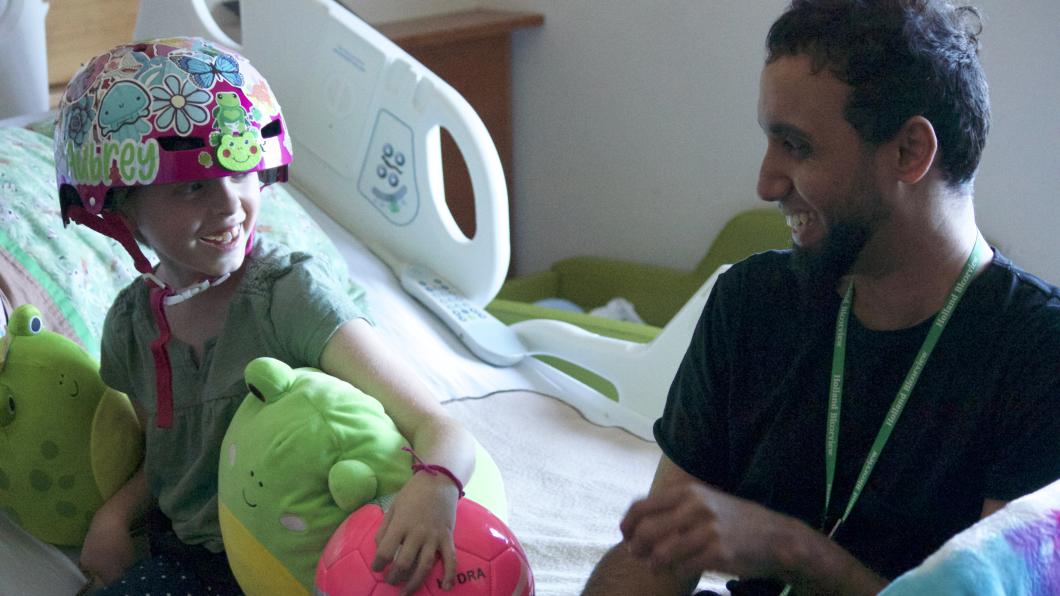 Drawn to children's rehab nursing by a playful culture
By Louise Kinross
Waqas Zaman came to Holland Bloorview as a student nurse in 2021 and now works as a casual nurse on our inpatient units. His dedication to patient care is matched with a passion for technology: He's doing a master's program in Health Informatics at the University of Toronto. "My current goal is to integrate technology to improve diagnosis, early detection and appropriate and timely provision of care, and I'd love to do this in pediatrics because the data is very robust for children," he says. We spoke about his work at Holland Bloorview.
BLOOM: How did you get into this field in the first place?
Waqas Zaman: When I first started university I wanted to go to medical school. After I finished my first degree my dad got cancer. During that time I visited him in the hospital and I saw how much care and compassion the nurses gave him, and I decided I wanted to do that, too. I wanted to be in health care and interact with patients.
Before he got better I was enrolled in a computer science program, but after I went into a two-year nursing degree. It was when I started working here at Holland Bloorview on a clinical placement that I began wanting to work with kids. You spend a lot of time with the kids and really get to know their families, and you get to see the children get better and eventually be discharged. Those are some of the things that got me really interested in pediatric rehab.
BLOOM: You said you work evenings here. What's a typical shift like?
Waqas Zaman: I come in and check the assignment sheet for the patients I have, then I get report from the previous nurse or nurses. After that I go and introduce myself to the families and tell them I'll be working with them and make sure they're okay and don't need anything immediately. Then I go back on the computers to read their care plans and make notes if there are certain things I need to be mindful of. Then I organize my tasks. If I'm on Specialized Orthopedic and Development Rehab (SODR) it might be range-of motion-exercises or helping kids do the bikes on the unit. I do meds and help patients with eating. If their parents aren't around, I may help with changing and showering them. I like working evenings because I have more energy then. 
BLOOM: How did you get interested in Health Informatics?
Waqas Zaman: When I was doing my nursing degree I noticed there were a lot of issues in health care as a whole that can be fixed, and would save a lot of costs to the system. For example, the project I proposed to the university during admissions was related to the excessive and unnecessary use of emergency departments.
Sometimes immigrants or people with low health literacy or language barriers may use the emergency room as a one-stop shop for health problems that can be treated elsewhere. I proposed incorporating artificial intelligence (AI) into an app that would serve as a triage for patients and appropriately refer them to services near them. As I learn more in the field, I'd like to use predictive modelling for detecting pediatric pneumonia or sepsis early.
Nursing is a great career to be in if you're working in Health Informatics because you have direct interactions with clients. You know your patients and you can get appropriate insights and data to integrate into technology to make your work more efficient and reduce errors.
BLOOM: What's challenging about your nursing role?
Waqas Zaman: It could be behavioural challenges, if a child has sustained injuries to parts of the brain that alter their behaviour, and they don't necessarily have control over their behaviour. I may encounter communication challenges. Maybe it's hard for the client to understand me or vice versa. I've found working with families helps a great deal to identify how best to work with a child. They know the child's preferences and how to best communicate with them. I ask for tips and strategies on how to make their stay and care better.
BLOOM: What about joys?
Waqas Zaman: The environment and the culture is very playful here. I always make time to keep things fun with the kids. Some boys here love playing video games, so I'll go and play with them. Hearing stories from the families and getting to know them is fun. I find it a very stress-free environment to work in. I know I'm coming here to help them, but I also see their health conditions improving and them progressing and getting better. What makes me happy is seeing the impact of my work.
BLOOM: What emotions come with the job?
Waqas Zaman: It's very sad to see kids in a hospital setting and some have very traumatic experiences or life-altering injuries. But in this setting specifically, I know I'm making a difference in their life, and I see improvement during their stay. That's where a lot of joy comes.
BLOOM: Do you do anything to manage stress?
Waqas Zaman: Mostly exercise. I love playing football and going bike-riding to wind down. But to be honest, ever since I've been working here I don't think I've come in even one day where I'm feeling stressed about work. It's definitely a very nice place to work.
BLOOM: Are your colleague part of that?
Waqas Zaman: I've had a great experience with all my colleagues on every single unit. Everyone is very helpful and works like a team, so that's definitely a huge factor in what makes the work more enjoyable. Especially as one of the newer nurses, I'm very comfortable in asking my colleagues if I'm unsure about something. 
BLOOM: If you could give yourself advice on your first day here, with what you know now, what would it be?
Waqas Zaman: If you're not sure about something, just be open to asking questions and learning and growing your skills. Or maybe you know how to do something, but you need help. Some days on complex continuing care (CCC) the workload was a lot for me, and that may be due to me being a new nurse and my time management skills aren't as polished. Ask for help whenever you need it. I've done that many times and everyone is amazing to work with.
BLOOM: If you could change one thing in children's rehab, what would it be?
Waqas Zaman: I'm not sure if I've worked here long enough to answer this question. Maybe more psychological support for some kids and families who have gone through a lot of trauma.
BLOOM: What are your hopes for the future?
Waqas Zaman: I want to be able to work with the current data to train AI to better detect illness and better individualize care for children.
Like this interview? Sign up for our monthly BLOOM e-letter. You'll get family stories and expert advice on raising children with disabilities; interviews with activists, clinicians and researchers; and disability news.