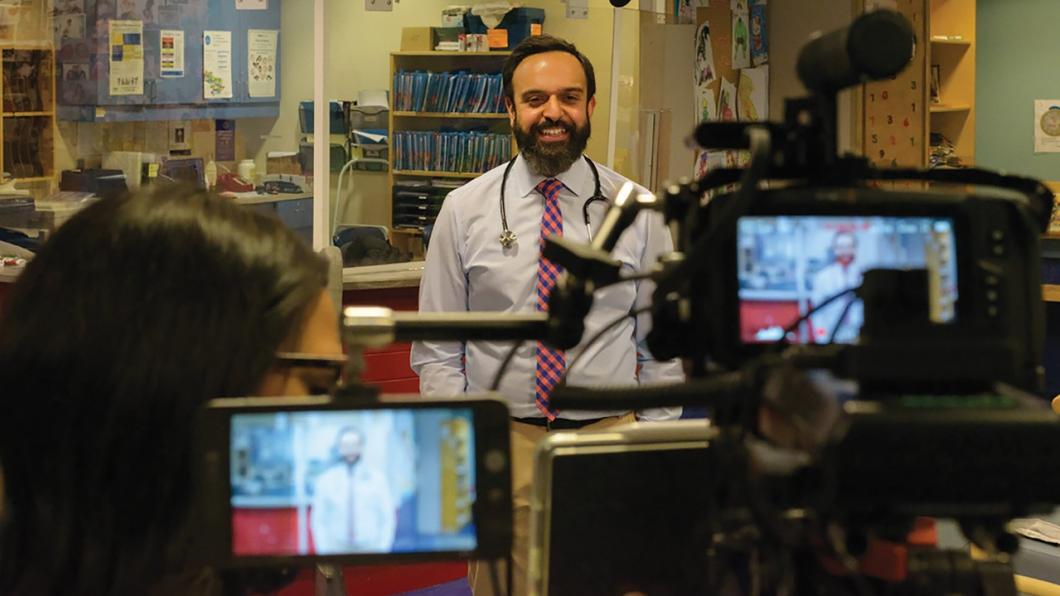 A doctor takes to TikTok to educate racialized families on child health
Photo by Paul Bassi
By Louise Kinross
Ripudaman Singh Minhas is a developmental pediatrician at St. Michael's Hospital in Toronto who works with newcomer families with children with disabilities like autism and Down syndrome. He was born in Punjab, India and moved to Canada as a child. Last year he took to social media to launch Punjabi Kids' Health, a health literacy program in Punjabi and English that covers children's health and parenting. "The Punjabi community was particularly hard hit by the first waves of the pandemic," he says. "When one gets health information from someone who looks like you and talks like you and has a similar name, there's a greater likelihood of building trust and we see better health outcomes." We spoke about how he became interested in working with families marginalized by race, immigration status and disability.
BLOOM: How did you get into developmental pediatrics?
Ripudaman Singh Minhas: I was really interested in the idea of early childhood experiences and how they can have a lifelong trajectory and intergenerational impact. 
My interest in pediatrics came when I was a medical student and did an elective in Gwalior, India, at the time when a tsunami had hit South Asia. I worked in a children's hospital and an orphanage.
I was struck by how hard families worked together to support their kids, and the disproportionate impact on families who were already experiencing poverty and had children with disabilities. That was eye-opening and motivated me to want to work with children.
One of the striking pieces was that many of the children in the orphanage had some sort of neurodevelopmental disability. I did a small qualitative study to learn about the local community's understanding of disability and some of the stigma behind it.
There was a belief about disability having a pervasive impact on all aspects of an individual's abilities, and a lot of discussion about karma beliefs, and how perhaps parents had done something that caused their child to be impacted in this way. That led to stigma and shame and families said they knew of people who had given children up because they were identified as having an impairment. There was also the piece around cost of having a child with a disability when the family was already impacted by poverty. 
BLOOM: What is a typical day like now?
Ripudaman Singh Minhas: Generally I'm at St. Mike's hospital and my developmental pediatric clinic is in the downtown east core. That may look like a clinic day where I see families in hospital-based clinics. We also have clinics in partnership with the Toronto District School Board. These are school-based health clinics, and I work in the ones in Regent Park. 
I'm also embedded in an EarlyON child and family centre in Regent Park that provides drop-in programs for families. Some days I'm at a family health team site working alongside family doctors and nurse practitioners in a community integrated model. So my work varies day to day, but I'm always pleased to work as part of a larger multi-disciplinary team.
BLOOM: What is it like to be so mobile in the city?
Ripudaman Singh Minhas: It's really exciting and gratifying to be able to meet families in a setting that's more familiar to them. For example, if they're coming to the EarlyON centre they're already comfortable there, so it helps to bring down some barriers and worries. Likewise, families have told us they like the idea of their child being seen in a school setting rather than going to the hospital, which can seem daunting and scary. 
BLOOM: What's the greatest challenge?
Ripudaman Singh Minhas: The really significant wait list that our families encounter, even after seeing us for a consultation or diagnosis. It can be really disheartening for them to learn that there's a wait to get funding and a wait to access a therapist or attend a program. We try to provide follow-up visits and counselling to support the child's development while they're at home waiting.
We do have a wonderful pediatric patient navigator program that supports families in filling out all the forms and getting their documents in place. That can be difficult while they're struggling with resettlement challenges and running a busy household.
BLOOM: How long are families waiting for therapies?
Ripudaman Singh Minhas: It's fluctuated throughout the pandemic with changing policies from the provincial bodies. The Ontario Autism program has changed how they allot funds over the past year and a half. We have some families waiting 12 to 18 months before being able to access their first therapeutic intervention. 
Part of it is a wait to get funding, and part is a wait to find a provider who has space in their roster to take on their child. 
BLOOM: What's the greatest joy?
Ripudaman Singh Minhas: From a clinical standpoint I would say it comes from helping families to understand their children better, to understand why their child is doing the things they do, and to understand how their child sees the world. I really enjoy being on that journey with parents and exploring that together.
BLOOM: You did a developmental pediatrics fellowship at Holland Bloorview. How has your understanding of disability evolved since then?
Ripudaman Singh Minhas: I think as trainee a lot of my understanding was around the early diagnosis process—the check marks we go through, the physical exam assessment to arrive at a diagnosis. 
I'm so fortunate now to follow my patients over the long term and to provide follow up. If a child is diagnosed in their toddler years it's great to support families as the child starts school and moves on to middle school and adolescence. 
I think my understanding has evolved from a snapshot of 'Does this child meet the criteria for a diagnosis?' to thinking about disability in a larger context, over time, in terms of how a child participates in everyday life. What does disability look like in a dynamic way?
BLOOM: What does your research focus on?
Ripudaman Singh Minhas: Supporting parents and caregivers in their parenting journeys—particularly in communities that have experienced marginalization. Our Maple Circle Project involved engaging with parents with a refugee background to understand how they approach parenting after resettlement in Canada, particularly if they have a child with developmental or behavioural concerns.
We wanted to understand their parenting priorities, values and challenges, as well as their strengths and needs in order to create a program tailored to their specific perspective and context. 
We learned from our study that existing parenting programs may not be accessible or relevant to refugee parents, because a lot are only offered in English and with Eurocentric views of what parent/child dynamics should be.
Refugee parents may be interested in something like how do you manage a tantrum, but also how can I put together a resume to get a job? Or how can I learn skills like keyboarding or sewing to provide an income? They have additional mental health and resettlement needs.
We are developing a syllabus for a program for families that covers resettlement needs and parental mental health needs and aspects about child mental and physical health. We're developing a website and our pilot language will be Arabic.
BLOOM: What is Punjabi Kids' Health?
Ripudaman Singh Minhas: It's a health promotion program on social media created to provide evidence-based health information to families that are part of the Punjabi diaspora globally. We launched in January 2021 on TikTok and Instagram and now we're creating a Facebook group. Each week we have a theme and produce an infographic and short video or live question-and-answer sessions in English and Punjabi.
All of the on-screen health providers come from the Punjabi communities themselves. When one gets health information from someone who looks like you and talks like you and has a similar name, there's a greater likelihood of building trust and we see better health outcomes.
BLOOM: Why did you start with this audience?
Ripudaman Singh Minhas: The Punjabi community was particularly hard hit by the first waves of the pandemic. It became clear that cultural-linguistic identity greatly impacted communities' health information needs. Young families experienced multiple sudden disruptions in their access to in-person services where they would have received health information, including school and medical and therapy visits. 
BLOOM: How many followers do you have?
Ripudaman Singh Minhas: We have 80,000 community members. An online poll showed they come from more than 40 countries. When tuning in, about a third are in Canada, a third in India, and a third in other parts of the world. Most of the engagement with our English content is on Instagram and most of the engagement with our Punjabi content is on TikTok.
BLOOM: What are your most popular topics?
Ripudaman Singh Minhas: We're seeing a lot of COVID fatigue, so that content isn't getting as much engagement. Families are really interested in early childhood development, so things like speech delay or signs of autism. We've had interesting conversations about content on parental mental health and addiction. The other area that was well received recently was gender identity during Pride month. Some of those posts had thousands of shares.
BLOOM: How is disability viewed in Punjabi culture?
Ripudaman Singh Minhas: Some years ago there were very significant feelings of stigma and shame, whereas now a lot of our community members are keen to learn more and to intervene. So perspectives are shifting.
BLOOM: What was the original stigma based on?
Ripudaman Singh Minhas: I think there can be a lot of fear in identifying someone as different from what parents or families members expected. So someone who is neurodivergent might be seen as inferior or requiring support or imperfect. What we're trying to do online is celebrate differences. One of our videos that did well was called What's your child's superpower? It was encouraging families to look in a strength's based way at their child's developmental profile.
BLOOM: How do you juggle your clinical work and producing content for Punjabi Kids' Health?
Ripudaman Singh Minhas: When I was a medical student I never imagined that I'd be spending my evenings in the attic making TikToks. 
It started off with a very small team of volunteers, including practitioners from the Punjabi community across Canada and the rest of the world. They created videos and did translation and graphics. We now have a team of health-care professionals and students and volunteers. Recently we were awarded funding from the Public Health Agency of Canada to adapt Punjabi Kids' Health to seven other linguistic and cultural communities. So we'll reach Cantonese, Mandarin, Black African Caribbean, Hispanic Latinx, Arabic, Inuktitut and Tagalog communities. We're also trying to create one for the Ukrainian community around the upheaval they're going through.
BLOOM: What barriers do newcomers with children with disabilities face here?
Ripudaman Singh Minhas: They encounter racism, financial difficulty, and barriers to navigating the health system. Where do I get services? What forms do I fill out? Who do I call to make sure I'm on a wait list? Disability stigma may be strong in countries they are coming from. I had one family ask me, after I'd shared a diagnosis of autism, whether their child would be added to a national registry for people with disabilities. In their country of origin, the child would not be welcome in a typical public school and would have been in many ways outcast, such as not being able to vote. 
BLOOM: What emotions come with your job?
Ripudaman Singh Minhas: Sometimes worry and frustration about challenges in accessing supports for families. Other times there's a lot of joy in getting to meet families and helping them to understand their child. In terms of social media, we get messages regularly from people all over the world who are accessing videos. They may say they watched a 50-second video that helped them change how they do mealtime at home and their mental health and relationship with their child has improved. There's a lot of joy in being able to share that information. 
BLOOM: If you could change one thing about children's rehab for newcomer families, what would it be?
Ripudaman Singh Minhas: Two main things come to mind. Supporting them with navigation, because it's a gauntlet to get these resources figured out for families. So more wrap-around care with navigation.
The second thing is connecting them with community, whatever that means to the family. It could be a faith-based group or a cultural-linguistic group or a group for a specific diagnosis. It's helpful for families to connect with peers who are further along in the process. To get to a mental health standpoint where a parent feels able to advocate, having a community of support is really important. One example is the South Asian Autism Awareness Centre.
BLOOM: What do you do to manage stress?
Ripudaman Singh Minhas: I take the time to ground myself before I walk into the house after a day at work. I like doing a five-sense check. So I'll look at five things I can see, make note of four things I can hear, three things I can smell, two things I can feel, and one thing I can taste. I take that break before I go into my household and transform into being a dad and husband. It helps me to wrap up my day and transition back into other roles.
BLOOM: What does your son think about your success on social media?
Ripudaman Singh Minhas: My 10-year-old son is impressed by the global reach of these videos, and has contributed his voice to our 'Did You Know?' fact series. That gives him an opportunity to practise his spoken Punjabi. He laughs when we're out in the community and I occasionally get identified by strangers as "that doctor from Instagram."
You can check out Punjabi Kids' Health on TikTok, Facebook and Instagram. The new Tamil Kids' Health just launched. Like this interview? Sign up for our monthly BLOOM e-letter. You'll get family stories and expert advice on raising children with disabilities; interviews with activists, clinicians and researchers; and disability news.