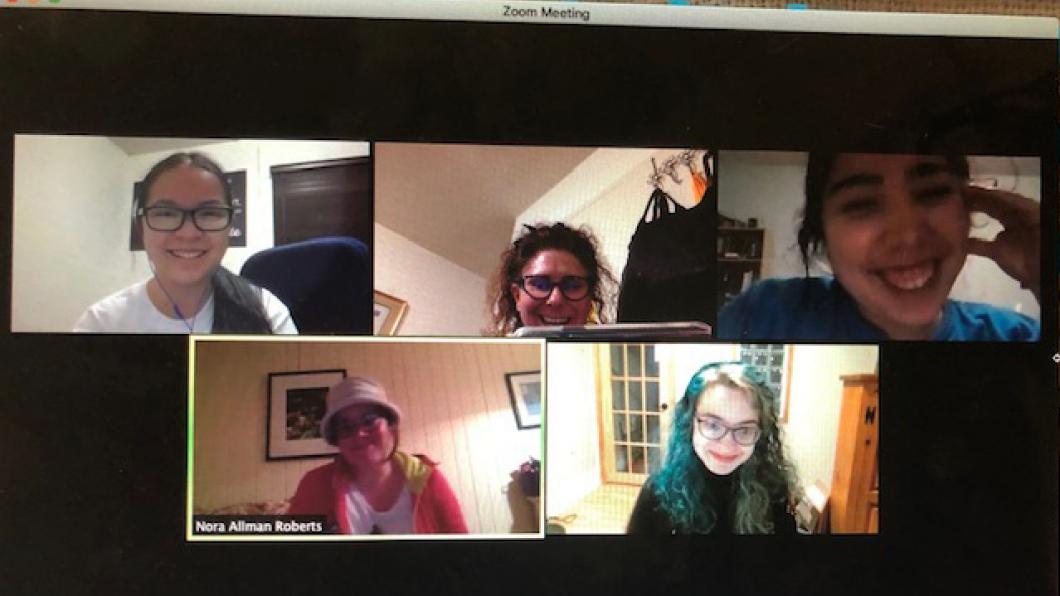 COVID-19 is no reason to stop hanging out with friends
In addition to virtual hangouts for youth aged 15-21, Holland Bloorview's youth advisory (above) has been connecting every Saturday night for Netflix parties. This one, to watch Harry Potter and the Order of the Phoenix, was number 10. 
By Louise Kinross
Holland Bloorview is creating virtual hangouts for youth with disabilities as a way to break pandemic isolation. 
Over 100 teens have participated in the online get-togethers, which include a Rec Room where teens play games, and Netflix parties, where they watch a movie together online, then meet on Zoom to discuss it.
So far the most popular game is Kahoot, where participants type answers to trivia questions into their phones. "It's very competitive," says Mathias Castaldo, a youth facilitator at Holland Bloorview who helps run the hangouts.
Youth also play Name That Tune, where a youth leader plays a short audio clip and they guess what it is, and Two Truths and a Lie, where each person shares two facts about themselves and a lie, and everyone has to guess what the lie is.
The hangouts are open to current and former clients aged 15 to 21, and are part of five virtual friendship and participation projects the hospital is piloting. "We know social interaction offers a lot of benefits to young people in terms of quality of life and growth and development," says C.J. Curran, director of Holland Bloorview's transition strategy. "With everyone being homebound due to COVID-19, we wanted to find a new avenue to keep people connected."
C.J. says the programs are being evaluated with the intent to grow them to a wider audience.
"With social distancing, there isn't an opportunity to get together physically, so this gives youth an opportunity to meet people and reconnect with some they already know," Mathias says. "One parent told me 'These programs are really important for kids like my son."
The virtual hangouts are a team effort. Youth facilitators and leaders, an admin assistant and an occupational therapist work together to organize the events and ensure they go off with without technical hitches.
There is no cost to participants and youth with a variety of disabilities are welcome. 
This program is made possible by generous funding from Barbara Underhill and the Stephanie Gaetz Foundation.