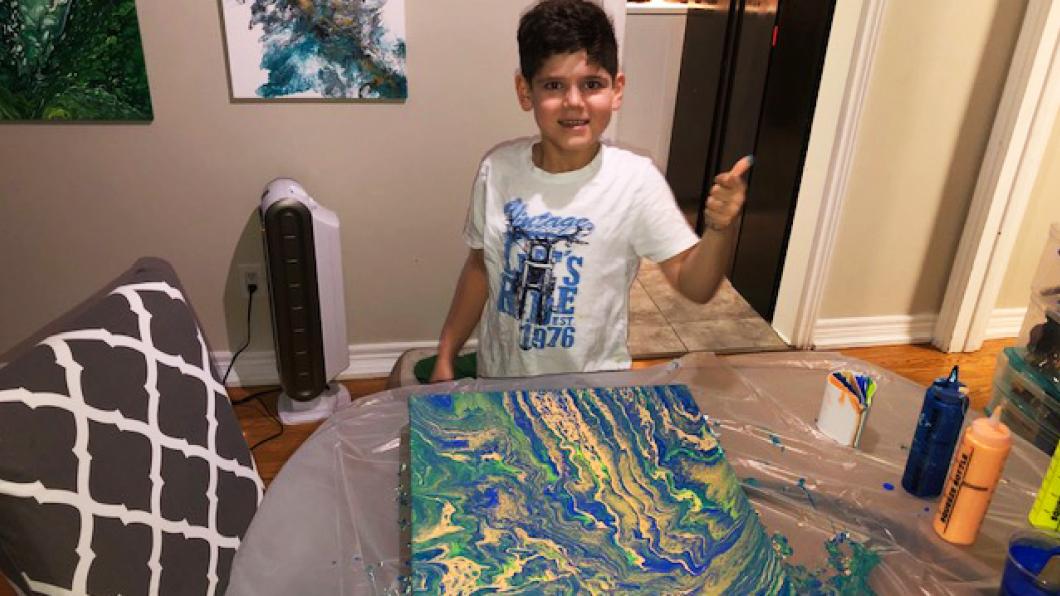 A boy with epilepsy finds joy in abstract painting
By Louise Kinross
The bold, vibrant colours of Alessandro Rizzotti's art can only be matched by his exuberant smile.
The seven-year-old Toronto boy, who had a stroke just after birth and later developed seizures, has sold over $5,000 worth of his acrylic pour paintings on behalf of Epilepsy Toronto.
Alessandro discovered abstract painting by accident, says his mother Roza Braun.
"We were stuck at home when COVID hit and he wanted to paint," Roza says. "I gave him paint and I went to cook dinner and when I went back to check on him, he had poured all of the colours into a cup. I was like 'What am I going to do? I don't want to waste this paint.' So I gave him an old canvas and said 'Have fun. Do whatever you want.' I love when he plays with his hands, as he still has a weaker right side. He flipped the cup onto the canvas and then he started moving the canvas, and that's how it started. I was like 'Wow!'"
Roza transformed the dining room in the family's small apartment into a studio where Alessandro creates his art. "Sometimes the paint is everywhere on the floor and on the chairs, but I don't mind," Roza says. "He loves it and I'll clean it up."
As Roza began hanging Alessandro's pieces on their walls, she quickly realized she needed to purchase better paint. "He started with Dollarama paint, but that eventually cracks, so I started buying better paints and mixing them for him. I started Googling stuff on different techniques and we watch the YouTube videos together.
For example, Alessandro sometimes uses a blow-dryer to move the paint on the canvas. Most recently, he pours paint onto a canvas that he spins on a Lazy Susan. "It's a lot of mess," Roza says. "The first time he did it, I had to repaint my wall. So we learned to spin it in a box, so that the paint stays in the box." 
Roza says Alessandro's painting is like therapy. "It's boosted his confidence and he tells everyone 'I'm an artist.' He's proud of himself. He has ADHD, and sometimes he's all over the place, but when he's painting, he pays attention and he does it all by himself. We found his hidden super-power."
When he's not painting, Alessandro likes playing video games or going outside in the snow. He's received a number of therapies at Silver Creek Preschool and then Holland Bloorview. "We're still looking for the right medications for his seizures," Roza says. "With the combination of Cannabis oil and medication, I don't have to call 911 anymore."
Early on, Roza was told Alessandro might never walk or talk. He began walking at age two and his speech came in when he was five. "I went through so much and I had to take some therapy to help me deal with it," Roza says. "When I'm negative I don't do well, so I try to turn everything into a positive vibe and be thankful for every day."
A local bakery offered to show Alessandro's paintings to raise money for Epilepsy Toronto and the pieces sold out in two days. This is a beautiful CBC News piece about Alessandro. You can follow his progress on his Instagram account, called Little Artist. Check out lots of amazing videos there of Alessandro in action. 
Like this story? Sign up for our monthly e-letter. You'll get family stories and expert advice on raising children with disabilities; interviews with activists, clinicians and researchers; and disability news: https://bit.ly/3IIK5Qo.