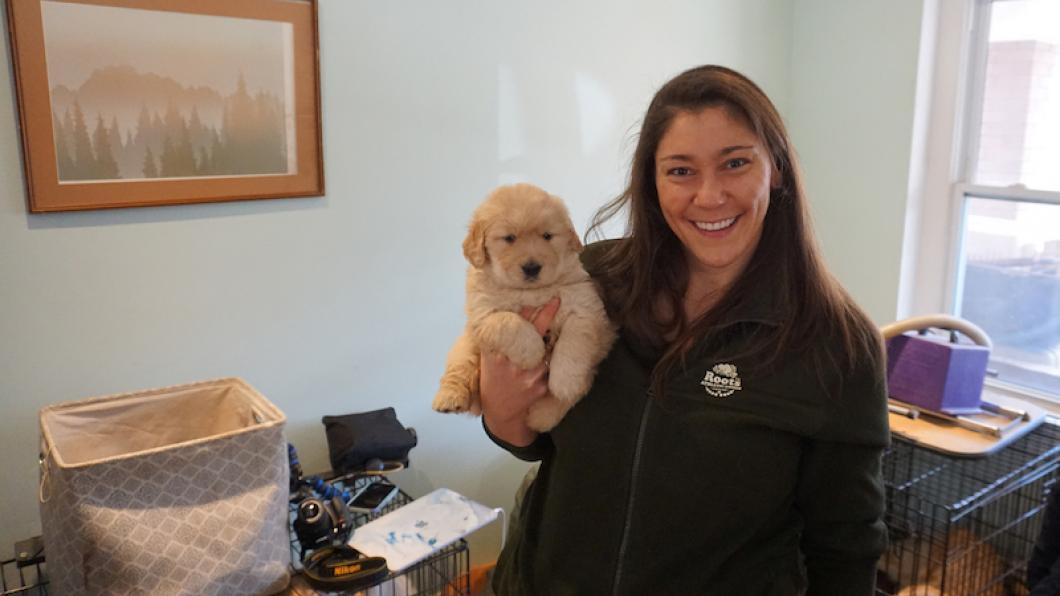 Born deaf, this nurse makes it her mission to help patients feel heard
Photo of Sarah Hamadi, meeting her new service dog puppy

By Louise Kinross
Sarah Hamadi has a secret power. If a child has been given a tracheotomy and can't speak, the registered nurse at Holland Bloorview can read the words they mouth. That's because Sarah was born deaf and learned to lip-read well before receiving a cochlear implant at age 10. "If they can move their lips, I can read them, which is really cool," Sarah says. Sarah came to Holland Bloorview in 2016 and works on our complex continuing care unit.
BLOOM: How did you get into this field?
Sarah Hamadi: Originally I wanted to be an itinerant teacher for the deaf and I was doing my master's of education before going to teacher's college. Then my parents were in a car accident and my dad was in hospital for four months. He had to have orthopedic surgery on his legs, which were crushed. The nurses and the medical team were so kind to him and he had such a good experience that it made me think 'Maybe nursing is something I'd like to do?' I'd never thought about it as a career before then, and I'm so glad I did. 
BLOOM: How did you get interested in working with children?
Sarah Hamadi: I started nursing school thinking I would work in adult orthopedics. My first day at a placement at SickKids went so badly I thought I would never be interested in pediatrics. But by the end of the placement, I had fallen in love with the kids and the families and the relationships you develop with staff. 
When I applied for a job here, I was working with a little girl with cerebral palsy once a week, teaching her to sign. Her mother happened to be a family leader here, so that was my first exposure to Holland Bloorview.
BLOOM: Are you fluent in American Sign Language?
Sarah Hamadi: I was. But now I'm rusty. My grandparents are deaf. My parents didn't know I was deaf until I was about a year old, because I didn't respond to fire alarms at home. At one year I got my first pair of hearing aids. My parents decided to teach me to talk, because they didn't want me to be isolated.
BLOOM: So you didn't learn sign as a young child?
Sarah Hamadi: No. I didn't have that opportunity. When I was younger I was able to lip-read really well and I got by with hearing aids. At age 10 I got a cochlear implant and I really started to understand sounds. Before that I had never heard the birds sing, so hearing the birds was an interesting experience. I got activated to a new world of sound. 
BLOOM: My brother has a cochlear implant and he told me it takes a lot of concentration and mental focus to learn to decipher sounds with it. 
Sarah Hamadi: Let's be honest, it's exhausting! It gives access to sound, but not to the subtle nuances of sound. You don't get the full range of sensitivity. If I hear 50 per cent of a sentence, my brain will automatically fill in the blanks, and I'll repeat that back to the person, to make sure I heard what they were saying. I spend all of my hearing time at work, and the first thing I do when I get home is take off my cochlear implant. I'm completely deaf without my hearing aid. I'm in the process of getting a service dog—a golden retriever puppy we will train at home. 
BLOOM: What unit did you start on here?
Sarah Hamadi: I was part of Ontario's Nursing Graduate Guarantee program that gave you three months of mentorship with a nurse, with the outcome that you were guaranteed a full-time job. So I had the chance to float on each of our units, which I really appreciated. It was great to see the different units and to work with different clients. 
BLOOM: What is it like to work with children who use ventilators and other medical equipment?
Sarah Hamadi: When I first started, I found it overwhelming. It took me a lot longer to get used to the alarm sounds, to know if it was an alarm for a feeding pump vs. a ventilator vs. an oxygen saturation monitor. Luckily I had a supportive team who gave me that time. That was the advantage of the new grad initiative—I was partnered one-to-one with a nurse for my first month.
BLOOM: What's the greatest challenge of your job?
Sarah Hamadi: It's the [Covid] face mask. The listening fatigue. It takes a lot more mental effort when I can't lip-read. I know it's not just me struggling with this. Most staff are tired of wearing face masks. Being a nurse, I understood the point of wearing a mask, and I believed in it. But it means I have to work harder than everyone else. 
BLOOM: I know early on it was problematic for us to get clear masks.
Sarah Hamadi: They have to be approved by the government, and many of them weren't medical grade in terms of protection.
BLOOM: Have you found any strategies help you to better understand people wearing masks?
Sarah Hamadi: I find it helpful if people speak right into my hearing aid. The microphone is on my right side. So I'll position myself: If someone's talking on my left side, I'll turn around and move to the other side.
BLOOM: What's the greatest joy of your job?
Sarah Hamadi: Seeing clients improve so much by the time they leave here. Perhaps a child has been in an accident, and is unable to walk. The first time they walk, you can guarantee I'll be crying. Seeing a transformation in clients and families and how we empower them.
BLOOM: What about clients who don't make huge functional gains?
Sarah Hamadi: It's about finding the meaning in life. Finding what's important to them. For clients who don't speak, there's so much non-verbal communication that gets done. I can really pick up on that.
BLOOM: What emotions come with the job?
Sarah Hamadi: Every single emotion you can think of: happiness, sadness, frustration, joy. 
BLOOM: Is there anything you do to manage stress?
Sarah Hamadi: I did an Ironman triathlon in 2019 in Florida. I've been a half-marathon runner since I was doing my master's. Training gives me an outlet, and something that allows me to balance my life. I'm the kind of person that needs an outlet. 
BLOOM: What qualities do you need to be good in your job?
Sarah Hamadi: A big thing is compassion. Taking the time to listen to people. Understanding that what you or the team want for a client may not be the same as what the client wants. 
BLOOM: How does having a disability inform the kind of care you provide?
Sarah Hamadi: I understand how much of a struggle communication can be. I understand how frustrating it can be when someone can't understand what you're trying to say. I think the pandemic has magnified how important communication is in our daily lives.
BLOOM: Could Holland Bloorview better accommodate staff with disabilities?
Sarah Hamadi: I'd love to see a world at Holland Bloorview where people don't have to ask for an accommodation—it's already built into the environment. I think all institutions should strive to fit the principles of universal design. This is something we learned about in my master's of education. An example would be if all announcements made by the receptionist showed up as text on screens above our elevators, so people could read where a fire or code is happening.