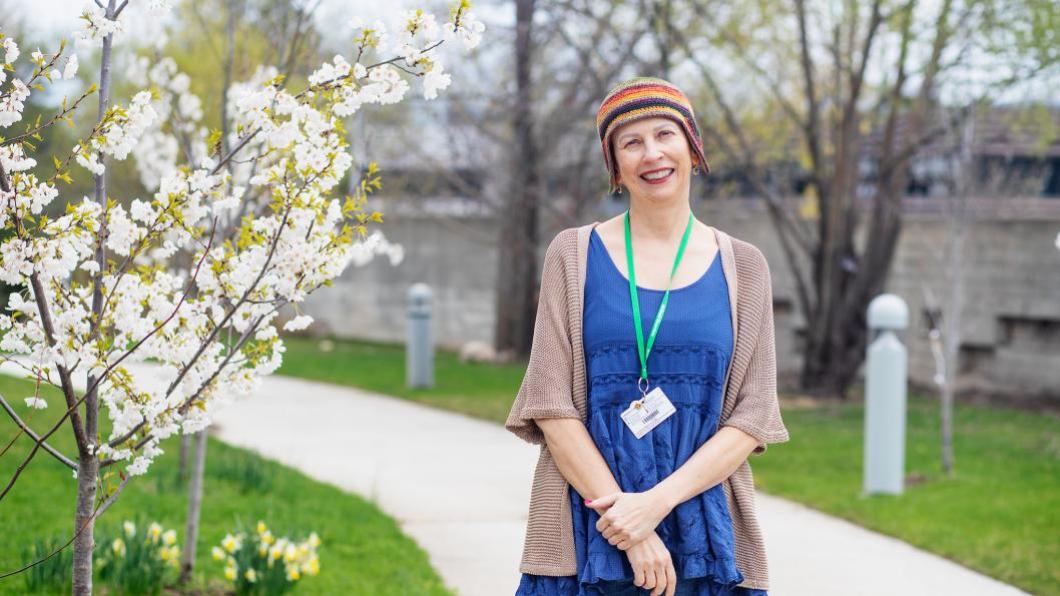 BLOOM editor receives advocacy award
This piece originally appeared on Holland Bloorview's website.
Holland Bloorview Kids Rehabilitation Hospital is proud to acknowledge and celebrate Louise Kinross, BLOOM editor and special projects manager, as a recent recipient of the 2023 Tribute Award for Advocacy presented by Empowered Kids Ontario (EKO). The award recognizes the contribution and impact of leaders and role models committed to advancing child development and improving communities across Ontario.
Through her career with Holland Bloorview spanning over two decades, Louise has transformed BLOOM into a platform offering something meaningful for every reader. Her candid interviews invite a new perspective on disability while highlighting groundbreaking clinical and research news. Above all, BLOOM provides a space for children with disabilities and their families to see their stories reflected back in the experiences of others.
We spoke with Louise about the evolution of her career, her motivations and passion for storytelling.
How did you begin your career as a writer and journalist?
I was a writer and editor on the newspaper at Western University. Working on university papers is a fabulous way to get a solid grounding in journalism. After that I did an internship at The Hamilton Spectator and freelanced for The Toronto Star and Financial Post.
Can you speak more about your work with BLOOM? What impact do you believe it's had within the disability community and within Holland Bloorview since its inception?
BLOOM was originally known as Connections, and had more of a corporate feel to it. When I joined Holland Bloorview in 1999, I advocated to make it the voice of parents raising children with disabilities. Our most read stories have always been about the joys and challenges of real families, and practical strategies that can benefit others. We changed the name to BLOOM to recognize that each child blooms in their own unique way.
BLOOM is a place where parents can feel heard and understood and where they can celebrate their children. It's also a forum where disabled activists, academics, philosophers and others can help us think about disability in new, complex and exciting ways. For professionals, BLOOM combines the latest clinical and research news with insight into the everyday lives of families and the kind of care they value.
BLOOM has made Holland Bloorview an international go-to place for information and support on parenting children with disabilities. Last year our community of readers spanned 160 countries.
Through your work, what is your greatest motivation?

I write to make the experiences of children with disabilities, and their families, more visible in a world that would rather not see them. It began with my own sense of isolation as the parent of a son with a rare condition. My goal is to expand the way we think about human value. I love making connections between cultural ideas and norms, disability research, news stories and the experiences of our families. Anger is also a motivation: it angers me that system failures like inadequate home-care nursing haven't changed in over 20 years. I am buoyed by the immense creativity and adaptation I see in families, and by disabled activists who view disability as a proud social identity that connects them to a community.
What does receiving EKO's Tribute Award for Advocacy mean to you?
It's an immense honour, particularly as it was a parent who I greatly admire who nominated me. BLOOM aims to provide a window into the experiences of families and rehab professionals alike. In recent years we developed a series of candid interviews with clinicians and researchers about what it means to work in the sector, including the emotions that come with this work. Through storytelling, BLOOM builds understanding and trust between families and clinicians.
Can you share some of your goals for the future?
I would love to turn our BLOOM interviews into a podcast. I am eager to get back to producing our   "A Family Like Mine" videos, which were on hold during COVID. One day I'd like to write a book.
What is one piece of advice you would share with aspiring writers?
Write with emotional honesty. Resist the tendency to edit out less favourable versions of yourself, or others, or to try to iron out ambiguity. Life doesn't end with things tied in a neat bow, and neither should a story.
To access BLOOM and sign up for their monthly e-newsletter, visit: https://hollandbloorview.ca/stories-news-events/bloom-blog. You can learn more about Louise and her impact through this thoughtful piece written by EKO.