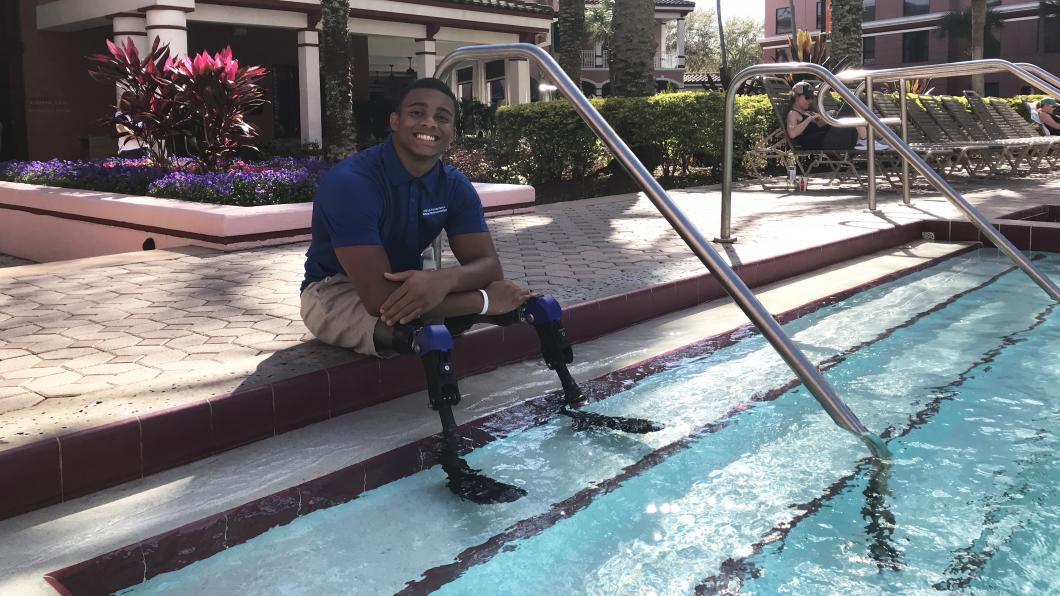 Amputees in the developing world can't afford prostheses. LegWorks is changing that

By Louise Kinross

Lanieta (above) is a 14-year old who lives on a remote island in Fiji. After being diagnosed with cancer, her leg was amputated. But the kind of prosthesis she needed wasn't available in the country. As a result, she couldn't initially return to her home and school, and had to live with her grandmother in another city.
But thanks to LegWorks, a socially-minded business, Lanieta was able to get a high-performance knee developed at Holland Bloorview that was provided to a local charity at cost. This waterproof knee was rugged enough that she could manage the gravel and mud terrain of her home island.
The All-Terrain Knee, designed by Holland Bloorview senior scientist Jan Andrysek, uses a proprietary mechanism that locks when the user extends her leg, preventing falls that occur with traditional knees that require people to place weight on the foot before stabilizing. "If they don't place weight correctly, which happens, the joint may not lock, causing the user to stumble or fall," Jan says.
The All-Terrain Knee is sold at market rates in high-income countries so that it can be sold at a price that non-government organizations, hospitals and rehab clinics in low-income countries can pay.
LegWorks was founded in 2014, and is based on a model of compassionate capitalism developed by social entrepreneur David Green, who is a LegWorks co-founder.
"The reason this business model works is that we're designing a high-quality, innovative product that can be sold for a profit in high-income countries," says Jan, who came to Holland Bloorview as a graduate student in 1998. "That means we can provide the knees at an affordable price to non-government organizations in developing countries. They provide them at low, or no, cost to consumers."
But making a go of the business hasn't been easy. "In the medical world, 90 per cent of start-ups fail in the first five years," Jan says. "There have been many times when we weren't sure what the future would be. But we're optimistic that in the next year we'll be sustainable. "
The operation is based at Holland Bloorview in Toronto, and at the LegWorks office in Buffalo. The United States is LegWorks' biggest market.
In the developing world, 90 per cent of amputees don't have a prosthesis. In Tanzania, LegWorks is currently fitting about 60 amputees. A research study there to understand the benefits from a social and economic perspective is in the works.
"Most of the work there is manual labour, and without a prosthetic people are unable to work and support themselves or their families," Jan says. "In some places, the stigma of disability is so significant that they are shunned from society, and don't leave their houses."
One of the greatest challenges of getting the technology to people who need it is a lack of trained clinicians and prosthetic technicians. "You need sound and competent people on the ground to take the technology and properly fit it to patients, and then to provide the rehab the person needs to make effective use of it. The International Society for Prosthetics and Orthotics, and the International Committee of the Red Cross, are trying to build clinics and train people."
A 2016 study of 10 young adults in Chile who wore the all-terrain knee for two years, and compared it to their old prosthesis, showed a number of advantages. For example, study participants found the knee improved their stability while standing and walking and made it easier to get around: when wearing the new knee, they expended 40 per cent less energy than they did with their old prosthesis.
Jan is currently writing up a research paper that shows the impact of his knee on 24 people in Cambodia. "We've found that they either walk faster, or more efficiently, or both," he says.
In addition to his role at Holland Bloorview and LegWorks, Jan is associate director of Professional Programs at the Institute of Biomaterials and Biomedical Engineering at the University of Toronto.  
One of his joys is working with undergraduate and graduate students who are doing research at Holland Bloorview. "I'm fortunate to work with trainees with so much energy, commitment and passion."
Jan says it's the people he works with—here, at LegWorks and at U of T—that make his work so satisfying. "Within the Bloorview Research Institute, our leadership is always trying to inspire and motivate and support us," he says. "Holland Bloorview is an investor in LegWorks, and part of our technical operations are located here."
Jan says LegWorks is working on a new product—a technology that will help users improve their gait through feedback. "It's an automated, wearable system that will give an individual cues on how they can improve their walking. Normally, they would receive that feedback from physiotherapists. But in many places we work, people don't have access to health professionals. This device will sense whether the gait pattern is good. If it needs to be corrected, it will vibrate to cue the individual."
Photo below of Jan Andrysek in the lab at Holland Bloorview.