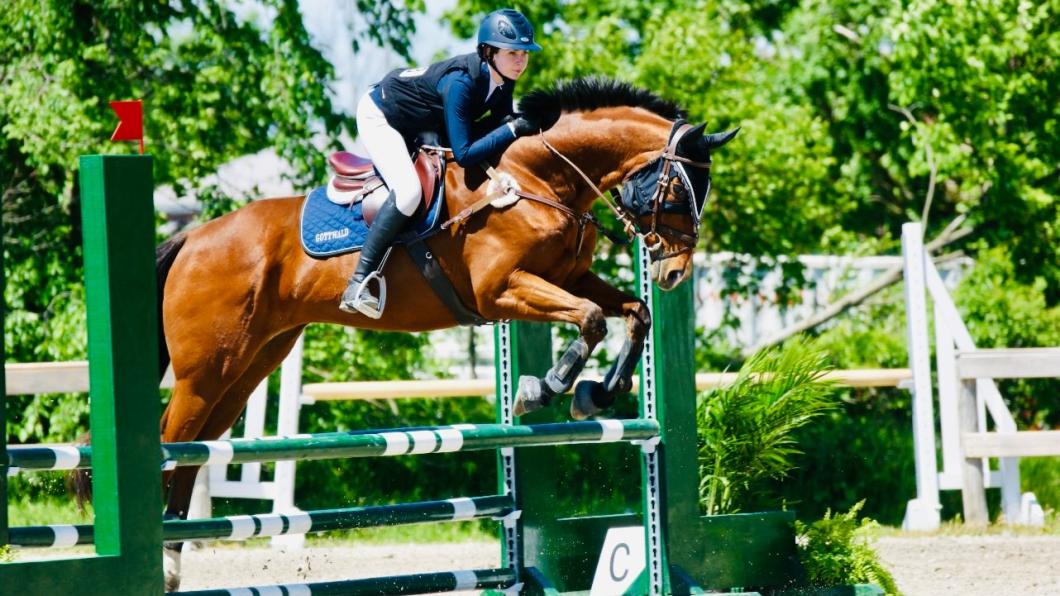 After losing a limb, Zoe finds horse riding 'freeing'
Photo of Zoe Gottwald riding King's Ransom.
By Louise Kinross
In 2010, I met a tiny girl called Zoe at Holland Bloorview. She had long blonde hair and loved the colour pink. She had a pink hand bag and her first prosthetic leg was the colour of bubble gum. Zoe had just turned four.
Zoe did rehab here after an accident on her grandparent's farm in Ontario. She ran into a ride-on lawn mower that was moving and had to have an amputation below her left knee. 
Today Zoe is a 16-year-old competitive horse rider who dreams of going to the Paralympics as a show jumper. We spoke about how she coped with her life-changing accident and hospitalization and how riding has become an important part of her new identity.
BLOOM: Do you have memories of being at Holland Bloorview?
Zoe Gottwald: I do have some memories of it. I remember riding one of the bikes they provided, and I remember going to Spiral Garden. I remember the swim therapy. It was a struggle at first because of my leg, to figure out how to use it again, but it did help a lot.  
BLOOM: Rehab can be really hard. I've talked to kids and adults who said learning how to walk with a prosthesis was so difficult. But most people think that you just put it on and go.
Zoe Gottwald: Yes, it's definitely a lot different than walking with a normal leg and requires a lot of balance. The idea that you 'put it on and go' is not true. It's like learning to walk all over again, but different because the prosthesis is not as stable as someone's real leg. My amputation is below the knee, so I don't have an ankle. So when walking, there's no bounce that you would get from your ankle. That's why they put a lot of springs in prosthetics, to get the mobilization you would get in an ankle. My amputation also affects a lot of other parts of me. I had back pain and I still do. It's from not walking properly, not having proper posture. I have a bit of scoliosis now because of it. I have to be so 'on' about my posture when others don't really need to think about it.
BLOOM: Do you have chronic pain? 
Zoe Gottwald: I have phantom pain, where your brain thinks the limb is still there. It affected me a lot in my early teens. My brain would think my left calf was itchy but there would be nothing there to scratch, so it was an unpleasant feeling of uncomfortableness. I went to therapy and I used an app that helped to retrain my brain to recognize my leg wasn't there anymore.
BLOOM: Were there things that helped you cope when you were in rehab at Holland Bloorview?
Zoe Gottwald: Bloorview did a really good job of providing a lot of support. There were sensory rooms and dog therapy. I really appreciated the dog therapy because I love animals. I think I did go to school for kindergarten. There were a lot of fun things to do. I did miss being home and seeing my friends and family, but Bloorview did a really good job of providing comfort and care. 
BLOOM: How did losing part of your leg impact your sense of identity?
Zoe Gottwald: For me, as a kid, I was kind of oblivious to what happened. But as I got older I became more insecure and tried to hide that my leg was missing. I was very self-conscious of my leg. I didn't want other people to know about it, because I didn't want them to treat me differently or think I was different. A lot of post traumatic stress and anxiety and overthinking was created. 
BLOOM: How did people respond to your prosthesis?
Zoe Gottwald: When I was a kid I didn't realize it, but now, if I wear shorts or a skirt or even leggings and my leg is showing, I get looks from people and parents. A lot of parents were, I wouldn't say rude, but they didn't take it in the best manner. They would be staring or their kids would be pointing and they wouldn't correct them.
I know kids at a young age are very curious, but it's important to make your kid aware that other people are not all the same and some people don't have limbs. Maybe you think pointing and staring is not going to affect them, but it really does. We want to be seen as a human and not something you can stare at or point at.
If I see a kid close to me pointing and asking questions I'll go up and explain what happened, and explain how to be safer and play safe. But I'll definitely also let them know that they need to be a bit nicer and not make a big deal about it. If someone comes up to me and asks questions I'm happy to answer, but pointing and staring make me uncomfortable.
BLOOM: Was there anything your parents did that helped you adapt?
Zoe Gottwald: That's where sports came in. My parents still treated me like the energetic kid I was. So I did gymnastics for a little bit and then horse riding. Horse riding was a way of therapy for me and I fell in love with it. I especially loved being one with the animal. It's very freeing. It's a big part of my identity now. It's helped me gain balance and a good posture and improved my leg and core strength.
BLOOM: Was it hard to learn how to ride with a prosthetic leg?
Zoe Gottwald: It was difficult, because horses need a lot of leg cues more than anything, so it took a while for them to get used to me not being able to put much pressure on one side. That's why I fell in love with my pony Khan—he understood and got it. Other horses would drift in, but he knew exactly what I wanted. 
BLOOM: Some people think of riding as being dangerous. Were your parents ever over-protective?
Zoe Gottwald: My dad doesn't seem like the type, but he's a really big softy when it comes to my safety. He's big on me being safe all the time. He gets nervous watching me ride, but he knows I love it.
My mom wants me to try new things and she encourages me to do my 100 per cent and push myself, which I appreciate. 
BLOOM: I know you spend a lot of time at the barn. What other things do you love?
Zoe Gottwald: I have my G1. I love driving. It's really fun. I play volleyball with my friends and I was on my middle-school team. I want to go into politics. I want to be a human-rights activist.
BLOOM: What advice would you give a child who's had a traumatic accident that led to a disability?
Zoe Gottwald: Don't let it stop you from doing what you want to do. If you have a dream that everyone says is impossible, show them that you're capable of doing it. Try different sports and activities, to see what you like. They can be therapeutic too. Make new friends that have the same disability or a different one. Older kids who have lost their limbs taught me new things and different ways of doing things and gave me tips on how to deal with people who may not be the kindest toward us. With War Amps I've done a lot of presentations speaking to elementary schools and they were really fun to do.
BLOOM: What advice would you give parents of a child who acquired a disability through trauma?
Zoe Gottwald: It's never easy but it does get better. At the moment it's a really hard thing to deal with, but eventually it will be an everyday thing that you don't really think about anymore. 
Like this interview? Sign up for our monthly BLOOM e-letter. You'll get family stories and expert advice on raising children with disabilities; interviews with activists, clinicians and researchers; and disability news.