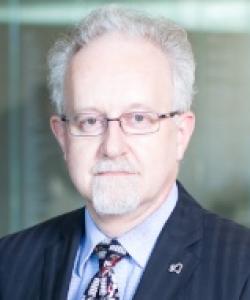 Peter Rumney
Clinical Team Investigator; Physician Director, Rehab and Complex Continuing Care Co-Director, Centre for Leadership in Brain Injury
---
Research
Centre for Leadership:
Co-Director, Centre for Leadership in Acquired Brain Injury
Research Focus:
Brain injury rehabilitation, pediatric concussion, long-term outcomes, outcome measurement tools and innovative therapy modalities
---
Education & Profession
Education:
M.D., University of Toronto
Professional Memberships:
Royal College of Physicians and Surgeons of Canada
Canadian Medical Association
Canadian Pediatric Society
Ontario Medical Association
Ontario Brain Injury Association
Board Of Directors, International Paediatric Brain Injury Society
University Positions / Affiliations:
Assistant Professor, Paediatrics, University of Toronto
Assistant Professor (Status-Only), Health Policy, Management and Evaluation, Dalla Lana School of Public Health, University of Toronto
Honours and Awards:
2014 Dr. Jane Gillett Research Award - Brain Injury Canada
This award is granted to an individual or organization for their outstanding contribution to advance the cause of acquired brain injury in Canada.
In recognition of significant contribution in helping children and adolescents with Acquired Brain Injury, Toronto ABI Network. Annual Back to School Conference. (Distinction)                               
1995 Professional of the Year - The Lloyd Loynes Award, OBIA - Ontario Brain Injury Association. (Distinction) Presented by OBIA Board of Directors.
---
Current Projects
Pediatric upper extremity rehabilitation intervention (for hemiparesis/hemiplegia)
---
Publications
Hebert D, Lindsay MP, McIntyre A, Kirton A, Rumney PG, Bagg S, Bayley M, Dowlatshahi D, Dukelow S, Garnhum M, Glasser E, Halabi ML, Kang E, MacKay-Lyons M, Martino R, Rochette A, Rowe S, Salbach N, Semenko B, Stack B, Swinton L, Weber V, Mayer M, Verrilli S, DeVeber G, Andersen J, Barlow K, Cassidy C, Dilenge ME, Fehlings D, Hung R, Iruthayarajah J, Lenz L, Majnemer A, Purtzki J, Rafay M, Sonnenberg LK, Townley A, Janzen S, Foley N, Teasell R. Canadian stroke best practice recommendations: Stroke rehabilitation practice guidelines, update 2015. Int J Stroke. 2016 Jun 1;11(4):459-84. Coauthor or Collaborator
McKinlay A, Linden M, DePompei R, Aaro Jonsson C, Anderson V, Braga L, Castelli E, de Koning P, Hawley CA, Hermans E, Kristiansen I, Madden A, Rumney P, Savage R, Wicks B. Service provision for children and young people with acquired brain injury: Practice recommendations. Brain Inj. 2016 Jan 1;30(13-14):1656-1664. In Press. Coauthor or Collaborator
Rumney P, Anderson JA, Ryan SE. Ethics in Pharmacologic Research in the Child with a Disability. Paediatric Drugs. 2014 Nov 25. Principal Author
Keightley ML, Côté P, Rumney P, Hung R, Carroll LJ, Cancelliere C, Cassidy JD. Psychosocial consequences of mild traumatic brain injury in children: results of a systematic review by the International Collaboration on Mild Traumatic Brain Injury Prognosis. Arch Phys Med Rehabil. 2014 Mar;95(3 Suppl):S192-200. Coauthor or Collaborator.
Hung R, Carroll LJ, Cancelliere C, Côté P, Rumney P, Keightley M, Donovan J, Stålnacke BM, Cassidy JD. Systematic review of the clinical course, natural history, and prognosis for pediatric mild traumatic brain injury: results of the International Collaboration on Mild Traumatic Brain Injury Prognosis. Arch Phys Med Rehabil. 2014 Mar;95(3 Suppl):S174-91. Coauthor or Collaborator.
Agnihotri S, Gray J, Colantonio A, Polatajko H, Cameron D, Wiseman-Hakes C, Rumney P, Keightley M. Arts-based social skills interventions for adolescents with acquired brain injuries: five case reports. Dev Neurorehabil. 2014 Feb;17(1):44-63
Cancelliere C, Cassidy JD, Cote P, Hincapie CA, Hartvigsen J, Carroll LJ, Marras C, Boyle E, Kristman V, Hung R, Stainacke BM, Rumney P, Coronado V, Holm LW, Bog J, Nygren-de Boussard C, Geijerstam JL, Keightley M. Protocol for a systemic review of prognosis after mild traumatic brain injury: an update of the WHO Collaborating Centre Task Force findings. Systemic Review. 2012;1:17. Coauthor or Collaborator 
Agnihotri S, Gray J, Colantonio A, Polatajko H, Cameron D, Wiseman-Hakes C, Rumney P, Keightley M. Two case study evaluations of an arts-based social skills intervention for adolescents with childhood brain disorder. Dev Neurorehabil. 2012;15(4):284-97. [Epub 2012 May 30]. Coauthor or Collaborator
Sonnenberg LK, Dupuis A, Rumney PG. Pre-school traumatic brain injury and its impact on social development at 8 years of age. Brain Inj. 2010;24(7-8):1003-7. Coauthor or Collaborator
Menascu S, Brezner A, Tshechmer SM, Rumney PG. Serum biochemical markers for brain damage in children with emphasis on mild head injury. Pediatric Neurosurgery. 2010;46:82-8. Coauthor or Collaborator
Book Chapters
Rumney PG, Penner M. Traumatic Brain Injury and BPPV. In: Robert O'Reilly, Thierry Morlet, Sharon L. Cushing, editor(s). Manual of Pediatric Balance Disorders. Plural Publishing; 2013. p. 250. Co-Principal Author
MacGregor, D. L., Kulkarni, A. V., Dirks, P. B., & Rumney, P. Comprehensive Multidisciplinary Rehabilitation. In: MacGregor, D. L., Kulkarni, A. V., Dirks, P. B., & Rumney, P., editor(s). Head Injury In Children and Adolescents. London (England): Mac Keith Press for the International Child Neurology Association; 2007. p. 61-72. Principal Author
MacGregor, D. L., Kulkarni, A. V., Dirks, P. B., & Rumney, P. Overview of Outcomes. In: MacGregor, D. L., Kulkarni, A. V., Dirks, P. B., & Rumney, P., editor(s). Head Injury In Children and Adolescents. London (England): Mac Keith Press for the International Child Neurology Association; 2007. p. 73-87. Principal Author
G. Verburg, B. Borthwick, P. Rumney, P. Speed, G. Hymus, B. Bennett. Digitizing Glenda: Electronic Outreach and Remote Rehabilitation Projects. In: Assistive Technology. Toronto: IOS Press; 1999. p. 679-683. Coauthor or Collaborator
---
Contact Info
Contact Information:
Holland Bloorview Kids Rehabilitation Hospital 
150 Kilgour Road Toronto, Ontario M4G 1R8 
Tel: 416-425-6220, ext 6019
Contact Email:
prumney@hollandbloorview.ca