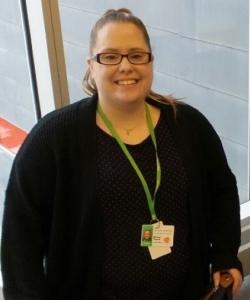 Melissa Thorne
Co-Moderator, HB Alumni Network & Youth Facilitator
Melissa is currently a Youth Facilitator at Holland Bloorview in the Spina Bifida and Spinal Cord Injury Clinic as well as Youth Engagement department involved with the support of the Youth Advisory Council. Before securing her position at Holland Bloorview 2 years and half years ago, she spent 7 years working in the Childcare sector as a supervisor. Having lived at Holland Bloorview as an inpatient for a year after having multiple orthopedic surgeries in grade 10, a current volunteer for more than 2 years, and a Youth Leader, I offer great understandings on the complexities of childhood disabilities and life after completing rehab. Using my clinical skills from my job at the hospital and my lived experience and schooling gives me great resources and ways to keep clients and parents engaged and help them through the different topics and struggles that are involved in the adult care system and growing up and becoming an independent adult with a disability.
---
Join the HB Alumni Network
Join me in the HBAlumni Network. I'll be there to welcome you.