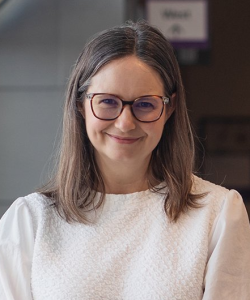 Melanie Penner, MD FRCP(C)
Senior Clinician Scientist and Developmental Pediatrician; Bloorview Childrens Hospital Foundation (BCHF) Research Chair in Developmental Pediatrics
Associate Professor, Department of Paediatrics, University of Toronto; Assistant Professor (Status), Institute of Health Policy, Management and Evaluation, University of Toronto; Associate Faculty, Institute of Medical Sciences
---
Visit the Autism Research Centre
Research
Research Focus:
As a clinician scientist, Dr. Penner's clinical and research interests are in autism spectrum disorder. In particular, she is interested in service delivery for this population, including evaluating the impact and cost-effectiveness of new care models. Dr. Penner has done research and educational work to expand Ontario's diagnostic capacity for autism spectrum disorder diagnoses in the community setting, decreasing wait times and facilitating earlier access to essential intervention programs.
Click to see Dr. Melanie Penner's publications on PubMed.
Click to see Dr. Melanie Penner's publications on Google Scholar.
---
Education & Profession
Education:
Dr. Melanie Penner obtained her Bachelors degree in Health Sciences at McMaster University in 2004, followed by her Medical degree at Queen's University in 2008. She did her paediatric residency training at the University of Toronto and did a developmental paediatrics subspecialty residency at the University of Toronto/Holland Bloorview Kids Rehabilitation Hospital.  She completed a Masters of Science in the Health Services Research program at the Institute of Health Policy, Management and Evaluation at the University of Toronto through the Clinician Investigator Program in 2015.
Professional Memberships:
Royal College of Physicians and Surgeons of Canada
International Society for Autism Research
American Academy of Paediatrics
Ontario Medical Association

Canadian Medical Association
---
Current Projects
Medication Clinical Trials
---
Contact Info
Contact Information:
Please contact Leah Wong, Executive Assistant
Bloorview Research Institute
Holland Bloorview Kids Rehabilitation Hospital 
150 Kilgour Road Toronto, ON M4G 1R8 
T: 416-425-6220, Ext.3832 F: 416-424-3840
Contact Email:
mpenner@hollandbloorview.ca
---
Media Expertise
autism spectrum disorder - diagnosis and treatment in kids with complex behavioural challenges; how health services are delivered to children and youth with autism