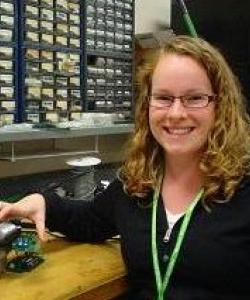 Leslie Mumford
Research Engineer
Leslie completed her BSc.Eng in Biological Engineering at the University of Guelph, and her MHSc in Clinical Engineering at the University of Toronto. Leslie has worked in the pharmaceutical, water/wastewater treatment and medical device industries.
Leslie's work centres around the development of custom access technologies for children with multiple and severe disabilities and ensuring the successful adoption of those technologies.
Leslie enjoys rock climbing, skiing, soccer and swimming.