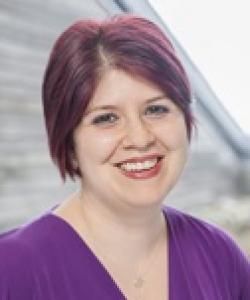 Christine Provvidenza
Knowledge Translation Specialist
Christine Provvidenza completed her Bachelor of Physical and Health Education and Master of Science, Exercise Science at the University of Toronto. She is also a registered Kinesiologist. As a Kinesiologist, Christine has been involved in the development and delivery of sport-based injury prevention programs, with a specific focus on concussion education initiatives for athletes, coaches and parents. She has practiced concussion education and awareness with athletes and parents through her work in a sport-concussion clinic at the Toronto Rehabilitation Institute, as well as in her work at ThinkFirst Canada.
Christine has a wide-range of expertise in research and program development and has experience with and a passion for knowledge translation and exchange.  One of her areas of interest is examining the role of knowledge translation in enhancing and optimizing concussion education. She has examined and published work in the area of concussion education and knowledge translation, which is not a well-documented area of research, and continues to conduct research in this field.
Currently, Christine is a Knowledge Translation Specialist for Evidence to Care, Teaching and Learning Institute at Holland Bloorview Kids Rehabilitation Hospital and is currently leading a knowledge translation and implementation plan for a pain assessment tool box for assessing chronic pain for cerebral palsy outpatients.  She is also a Knowledge Translation Specialist for the Concussion Centre, Bloorview Research Institute, at Holland Bloorview Kids Rehabilitation Hospital.  In her role with the Concussion Research Centre, Christine is engaged in many projects, but is specifically involved in the development, implementation and evaluation of 'Concussion and You,' a group-based concussion education and peer support session incorporating a supplementary toolbox, designed to change knowledge and attitudes towards concussion amongst youth athletes.
---
Contact Info
Contact Information:
Bloorview Research Institute
Holland Bloorview Kids Rehabilitation Hospital 
150 Kilgour Road Toronto, ON M4G 1R8 
T: 416-425-6220 x. 6437
Contact Email:
cprovvidenza@hollandbloorview.ca