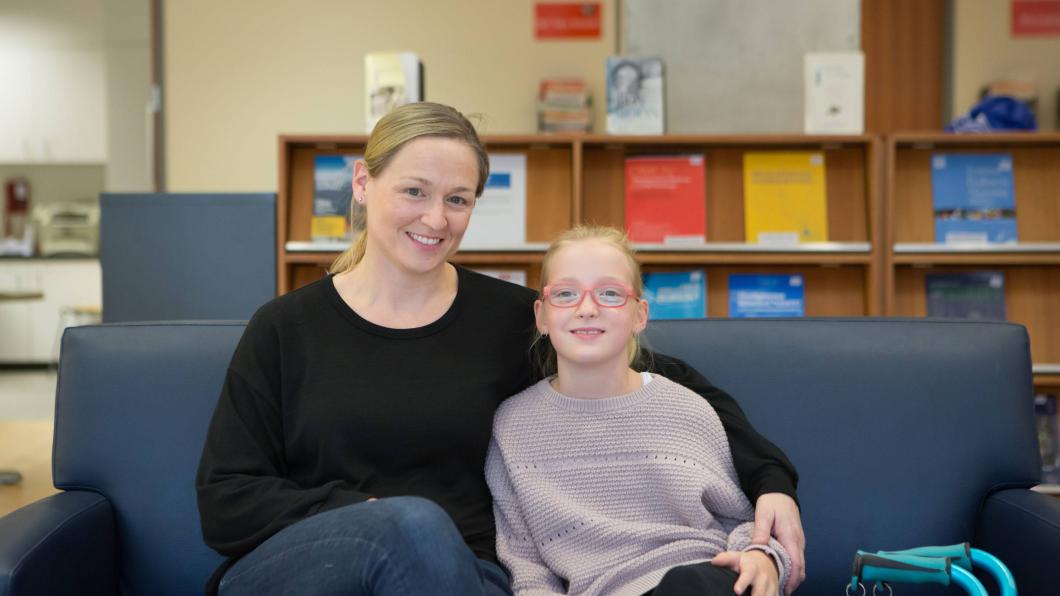 Story
To Olivia and her family, Holland Bloorview is more than just a hospital: it's a place that feels like home
If you asked Jane what Holland Bloorview means to her daughter Olivia and their family, she'll immediately tell you that it's not only the most accessible place Olivia has ever been, but also where she felt both welcomed and an important sense of belonging.
Olivia, age 10, has been an inpatient at Holland Bloorview twice, and is currently here to recover from her recent orthopedic surgery. Here's what her mom Jane has to say about how Holland Bloorview feels like home to Olivia and their family.
How does Holland Bloorview feel different from other hospitals Olivia has been to?
As soon as we walked through the doors of Holland Bloorview we knew that we weren't in just a regular hospital. The energy from everyone is so upbeat and positive, and every staff member is incredibly welcoming, who never fail to greet you with a smile and guaranteed "hello" and "how are you today?"
During Olivia's current admission I was blown away by how many staff remembered Olivia and our family after being away from 2 years back. Even with us wearing our masks!
What are some ways that you and Olivia felt welcome coming to Holland Bloorview?
By having exceptional staff who look out for our every need we couldn't help but feel welcome. Holland Bloorview staff not only do their jobs well but they always take the time to stop and ask how we are doing and look for ways to make our stay better. It's clear they genuinely love their jobs and appreciate the opportunity to be a part of our recovery journey.
They've become our second family. They are our cheerleaders, always celebrating successes, and find positivity and provide support during difficult days.
What are some special things that Holland Bloorview does or provide to families to make them feel like home?
For lengthy admissions, Holland Bloorview really strives for each client and their family to feel truly at home.
We were provided with everything from cooking areas to make our own food to get a taste of home cooking, to spacious rooms, and comfortable areas to relax and reflect. Just to name a few!
What are some of Olivia's favourite things to do at HB?
Biking! Olivia and her friends who use biking as therapy are encouraged and able to explore the hospital on their bikes. They always have a blast rolling through the hallways, the library, administration offices and the many other departments of the hospital.
The Clowns are also a big hit with Olivia (and us parents!). They could always be counted on to bring plenty of silliness, laughter and sometimes noise. Olivia always looked forward to Thursday afternoons to see what fun they will bring and whether they could get moms and dads to laugh so hard they cry.
What does Holland Bloorview mean to Olivia?
In short, Holland Bloorview is the most accessible place that Olivia has ever been to. As a child requiring mobility support I can't begin to tell you how important it has been for her to go about her day independently with ease and freedom.
When Olivia comes to Holland Bloorview she knows that she'll feel both welcomed and have a huge sense of belonging.
It's quite amazing that when children come to Holland Bloorview they don't feel hospitalized, and families don't feel like visitors. Instead we feel welcomed, and at home with our Holland Bloorview family.
Call to action Text
You can help more kids like Olivia feel at home with your special gift

Donate now