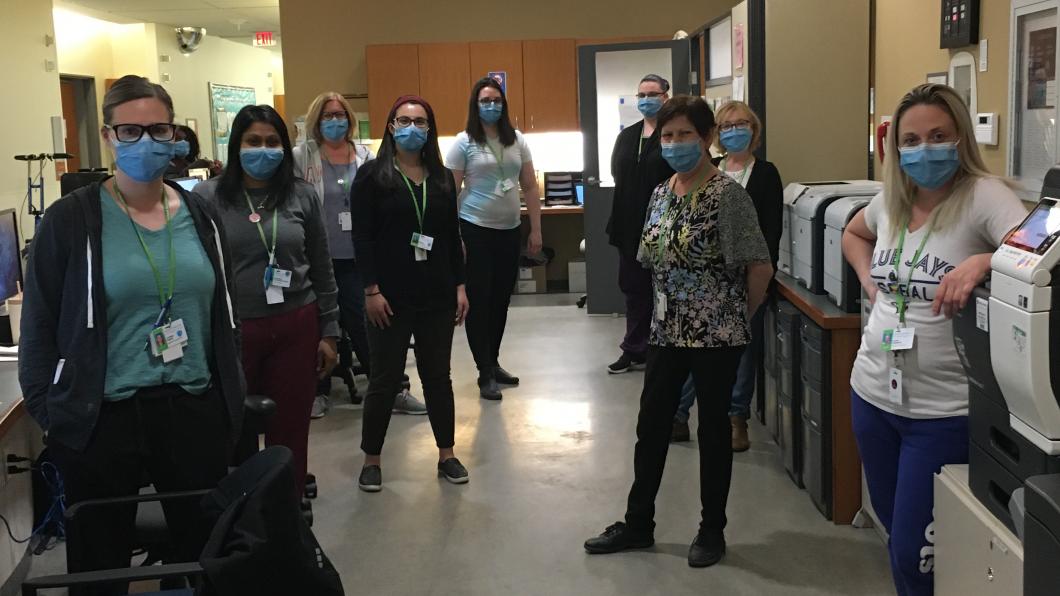 Story
Our staff worked hard to keep our hospital safe
For Jenette, working through COVID-19 brings back memories of the SARS outbreak from almost two decades ago.
While the coronavirus in 2003 wasn't as rampant as the current global pandemic, Jenette admits it raises the same concerns: understanding the virus and figuring out how to protect everybody from it.
That's why, due to the rapid changes around understanding COVID-19, many Holland Bloorview staff were redeployed to help off-set the load in various departments. Together, as a team, our staff worked hard to fill gaps, all while not compromising the quality of care for clients and families.
And for Holland Bloorview's nurses, that meant creating the role of hospital charge nurses.
Now, a core group of Holland Bloorview's nurses are tasked with supporting the inpatient units, including staff, clients and families, with the new changes that are occurring to keep everyone safe.
"The hospital charge nurses, myself included, are there to continue to support an environment of health and healing for our clients and families," she says. "And at this time, we can do that by supporting our colleagues, clients and families with the changes and updates in processes."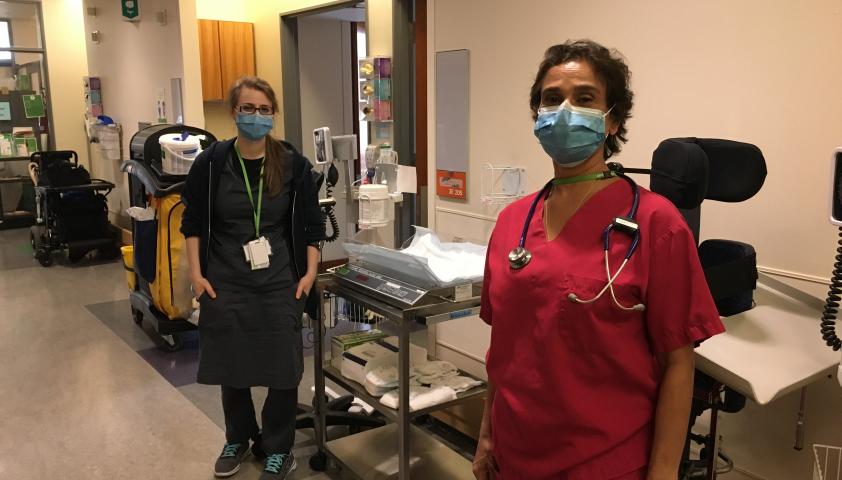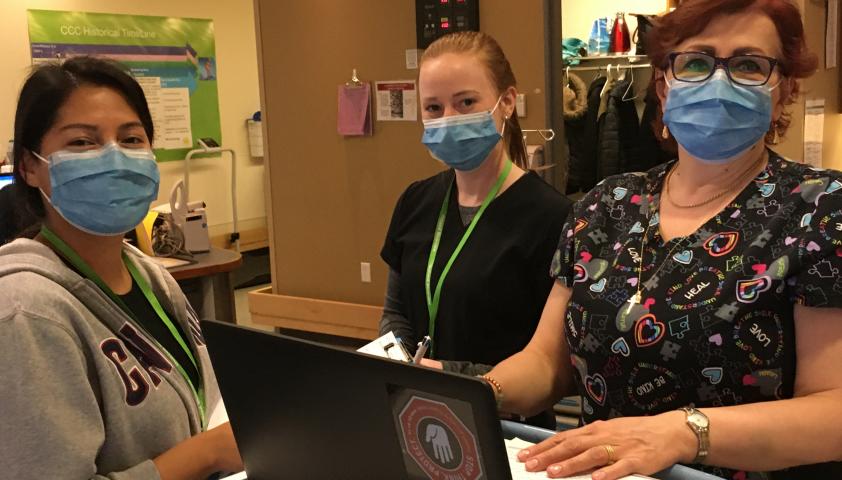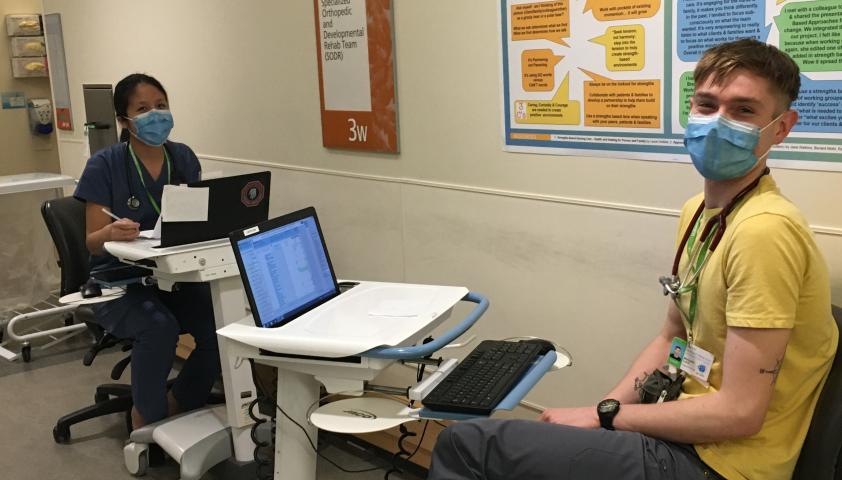 There have been many changes
Caroline, who is a registered nurse and infection control practitioner spends, her days keeping an eye on all three inpatient units to see if there are any new infection control concerns whether COVID-19 related or not.
Prior to the pandemic, Caroline was working part-time in infection control and working two shifts a week on the hospital's Brain Injury rehab outpatient team. Now, she has been working full time in infection control, where spends her days also attending quite a few coronavirus-related meetings, while working on figuring out processes and procedures to provide staff resources to help them in their decision-making.
From giving updates on the hospital's mask policy, goggle policy, and the weekly bulletins, the nurses, charge nurses, and infection control team work tirelessly to lead initiatives and support approaches to COVID-19, to ensure hospital staff and client families are always informed through all the safety changes. 
"This is new territory for all of us and things are changing at a rapid pace. It feels that as soon as staff become comfortable with one process we are revising or implementing a new one. But we do our best to ensure we are there to support the staff and be available to them," says Caroline.
"I feel that Holland Bloorview has done exceptional work on a very quick turnaround time so that everyone is on the same page and working towards the same goal: keeping everyone safe and healthy."
They're goals Cara, an infection control lead and another registered nurse at the hospital, understands as well.
"So many leaders within the organization are working collaboratively to develop the very best practices to protect all of our clients, families and staff. Many of the implemented decisions are based on the evolving landscape of the pandemic in the GTA and provincially and what we are learning from our colleagues at other hospitals," she says.
"Also recognizing that we are unique: we don't have the same experiences or challenges of an acute care or long-term care facility, our facility design and programs are different, our populations are different as well as our outreach. These are all the things we take into consideration in our approach to ensuring that the virus does not enter the doors of Holland Bloorview."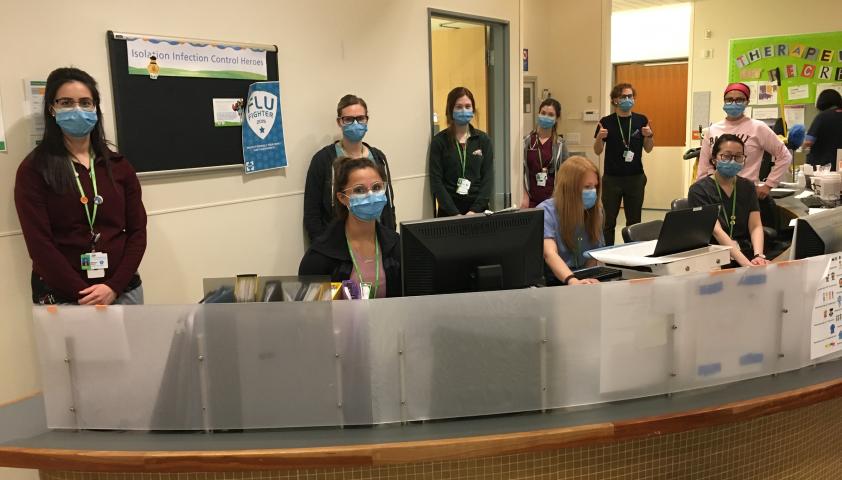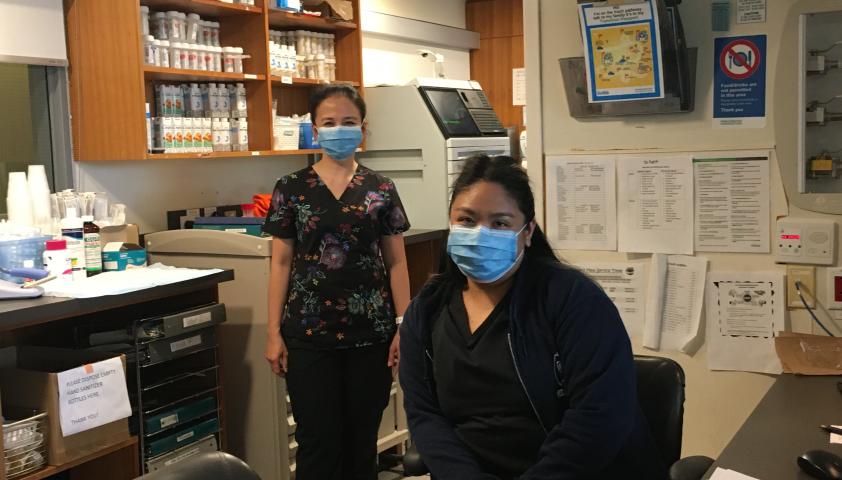 There is a bright side
Even in such an unpredictable season, the nurses and infection control teams strive to find positivity.
For Jenette one of the biggest positive news is the zero number of cases of COVID-19. She adds that it is truly a testament to the hospital's infection control practitioners, management, and safety practices and decisions.
"The biggest silver lining I would have to say is how quickly adaptable our staff have been and the willingness to pitch in wherever there is a need," adds Cara.
"The Foundation has been working so hard and our donors have stepped up and provided money for our Family Support Fund, which will go a long way in helping many of our families. The generosity of other organizations that have supplied so many things for our staff, from meals, to PPE, to ear savers, non-medical masks, has been so totally awesome—it leaves me speechless."
And for other nurses who may be finding days much harder than usual, Jenette, who has 37 years of experience as a nurse, reminds staff to look at the bigger picture.
"Unlike SARS, with COVID-19, we're in it for the long haul. That's why it's not so much about ourselves, it's more about: how can I be a blessing to others? How can I use my gift and talents to help others?" she says.
"It's realizing, at the end of the day, we're all in this together.
Call to action Text
Our clients and families need your help more than ever.
Donate Now