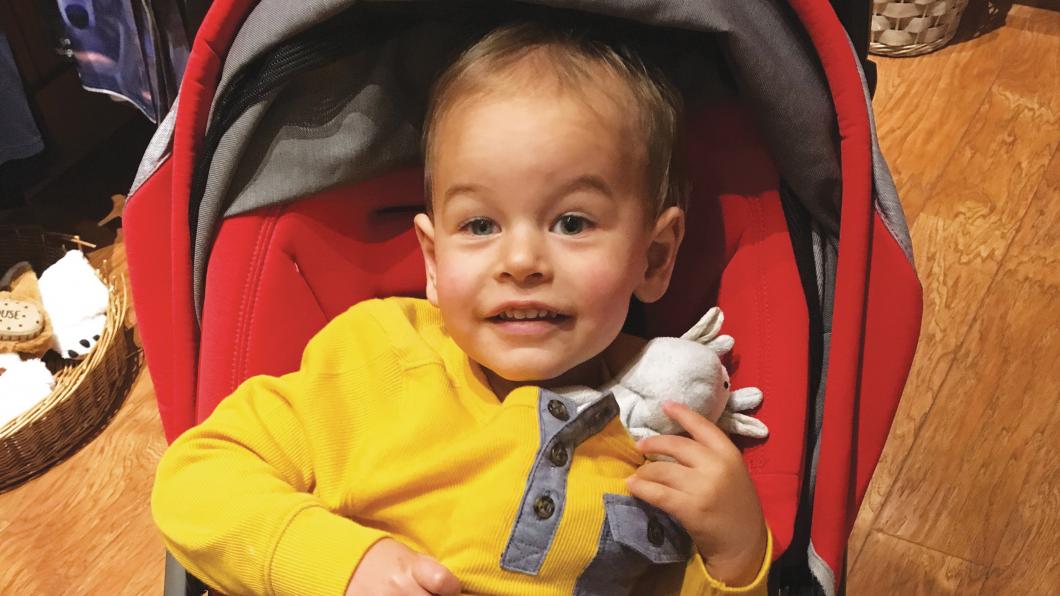 Story
Noah's in the driver's seat now
When Noah first came to Holland Bloorview he was scared of adults, and with good reason. For the first year of his life, adults, often in white coats, poked, prodded and examined his body. And most of the time it hurt. 
Noah was diagnosed with cancer at less than three months old. He was successfully treated with chemotherapy at an acute care hospital but the cancer came back in his spine and he had to be treated again. The tumours and aggressive life-saving treatment caused a spinal cord injury that left him paralyzed from the chest down, leading to a referral to Holland Bloorview in the fall of 2016.
Today, two-year-old Noah is in remission and over the past 18 months his mother, Ivona, has watched him transform from a shy withdrawn baby into a happy, active, independent and social toddler. 
Before starting physiotherapy, Noah couldn't even sit and could barely army-crawl. He was fully dependent on Ivona for practically every movement. Before speech therapy, he couldn't speak.
Slowly and gradually, Noah grew stronger and was eventually able to sit and stand on his own. (He's also very recently shown signs of slight movement in his legs.) Speech therapists helped him say his first words. And when he was strong enough to push his own wheelchair last summer, that's when his world really changed. 
Ivona has gone from having to carry Noah to having to chase him, hearing him yell with excitement, "This way mommy!" And he's gone from being scared of adults to racing up to greet them.
"Seeing your child thrive and having the confidence to do things and explore and be social…seeing him approach people in his wheelchair, it's been fantastic for me watching him flourish like that," said Ivona. "I honestly feel like Holland Bloorview is his second home."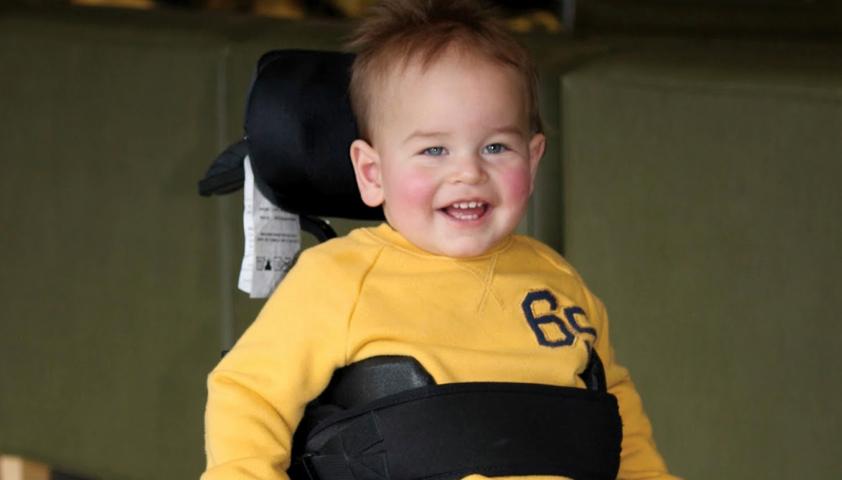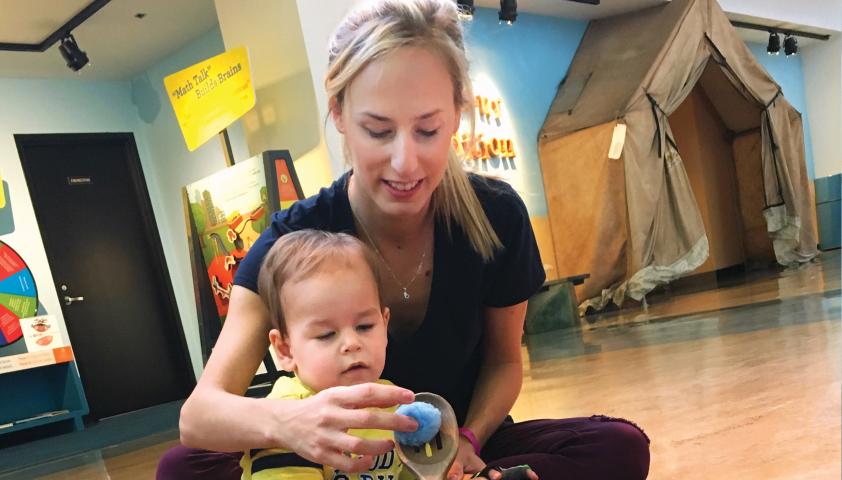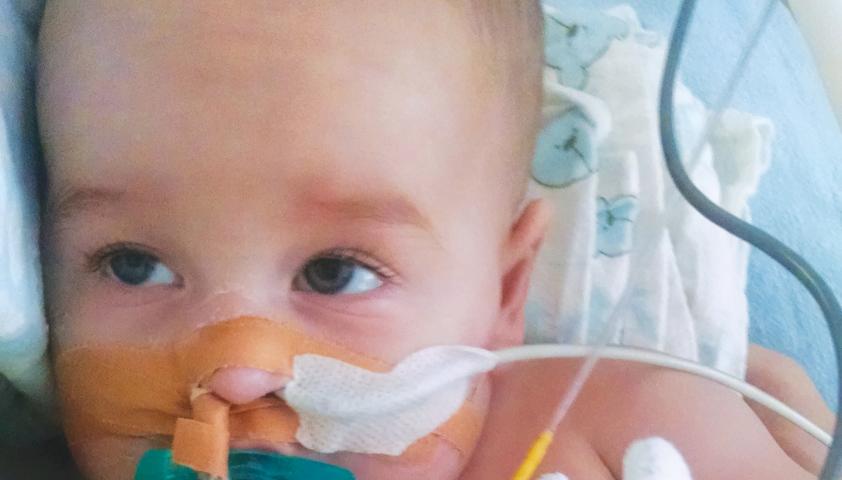 Thanks to physio, Noah's rolling
Noah is standing tall and proud, thanks to Kerrianne Kelland. 
She's a physiotherapist at Holland Bloorview who's been helping Noah get stronger and more mobile for the past year. 
As a physiotherapist, she looks at movements at a very basic level – how a client moves their arms and legs, how they roll, how they stand, and then she examines how they use those movements to explore their world around them.
Kerrianne sees three to six clients a day, and also holds group clinics. She's focused on clinical improvements like greater range of motion or strength. "But what matters to the kids is if they can kick a soccer ball, or play outside at recess," she said.
Working with Kerrianne, Noah has made great progress in both balance and strength. "He can now stand to play at a table with the use of his knee-ankle foot orthotics, and his wheelchair skills are impressive!" she said.
Noah loved working with Kerrianne. In fact before his sessions, he would roll through the hallways shouting out her name. 
"To have a two-year-old actively seek you out, that was the best way to start the day!" she said. 
Noah's personality shines in the Playroom
When he wasn't in therapy sessions or appointments, Noah was laughing and playing in the CIBC World Markets Children's Foundation Therapeutic Playroom.
This colourful playroom is designed for kids like Noah to work on therapeutic goals while having fun, making friends and just being kids. Its shelves and cupboards are filled with sensory toys, cognitive toys, puzzles, board games, dolls, blocks, art supplies and more.
"Kids make their own choices and do what they want to do," said Shawna Perkins, the Playroom's coordinator. In Noah's case, he loved the toy pots and pans and stacking cups.
The Playroom is open seven days a week and on an average day, up to 15 kids come through its doors and leave smiling. 
There are structured programs, like music therapy groups, story time and art classes, as well as free time to play, explore and connect with other kids, under the supervision of therapeutic recreation specialists. 
Shawna remembers Noah being a little shy when he first came into the Playroom. But that quickly changed. 
"We saw him grow into an independent little toddler," said Shawna. "After a while he was so happy to come in. This was a space where he felt safe and happy. Here, he felt he belonged." 
Helping parents deal with their pain
Val Lusted, a social worker at Holland Bloorview, spent many an hour talking with Ivona, who appreciated being able to talk openly about the challenges that come with Noah's condition. 
Val helps kids and families cope with the impact of illness, disability, complex health needs and trauma. 
"Most clients that come through our doors don't choose to be here…life has dealt them a card they weren't expecting and we help people navigate through that," said Val. "Social work plays an important part in helping families understand some of the changes in their family life and ways of dealing with them."
Ivona and Val met one-on-one regularly. Although Ivona had worries about their future as a family, she was incredibly open to exploring how to best go forward once Noah was discharged. 
The sessions also gave Ivona a much-needed opportunity to focus on the importance of taking time for herself.
"Sometimes parents are so focused on being the best parent they can for their child, they have difficulty understanding their own needs," said Val. "But when a parent is given a safe space to emotionally process what's going on, it benefits the child."
Call to action Text
You can create a world of possibility for kids like Noah!
Donate Now