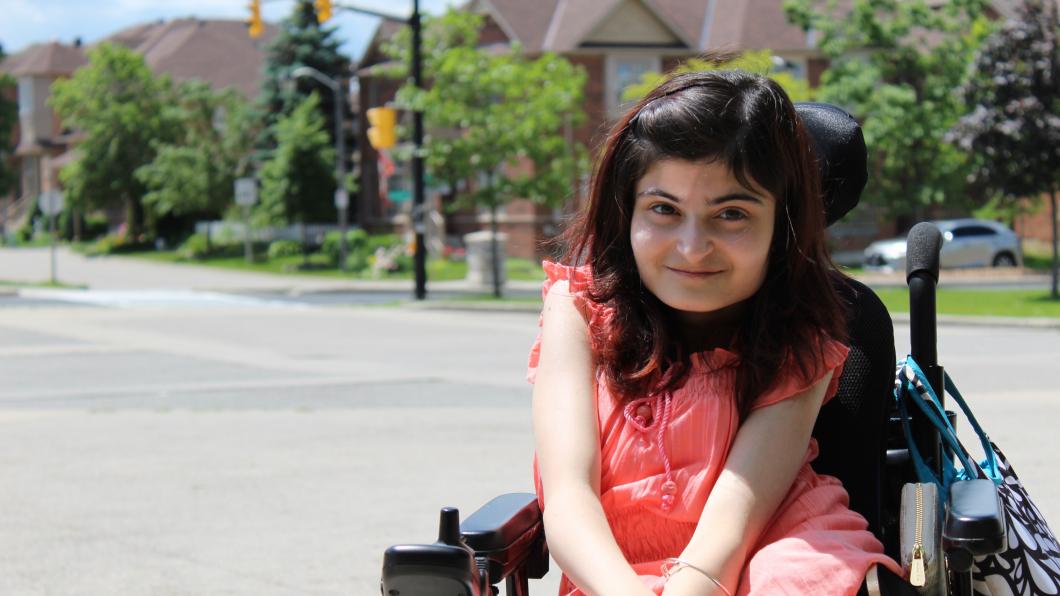 Story
Maria's mission to change minds
This might just be the most personal and meaningful school project 17-year-old Maria has ever done.
She's working on a project for class about disability and stigma. Much of it will be based on personal experience.
Maria has a physical disability that affects her muscle tone and strength. She uses a power wheelchair to get around and a gastrostomy tube (G-tube) for feeding.
"I don't have a specific diagnosis, I just have a whole bunch of stuff that's wrong with my body," she explained.
Her hips are dislocated, she has club feet and she also has a condition called Chromosome-9 deletion which means her spine isn't straight.
Those are her challenges, but that's not who she is. She's a hard-working ambitious Grade 12 student in Markham, and she's set to graduate next summer.
"My disability doesn't define me," she stressed. "Yes, it's a part of me, but that doesn't shape me as a person…I pull all-nighters to finish my assignments just like you."
She got the idea for her project from Holland Bloorview's Dear Everybody anti-stigma campaign that launched in August 2017.
When she saw campaign videos and stories about how kids and youth with disabilities want to be treated, a light bulb went off.
She saw this project as a way to change how other students see her, and cut down on the awkward staring and comments.
"Instead of thinking, 'Oh, that poor girl, she probably doesn't have anything going for her,' I wish they would look at me and say, 'Hey, you're the only one in our class who got 95 per cent on that assignment.'"
Spreading her wings
Both Maria's voice and personality are soaring. She's come a long way from elementary school.
"Growing up, I was the most insecure, shy thing," she said.
She didn't have any friends and didn't talk to anyone. She was just known as the quiet girl in a wheelchair who was always at the doctor's.
Constantly feeling excluded, she heard whispers like, 'She's crazy. She's always at the hospital. Don't talk to her.'
"There were times when I felt like no one wanted me and that I shouldn't have been born," said Maria. "I just had these terrible thoughts about myself."
Thankfully, things changed in high school.
A much-needed mentor
There was one other student in a wheelchair. And Maria believes that had he not been there, high school would have been exactly like elementary school.
"This person did so much for me. I'm so thankful for him to this day," she said. "Because of him, our elevator works, our washrooms are accessible. The staff know not to single me out."
Now, instead of quietly struggling with school work, she will confidently approach her teachers and say,
"These are my needs and this is how you can meet them. And if you can't meet them this way, let's figure out something else."
As her confidence grew so did her thoughts about her future. She started thinking about a career and developing the skills in order to be successful.
Holland Bloorview helps Maria become job-ready
Tapping into Holland Bloorview's youth employment programs, she took part in Youth@Work in 2016.
This program involves placements and workshops at Holland Bloorview with a job coach helping participants reach their goals.
Through the program, she learned to speak of her disability in a different way.
"During interviews I would catch myself saying, 'I'm disabled, but...' And now I say, 'Although I'm disabled, I can do this.'"
The following summer she took part in Holland Bloorview's Ready to Work program, which helped her land a six-week placement at Markham Stouffville Hospital. (Holland Bloorview connects participants with a Toronto employer and gets them started in a paid summer job.)
She worked at the hospital's Childbirth and Children's Centre, assisting with a variety of administrative tasks. She also sometimes shadowed nurses on their rounds.
Maria made such a good impression the hospital hired her part-time.
College-bound
Next fall, Maria hopes to attend Centennial College for either Human Resources Management or Business Administration.
She's excited about life as a post-secondary student and can't wait to showcase her talents, not her disability. In the meantime, she has a very important school project to finish.
"The last thing I want people to see is my wheelchair," said Maria. "In fact, I want them to see me and not see my wheelchair at all."