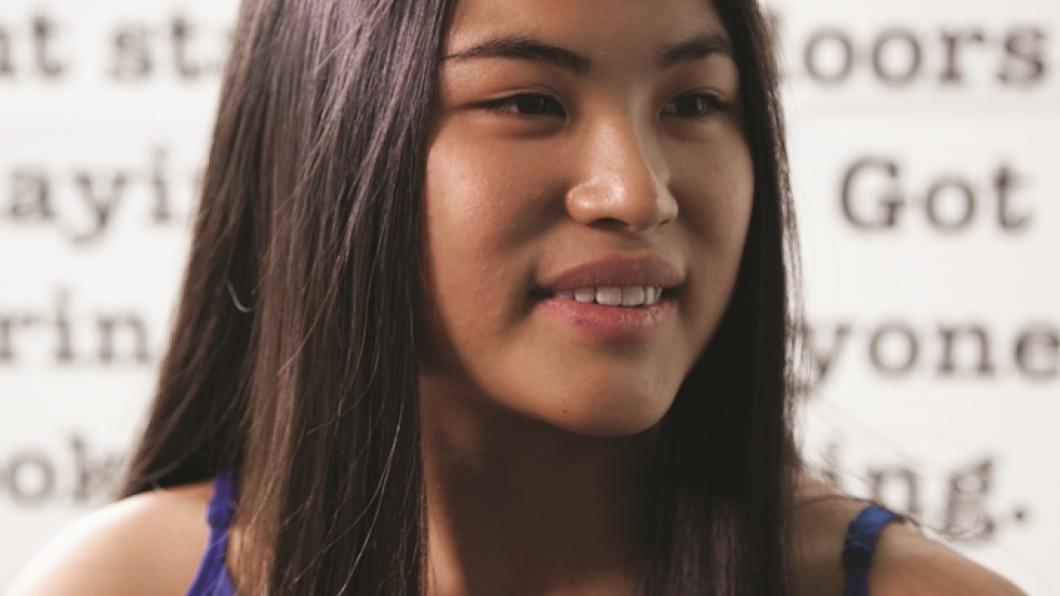 Story
Maddy's helping others wrap their heads around concussion
Maddy was often seen walking through her high school halls with ear plugs or sunglasses.
No, she wasn't trying to be cool or make a fashion statement.
She was trying to fend off the post-concussion symptoms that would send her home with a blinding headache, dizziness and fatigue.
Maddy has sustained six concussions since 2013 – that's six in a span of less than four years. (Three occurred through competitive dance and three were just fluke accidents.)
As result, she's missed almost two years of school but has finally returned to her classes full-time last fall, taking Grade 11 and 12 courses.
On top of the pain she's endured, she's also felt the sting of discrimination because of her injuries.
"At first, I suffered a lot of stigma at school," said the seventeen-year-old. "Friends would see my earplugs and sunglasses and they would put distance between myself and them, which wasn't really nice."
Only two friends have stuck by her side, while many chose to stop spending time with her.
Meanwhile, other students simply didn't believe that she was injured and needed accommodations to keep her symptoms from coming back. Understandably, there were dark days where she felt sad, depressed and alone.
Unfortunately, Maddy's experience isn't unique. An alarming 53 per cent of kids with a disability have either no close friends or only one. They are also two to three times more likely to be bullied than kids without disabilities, and tend to have lower participation rates in camps, recreational activities, and summer jobs.
But rather than dwell on the negative, Maddy took action. She became an Ambassador for Holland Bloorview Kids Rehabilitation Hospital and last year became one of the spokespeople for the hospital's successful Dear Everybody campaign.
A five-year national public awareness campaign, Dear Everybody gives kids and youth with disabilities the chance to tell the world how they would like to be treated – in their own words.
It's also dedicated to breaking down disability stereotypes and forcing all Canadians to re-evaluate their own behaviour and attitudes. Their honest messages include statements such as:
"Talking to someone with a disability like they're a baby is rude."
"Not everyone with a disability looks like they have a disability."
"Advocating for your own inclusion is tiring."
Maddy has been very vocal and gone very public, doing interviews with major media outlets like the Toronto Star, CBC and CTV, spreading the word about the campaign.
The campaign's website, DearEverybody.ca, includes tips for parents to ensure their kids have inclusive friendships. There are also tips for work places, and for anyone who wants to help change the stigmas that those with disabilities face daily.
Maddy hopes Dear Everybody will help increase people's understanding of disabilities and help them understand that making small accommodations for disabilities really is no big deal.
Thankfully, things are looking up. Maddy loves being a full-time student again and she's already thinking about post-secondary education en route to becoming a neurologist.
"Right now I just need extra time on tests in case I get a headache and I wear ear plugs in assemblies," she said. "My teachers are wonderful accommodating me and my classmates are becoming more understanding. Now they don't think much of it."
She plans on continuing to be a vocal advocate for kids and youth with disabilities, particularly those who have invisible disabilities like concussions.
"I just want people to know that they shouldn't identify me by my disability, they should identify me by who I am," she said.
Visit DearEverybody.ca today to learn how you can help end stigma for kids with disabilities like Maddy.
Scotiabank is a proud supporter of the Concussion Centre at Holland Bloorview Kids Rehabilitation Hospital.