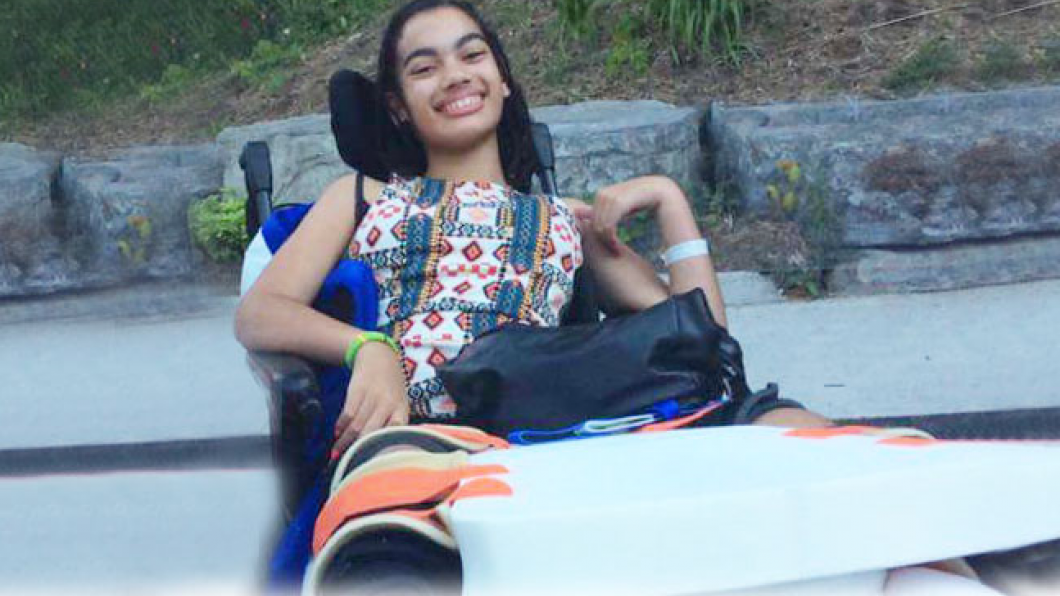 Story
Jadine – a portrait of perseverance
When 16-year-old Jadine is lying in her hospital bed and feeling low or in pain, she sometimes reaches for her book of Rupi Kaur's poetry.
Kaur's words are like therapy for her.
"She's a really good poet," said Jadine. "Kaur talks about growing up, and womanhood, and how to live in your own skin when the rest of the world thinks you shouldn't.
"Reading her poetry, it relaxes me to know that someone else understands the stuff that women go through."
Jadine has been through a lot. The hard working Grade 10 student has been coming to Holland Bloorview for years to help manage her cerebral palsy.
The struggle for strength
Though she's grateful for the hospital's outstanding care, there have been some dark days.
"Sometimes, being in a hospital is one of the most depressing things," she said.
"There was even one point in my life where I was having so much pain, I said to my mom, 'I want to die.' And she said, 'No, you can't leave me yet.'"
Jadine continues to persevere and has her sights set on becoming a writer. (She already writes her own short stories and poetry.)
"I love how I can connect with words," she said. "I love talking, I love creative writing, I love poetry, and most of all, I love connecting with people."
Look beyond the wheelchair
Jadine is also a perfect example of why it's never wise to judge a book by its cover.
"I'm not just a pretty face, I have a lot going on in this head," she said.
She gets angry when people assume that because she has mobility issues and struggles with speaking, that she isn't intelligent.
Nothing could be further from the truth.
"Sometimes people look at me and they only see the wheelchair. They don't see the real person," she said.
"I'm the first person at my school who is in a wheelchair, so people are always surprised by what I can do. But they shouldn't be. I deserve to do just as much as the next person – I just need a little more help sometimes."
Holland Bloorview love and lessons
She's grateful for all of the help she has received at Holland Bloorview, claiming, "the nurses treat you like family."
She's also inspired by the courage of other youth with disabilities that she meets.
"I've seen people come here that have been through cancer," she said."I've seen people come here who have CP like me. I've seen people come here with muscle diseases. I've seen everything, pretty much.
"I've seen so many things that people go through, and I think, 'Wow, if you can go through that, I can go through anything! I shouldn't be complaining, or stopping what I have to do.'"
Hoping for the chance to help others
In addition to writing, helping other kids is also on her to-do list.
"I really want to work with kids who have been through tough things, because I've been through so many tough things in my life," she said.
When that opportunity comes, no doubt she'll stress the importance of family.
"I get through my challenges because of my family," she said. "They're very loving and understanding and they push me, even when I don't want to be pushed. There are days when I say, 'I'm done with everything,' and then my mom says "You've got to."
Jadine also feels she's well qualified, being the oldest of five kids. She does her best to give sound sisterly advice to her younger siblings.
Do they appreciate her wisdom?
"I'd like to think so, but sometimes they don't," she said smiling.
Hopefully, they will choose to listen because what Jadine has overcome has made what she has to say worth hearing.