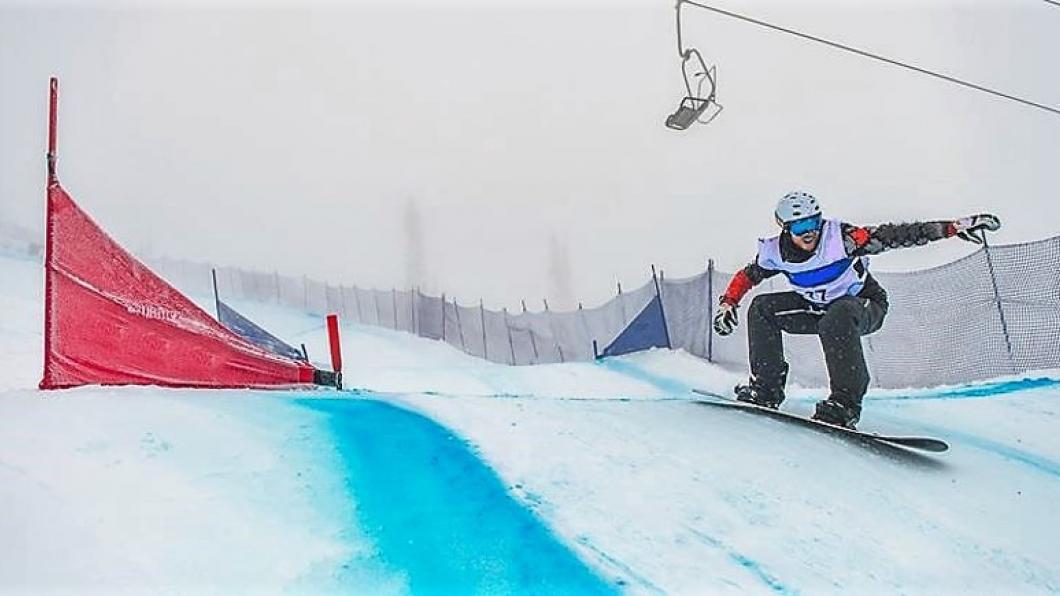 Story
From almost paralyzed to Paralympic hopeful – one former client's story
Andrew Genge's life is very much on a steep downward slope.
That's because he's carving up the snow in Whistler, BC with his snowboard. That's home these days where the 28-year-old Oshawa native trains.
Andrew is an accomplished athlete who has trained and competed in snowboarding all over the world.
This year, he was named to the para-snowboard national team where he hopes to compete at the 2018 Paralympic Games in South Korea.
He's already taken home plenty of hardware in national and international competitions, including a bronze medal at his first ever para-snowboard World Cup event in Kelowna, BC in 2016.
He then took home second place at the Sports Experts Speed Nation Nationals in Chantecler, QC earlier this year.
It's pretty incredible, considering there was a time that he couldn't walk and was eating from a feeding tube.
Andrew is a former Holland Bloorview client who credits the hospital with giving back his life, and helping him get back on his board to compete in the sport he loves.
A horrific collision
Thirteen years ago, Andrew's life changed forever at a high school rugby game.
A devastating tackle caused a stroke that nearly killed him. An opponent came crashing down on his head, fracturing his jawbone and causing a severe blood clot in his carotid artery that traveled up to his brain.
Left fighting for his life, Andrew was paralyzed on his right side. He spent a month in an acute care hospital, unable to walk, talk, speak or even swallow.
Once stable, he was transferred to Holland Bloorview (then Bloorview MacMillan), where he began climbing a mountain of a different kind.
He remembers coming through Holland Bloorview's doors a little nervous and a little shy, but upbeat and optimistic about the future.
A mountain of kindness
Complementing his positive attitude, Andrew was amazed with upbeat approach of every nurse, doctor and therapist he met. They were energetic, enthusiastic, and shared his determination to get better.
He began his therapy sessions – physiotherapy, occupational therapy and speech therapy. It was intensive therapy, up to five times a week.
Progress was slow and there were days of frustration. What frustrated him most was that his body wasn't responding to his mind.
"I was saying to myself, 'OK, get up and move,'" but his limbs just weren't responding.
But determination far outweighed frustration.
"I was determined to get my function back," he said. "I was already a very motivated athletic guy so it only made sense to strengthen my weak side so I could hang out with my friends."
Small steps, the start of big dreams
He remembers the moment when he was able to stand up and take his first few steps with the support of support bars.
Struggling to describe that moment, one word came to mind: "overjoyed."
From there he continued to gain mobility as well as confidence. That fueled his drive to continue to get better. So did the tireless support of his family.
"My sister always said 'train like an Olympian' right from the start of my rehabilitation," said Andrew.
"Little did I know that it would actually come to fruition! There is definitely truth to 'if you can dream it, you can do it."'
His mother and father were just as supportive, leading Andrew to say: "To all the parents of children going through rehabilitation at Holland Bloorview - always encourage and motivate your children. It doesn't matter if those steps gigantic or small. I know I wouldn't be here today if I didn't have a strong support network behind me."
Four months later, Andrew walked out of Holland Bloorview with the help of a cane, excited to get back to his life…friends, school and back to the slopes.
It took him about six months to be able to walk unassisted again, and well over two years to be able to use his right hand again. And as soon as he was able, he was back on his board and instantly fell in love with the sport again.
Fast forward to today and Andrew has regained almost 90 per cent function in his right leg and over 80 per cent function in his right arm and hand.
"Now I'm stronger than ever as I go into my snowboarding season leading up to the Paralympic Games!" he said.
"Holland Bloorview gave me my life back," he added. "They helped me regain function in all ways…I learned to walk again, I learned to speak again, learned to use my arm again, and I learned to think again.
"If it wasn't for Holland Bloorview, I wouldn't be headed into this next season as a National Team athlete and a Paralympic hopeful!"