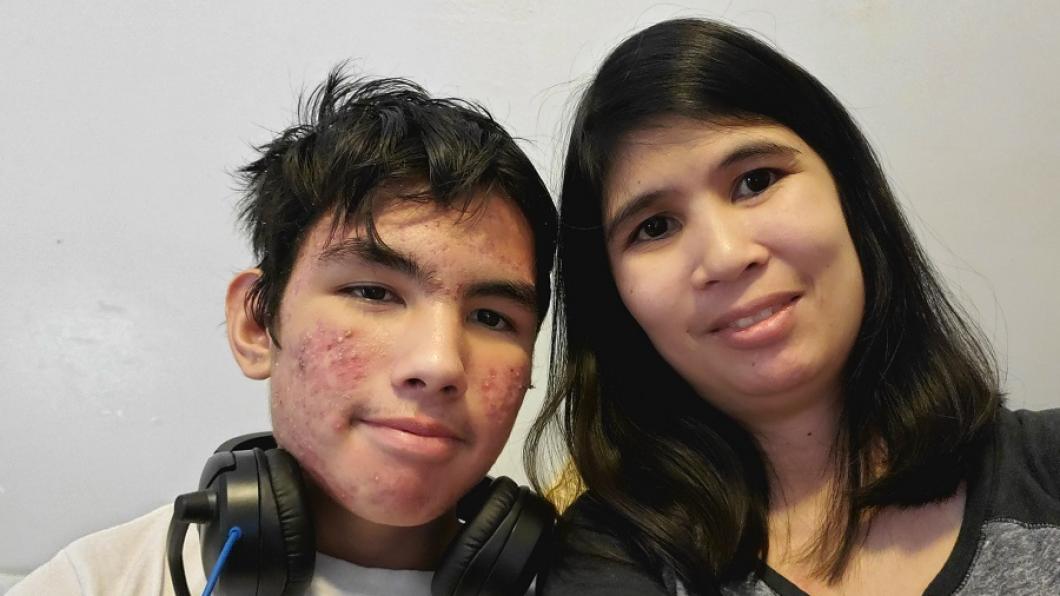 Unleashing the power of video games to enhance well-being of kids with cerebral palsy
Unique exergame boosts wellbeing of kids with CP recovering from orthopedic surgery, holds promise for reducing pain
When Tiffany Cruz's son, Ethan, was almost a year old, she noticed something different about him. "When I bounced him on my lap, instead of his legs standing straight, his feet turned inwards."
After speaking to their family doctor and specialists, they were told their son has cerebral palsy (CP). Cerebral palsy is the most common physical disability in children and is a group of neurodevelopmental disorders that affect a person's body movement and muscle coordination. In Ethan's case, the condition affected both of his legs as well as his left hand, causing muscles in those areas to tighten up.
As Ethan grew, he required two rounds of orthopedic surgery – the first one to lengthen his muscles to match the bone length in his legs, and the second to embed surgical screws in his knees so that the bones in the back of his knees can grow, allowing him to stand up straighter. After each surgery, he experienced pain initially as he underwent physiotherapy, which is quite common in children with CP and is aggravated by the orthopedic surgery triggering spams in their muscles.
In efforts to reduce pain levels and improve the well-being of children with CP after undergoing lower-limb orthopedic surgery, like Ethan, researchers from the Bloorview Research Institute's CP Discovery Lab were interested in exploring whether the Liberi Exergame could help kids with CP recover from this type of surgery.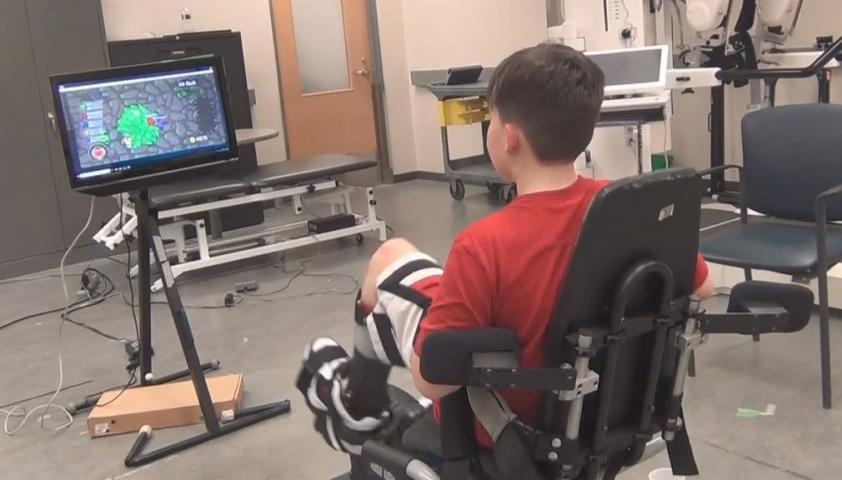 The Liberi Exergame is a video game system powered by cycling on stationary bikes that was co-designed by researchers at the CP Discovery Lab, computer scientists at Queen's University and children about eight years ago to increase physical activity in children with cerebral palsy while having fun.
To test how effective this exergame is in help kids with CP recovering from lower-limb orthopedic surgery, the research team collaborated with nursing, therapeutic recreation and physiotherapy teams. This collaboration enabled the research team to study a small group of in-patient clients with CP at Holland Bloorview in 2018 who received rehabilitation therapy as part of their post-surgery recovery process.
Five clients had rehabilitation therapy while the other five, including Ethan who was 11 years old at the time), used the exergame five times a week for three weeks in addition to their usual rehabilitation therapy. These children and youth, aged seven to 18 years, sat in a recumbent bike and pedaled for about 30 minutes each day after school over a three-week period.  The pedalling powered a series of mini video games that they can play on their own, or with other in-patients. Both groups also completed questions before and after the study to gauge their pain levels and well-being.
The study results were startling to the researchers. The children who had access to the exergame showed a significant increase in well-being and none reported that they felt more pain after their surgery. The children in other group, however, reported little change in their mental well-being. Additionally, two of the participants noted they experience more pain during the three weeks of the study.
"This is such a win-win opportunity," says Dr. Darcy Fehlings, a senior scientist at the CP Discovery Lab who led the study and is a Professor of Pediatrics at University of Toronto. "When you have CP, it's really difficult to participate in physical activity and movement. The Liberi Exergame gives children living with CP a really fun way to engage in exercise with kids and has shown to improve well-being and potentially reduce post-operative pain in children undergoing lower-limb orthopedic surgery."
For Ethan's mom, Tiffany, it was a game-changer. "The exergame gave him more confidence and helped him to interact with other people. It made him happy all around and gave him something to look forward to during his stay at Holland Bloorview."
Ethan, who is now 13 years old, agrees. "It was hard to do at first because of all the pain and stuff in my legs, but [the games] were fun."
Looking to the future, Dr. Fehlings hopes to make the exergame more accessible for families at home and also in schools. The researchers are also interested in replicating the study at multiple sites to test its effectiveness on children with CP who are recovering from orthopedic surgery.
The study, Inpatient Exergames for Children with Cerebral Palsy following Lower Extremity Orthopedic Surgery: A Feasibility Study, was funded by Holland Bloorview Kids Rehabilitation Hospital's Centre for Leadership program and donors of the Holland Bloorview Foundation, the Ontario Brain Institute and the Canadian Institutes of Health Research. It was published in January 2021 in the Journal Developmental Neurorehabilitation.