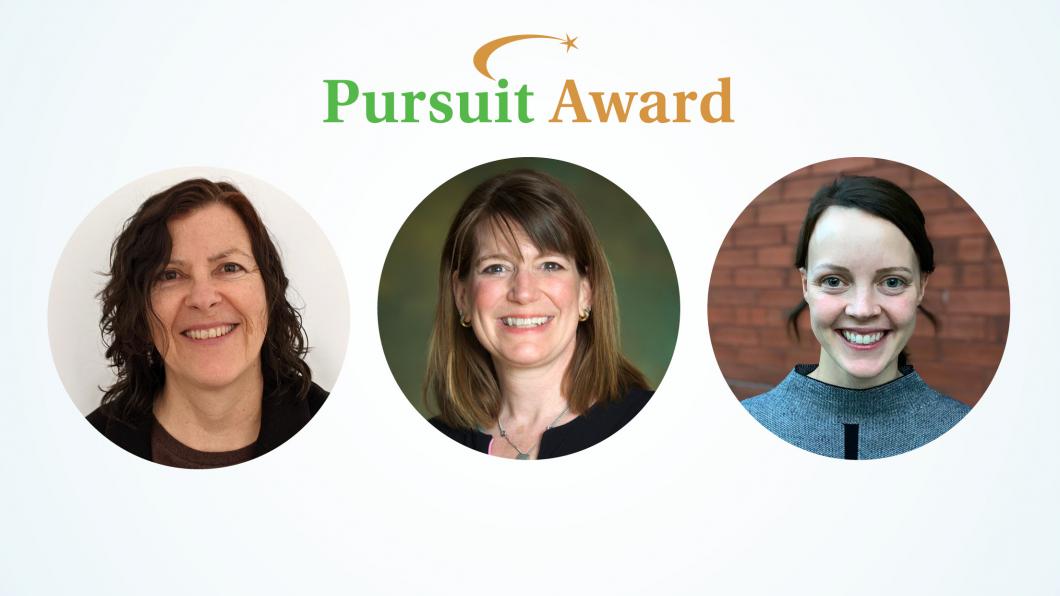 Showcasing Outstanding Contributions
Rewarding some of the country's top young minds in their efforts to further develop the knowledge and understanding in childhood disability research
From PhD students to recent alumni across the globe, every year the Bloorview Research Institute recognizes the outstanding contributions researchers have made in childhood disability research.
For a second year in a row, due to COVID-19 restrictions, the competition was held virtually. Three finalists were selected to present their research to a panel of judges comprised of researchers, family leaders, and senior executives. The recipients of the awards received $3,000 (first place), $2,000 (second place) and $1,000 (third place).
First place: Dr. Dianne Macdonald, McGill University, Department of Educational and Counselling Psychology (pictured left)
Dr. Dianne Macdonald is a PhD graduate of the Human Development program in the department of educational and counselling psychology at McGill University, and a part-time instructor at Concordia University.
Dr. Macdonald's dissertation clarifies the early literacy profile of preschoolers with autism and hyperlexia by focusing on strength-based interventions, targeting a child's strength to support challenging areas. By outlining a successful parent-supported, tablet-based, early reading comprehension intervention that uses their strength in advance, early word reading may improve their challenge with reading comprehension and listening comprehensions.
What does winning the Pursuit award mean to you? 
"I am honoured and grateful that my research, focused on harnessing the strengths of children with autism to address their challenges, has been recognized by leaders in childhood disability research. This is even more momentous by virtue of the tremendous quality and importance of the research presented by my fellow finalists, and the distinguished reputation of the Holland Bloorview Kids Rehabilitation Hospital and the Bloorview Research Institute. This award stands out as an academic career highlight for me - thank-you!!"
Second place: Dr. Victoria Sherman, University of Toronto, Rehabilitation Sciences Institute (pictured right)
Dr. Victoria Sherman is a speech-language pathologist who completed her PhD in rehabilitation sciences at the University of Toronto. Her clinical work guided her pursuit of research in stroke and dysphagia.
Dr. Sherman's dissertation sought to identify dysphagia post pediatric ischemic stroke. The goals of the research include informing early detection, standardized assessment protocols and early intervention of dysphagia to improve patient care and health outcomes in young stroke groups.
What does winning the Pursuit award mean to you? 
"It is an honour to be the second-place recipient of the Pursuit award. This recognition is encouraging as it validates the importance of my research accomplishments to-date. It also motivates me to continue my research program to establish standardized dysphagia practice to improve health for children who have experienced stroke."
Third place: Dr. Karen Hurtubise, Université de Sherbrooke, School of Rehabilitation (pictured in the middle)
Dr. Karen Hurtubise attended the University of Ottawa for a bachelor of science in physiotherapy, then received a masters in rehabilitation sciences from the University of British Columbia, and completed her doctoral studies in health sciences research at the University of Sherbrooke.
Her clinical research aimed to better understand the experiences of children, youth, and caregivers with the healthcare system, and apply patients and public engagement strategies in co-designing, implementing, and evaluating novel interdisciplinary rehabilitation models to improve service access. Karen is currently a postdoctoral fellow at the University of Sherbrooke's, School of Rehabilitation, with a focus on the use of parent coaching approaches in pediatric rehab using telehealth.
What does winning the Pursuit award mean to you? 
"I am honoured and humbled to have my doctoral work recognized by a 2021 Pursuit Award. I feel privileged to now part of a list of past awardees, who are now well renowned and respected researchers in the field of childhood disability.  For me, this award symbolizes the importance of partnerships, and further strengthens my commitment to pursue research which engages stakeholders - clinicians, managers, youth and families, and focuses on initiatives aimed at better meeting the needs, supporting meaningfulness and well-being, and enhancing the quality of life of children with disabilities and their families." 
Congratulations to all the applicants and to the recipients of the Pursuit awards.
Without the generous contributions of Holland Bloorview Foundation donors, The Ward Family Foundation, and the Bloorview Research Institute the Pursuit awards would not be possible.
Watch the Pursuit Ceremony or individual research presentations.