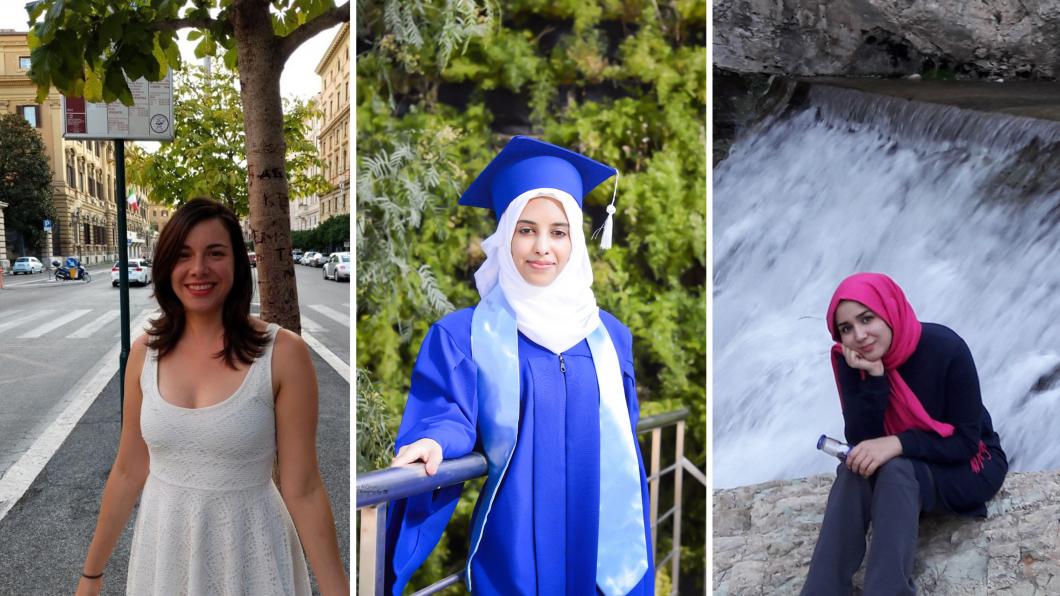 Pushing the boundaries of childhood disability research
How future leading scientists are changing the face of pediatric rehabilitation research from all corners of the world here at BRI
Daniela Chan-Viquez is fulfilling her dream.
A pediatric physiotherapist by training in her home country, she hopes to provide better access to therapy for children with disabilities. Her research work with Dr. Elaine Biddiss in the PEARL Lab' Bootle Blast video game, coupled with a case study she is working on as part of her PhD, hopes to change that.
"In Costa Rica, access to therapy services is very limited for children with disabilities," says Chan-Viquez. "I thought this video game could be a great tool to enhance access to therapy for these children, opening up a world of possibilities."
With the support from Dr. Biddiss, her research study will determine whether therapy-based video games such as Bootle Blast can be used at home to help Costa Rican children living with hemiplegia (paralysis on one side of their body) and their families.
The rehabilitation sciences student, now a permanent resident in Canada, is one of a handful of international research trainees from countries all over the world who are currently, or will be starting this fall to collaborate with BRI scientists to advance childhood disability research – even despite the global pandemic. Additionally, the research institute attracts and mentors over 100 research trainees each year from across Canada and around the globe.
"While the pandemic has effectively halted physical travel, we are really fortunate that interest from these excellent students abroad have not abated," says Dr. Tom Chau, vice-president of research and director of the Bloorview Research Institute. "It is important that Holland Bloorview is contributing to the mentorship of the next generation of scientific leaders in childhood disability on every continent."
Indeed, the BRI has research trainees embedded in many of its labs from countries close to home, such as the U.S. to far-flung countries including Yemen, Iran and Russia.  For instance, in Dr. Deryk Beal's CONNECT Lab, Dr. Russell Banks, a research trainee from the U.S., is examining changes in speech motor control following a concussion as well as basic speech muscle physiology. Dr. Tendera, a Russian-born student who is now a permanent resident in Canada, is collaborating with Dr. Beal on research involving brain development and motor control across the lifespan.
Meanwhile, in the PRISM Lab led by Dr. Chau, Amal Al-saqqaf and Mahya Mirbagheri are both working on brain-computer interface-related research while completing their PhD degrees in biomedical engineering at the University of Toronto.
Mirbagheri, who is from Iran, will be starting her five-year research placement starting this fall virtually. As an international student, she hopes to find ways to enable children living with disabilities to have the brightest futures, but also along the way, learn about Canadian culture.
"As an international student, I have an opportunity to learn about other cultures and take in new social experiences. I am especially excited to participate in research that can have a huge impact on the lives of children living with disabilities."
Similarly, Al-saqqaf l will be working under Dr. Chau's supervision for the next four years to investigate naturalistic brain-computer interfaces. Her research focus? To help children with cerebral palsy use BCI technology at home and school. This technology will also be developed in collaboration with the BCI clinic launched last November.
"Working in the PRISM Lab will give me great exposure to best practices used in lab work within a Canadian hospital and learn from scientists who are developing research that will contribute to the health and wellbeing of children's lives," says the computer engineering graduate from Yemen who is keen to expand her knowledge in biomedical and neuroscience.
For Chan-Viquez, the international research setting has been an incredibly rewarding experience and has learned a great deal developing her research project. These invaluable experiences include acquiring research skills such as team management, navigating ethical considerations in two countries, and developing a project in two languages that also embeds two different cultures.
"I wouldn't have been able to come this far without Elaine and her lab's support, as well as the hard work of many people at the BRI. I'm really grateful for this opportunity and I know it will help to enhance my academic experience."