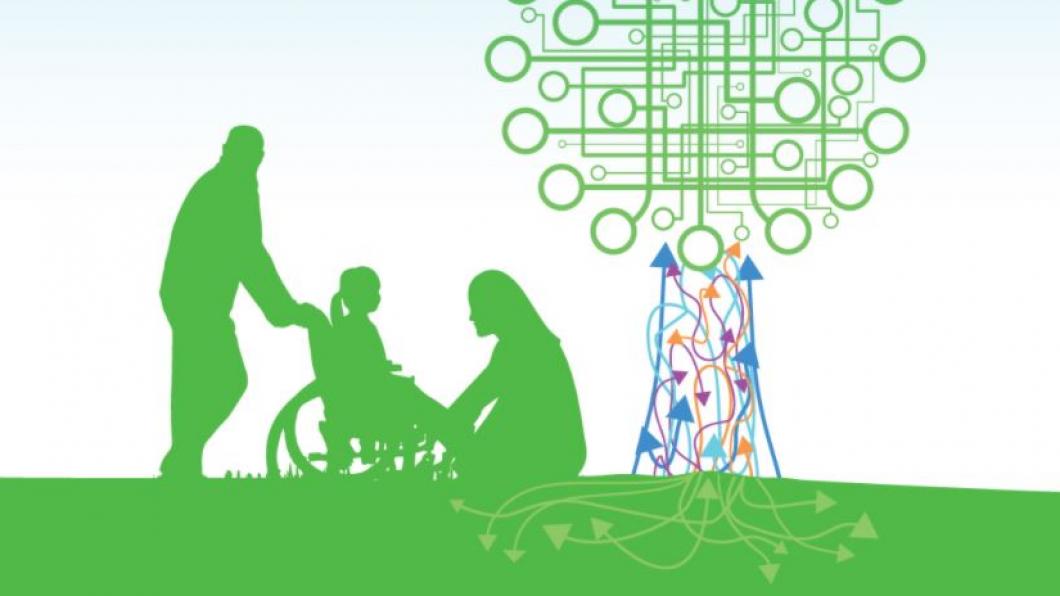 Lab to Life
15th annual BRI Symposium showcases the deep value of collaboration between scientists and families 
Under the theme of "lab to life", the Bloorview Research Institute (BRI) hosted its 15th annual symposium last month, an event celebrating innovation and discovery through science and the arts in the area of children and youth with disabilities.
It is their lives, and those of their loved ones, that drive all efforts across BRI labs – where researchers co-develop studies in step with these same families. The transformational projects launched within this Institute have, since its inception in 2004, been conducted in partnership with clients and families.
"The commitment of our brilliant scientists, trainees and staff is exceeded only by the children, youth and families who give their time and insight to help us foster the most meaningful and healthy futures for all individuals with disabilities," says Tom Chau, vice-president of research at Holland Bloorview. "It is in recognition of this long dedication that we focused our 2020 symposium on those who matter most to us."
The 2020 BRI Symposium, sponsored by the Ontario Brain Institute and BASF, featured a keynote address by Dr. Tracey Smythe on the sensitive, urgent subject of stigmatization in health-care practices. Meanwhile, McMaster student and long-time Holland Bloorview client and research partner Nathan Gaba described his intimate take on the intersection between race and disability. Ellen Schwartz, co-founder of Jacob's Ladder, moved audiences with a story of her family journey about her son, Jacob who was born with a rare, fatal neurodegenerative illness. Halle Burnett, and Seth Zosky, who were both family friends of the Schwartz family, performed a heart-warming rendition of I Rise Above, a song composed in memory of Jacob by his family.
Participants learned of new innovations, co-created with family partners, such as the Anxiety Meter for children with autism. And they heard a roster of fascinating trainee-led "Quick Hit" presentations – two of which aptly demonstrate the deep value of family involvement in research.
Flora Wan led one of these presentations. Her project is exploring what factors affect pain levels and intensity in children with cerebral palsy, and the resulting impact on their quality of life and activity levels. To do that, she is analyzing a rich Ontario Brain Institute-funded database that exists only because families have volunteered to be part of this vital resource.
"These families willingly answer questions that may at times be difficult and sensitive," Flora says. "We are very fortunate that they graciously shared their experiences to build this database, which will better predict how pain changes over time for these children, enable researchers to suggest ways to improve clinical care, and help so many families prepare for the future."
Brandon Rufino, a trainee at the PEARL Lab, presented how his audio detection interface can guide families in musical play and learning with low-cost musical instruments at home.
"Creating music has a wide variety of benefits on mental and physical development for children with disabilities, such as coordination, spatial reasoning, confidence and vital motor tasks," says Brandon. "Yet families often face barriers to finding a suitable program that isn't too expensive or hard to schedule."
Brandon set out to bring an accessible, easy-to-use, low-cost, high-quality option directly to the home. The result: a "virtual music teacher" embedded into a video game that can accurately "hear" the instrument that a child is playing. The "teacher" cannot only identify what the child is playing; it can also ask for a particular beat or rhythm and score them on how they are doing.
Families, here again, are key. "We created an interface, but it's meaningless until it's tested by children," says Brandon. "Families are driving the design and verifying if the game is fun rather than perceived as a chore. And the children will ensure that the system works."
In all, the BRI Symposium was an opportunity to celebrate both established and emerging researchers whose interventions straddle medical, technological, educational and vocational, while exploring the interplay of factors such as genetics and environments that contribute to the diversity of human development.
"It is very important that research be connected to families' lived experiences – their everyday needs and challenges, their expectations, and the goals they want to achieve," says Manuela Comito, a family leader at Holland Bloorview. "That's what will truly help us reach our common goal: a better life for kids with disabilities, with less stress, pain, anxiety, isolation and stigma – and more equity and respect of their value and contributions."