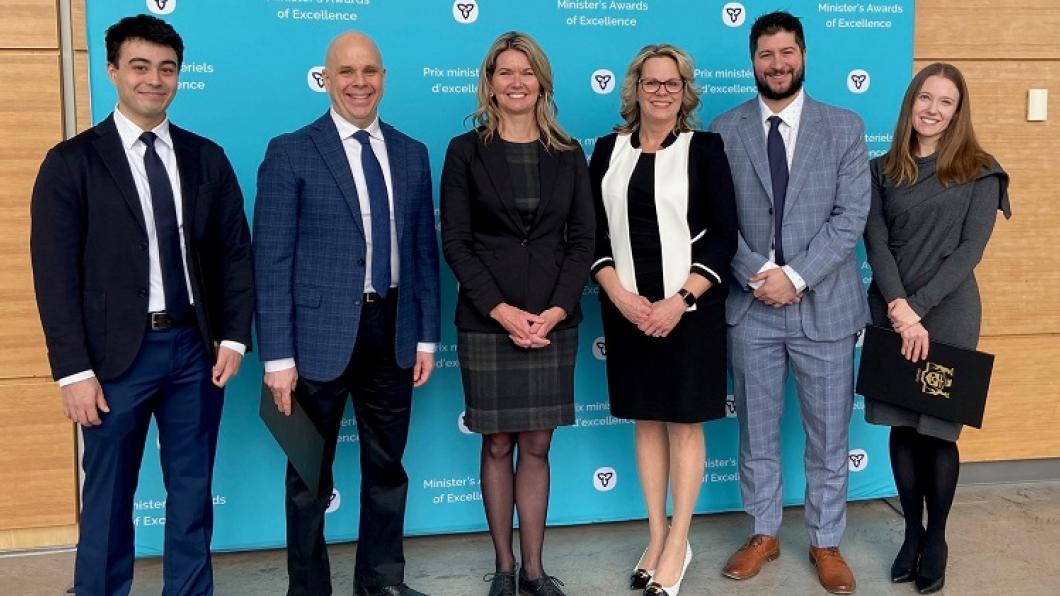 Holland Bloorview receives two awards from Minister of Colleges and Universities
Innovations in virtual reality and student-led environments capture Minister's Award of Excellence
Two initiatives from Holland Bloorview Kids Rehabilitation Hospital have won the Minister's Award of Excellence. Dr. Elaine Biddiss was recognized in the category of Innovation and Entrepreneurship and Drs. Kathryn Parker and Amanda Binns won in the category of Future Proofing Ontario's Students.  Awarded by the Honourable Jill Dunlop, Minister of Colleges and Universities, the Minister's Award of Excellence highlights the incredible work of professors, instructors, staff and graduate students on campus, in the community and beyond.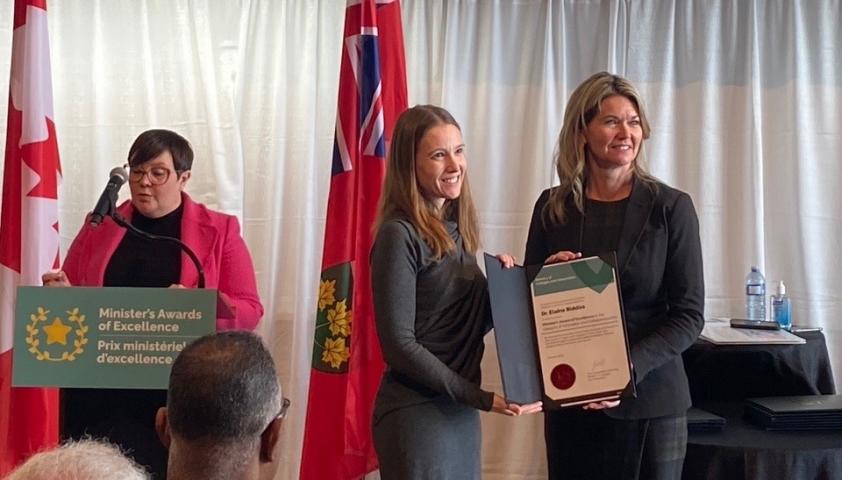 Award in Innovation and Entrepreneurship: Accessible virtual reality therapies and interactive spaces for youth in healthcare environments.
Dr. Biddiss holds many titles: associate professor of biomedical engineering at the University of Toronto, director of the PEARL (Possibility Engineering and Research Lab) Lab at Holland Bloorview, and Holland Bloorview's Children's Hospital Foundation chair in pediatric rehabilitation. She won a Minister's Award for her work in accessible virtual reality therapies and interactive spaces for youth in health care environments. Her team at the PEARL Lab conceptualizes, develops, and evaluates innovative technologies that enable kids with disabilities to meaningfully participate in their therapies. Her goal is to increase the fun factor and accessibility for kids, which she says "is a priority that is on par with the therapeutic benefits. They feed into one another­­—if you engage kids, you get better treatment outcomes."
Dr. Biddiss developed this work to address a crucial gap she noticed in the clinical space. "Clinicians were struggling to find safe and inclusive opportunities for play. Families and clinicians were trying to use entertainment devices but they weren't accessible for all kids and they didn't necessarily do the job of therapy," she reflects.
Dr. Biddiss hopes that by receiving this award, she can continue to tackle the challenges related to equitable therapeutic access, make more great games for kids, and scale up so her team can develop and test technologies faster to make a difference in more kids' lives.
"It's such an honour to receive this award but it's also humbling. While I'm being distinguished, I have the most amazing team that makes these innovations possible. Working with the Holland Bloorview families, clinicians, and other researchers fosters such a community of innovation."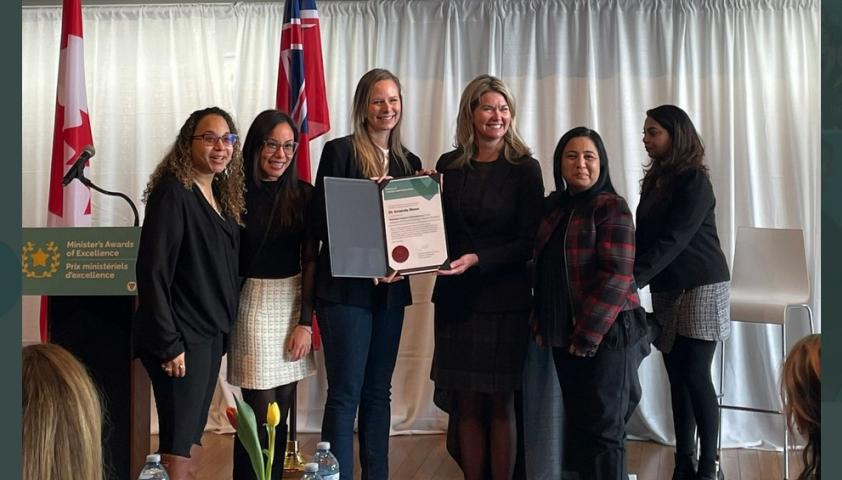 Award in Future-Proofing Ontario's Students: Student-Led Environments to Deliver Virtual Autism Supports for Wait-times (SLED-VAST)
Student-Led Environments (SLEs) are an innovative educational model that provide an opportunity to fill identified gaps in healthcare systems and foster students' inter-professional capacities and collaborative leadership. Holland Bloorview has multiple SLEs led by Dr. Kathryn Parker and members of the Teaching & Learning Institute. The Teaching and Learning Institute is the engine to help support the education of the next generation of health professionals in childhood disability at Holland Bloorview by exploring innovative models of clinical education. The goal of the SLED-VAST SLE, co-led by Dr. Parker, is to build capacity in the next generation of clinicians who will be supporting children and families within the Ontario Autism Program. Students involved in SLED-VAST are working to develop strengths-based clinical tools and training that will make the autism early identification process more efficient and compassionate. The training they develop will be delivered virtually to clinicians in northern Ontario communities. They are also working to increase social inclusion by developing a curriculum for delivery in northern Ontario schools to support learning about neurodiversity.
Dr. Binns, the SLED-VAST clinical manager and co-lead, emphasizes that this win was a collaborative effort.
"Our goal is that SLED-VAST provides a context for students to integrate all forms of knowledge—clinical practice, research, experiential, and education science; thus, cultivating the next generation of compassionate, critically reflective, and knowledgeable clinicians."
Dr. Binns adds that the enthusiasm, leadership, and creativity of the students has allowed for new and better innovations. SLED-VAST prepares students to enter the workforce by providing real-world training, while simultaneously addressing workplace practice gaps and improving the experiences of families and autistic individuals in Northern Ontario communities.
Gunjan Seth, a family-as-faculty educator at Holland Bloorview, adds that "in Northern Ontario, there are a lot of barriers. Everything takes a lot of time, even just to meet a professional. Receiving a diagnosis is a process, and receiving support is another process. That's why this project is so important to help families in this context."
Through the SLED-VAST principles and a transformative approach to education, the team is learning together, co-creating solutions to address identified gaps, and valuing experiential knowledge as equally important to research and clinical knowledge to ground and contextualize learning.
Seth adds: "Receiving this recognition is incredible and will hopefully provide more funding and raise awareness of the necessity of these programs, thereby bridging gaps in the system."
Congratulations to Dr. Biddiss, Dr. Parker, Dr. Binns and the SLED-VAST team on these well-deserved recognitions for their important work.