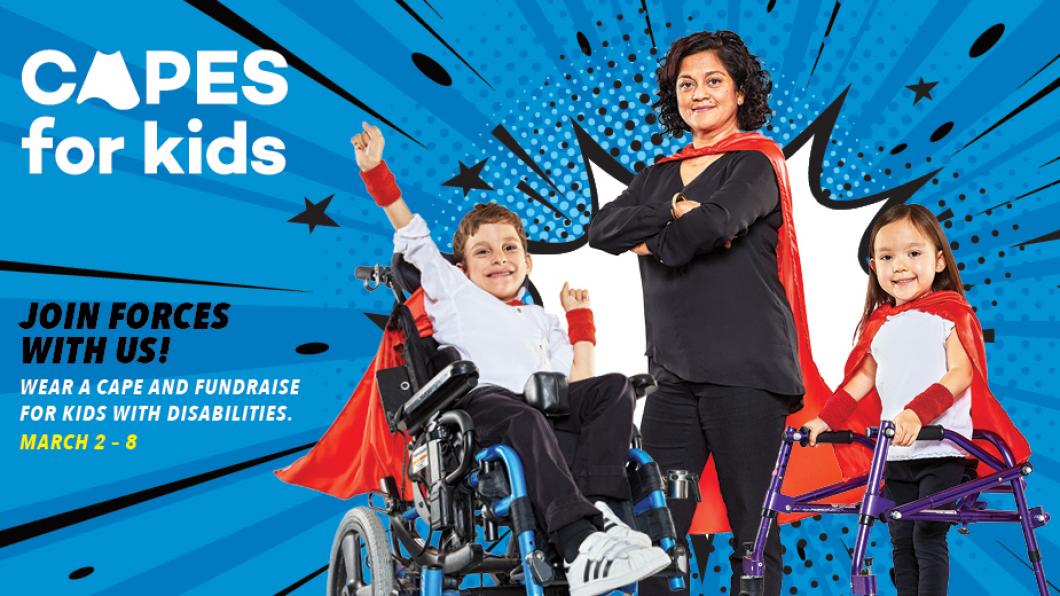 Holland Bloorview launches fourth annual Capes for Kids fundraising campaign
Toronto kids rehabilitation hospital invites fundraisers to wear their capes proudly around their respective cities from March 2-8 to support kids and youth with disabilities.
TORONTO, ON (March 2, 2020) – Holland Bloorview Kids Rehabilitation Hospital (Holland Bloorview) kicks off its fourth annual Capes for Kids fundraising campaign to support kids with disabilities and their families. From March 2-8, 2020, the campaign is asking fundraisers from across Canada and beyond to don superhero capes everywhere they go as a way to celebrate hitting their fundraising goals. The capes also function as a visual cue to help spark conversation around childhood disability and inclusion. Since 2017, the campaign has raised over $1,700,000 for education, research and care at Holland Bloorview.
"As we enter the fourth year of Capes for Kids, it has been nothing short of amazing to witness diverse groups come together to help create a world of possibilities by supporting kids and youth with disabilities," said Sandra Hawken, president and CEO, Holland Bloorview Foundation. "To our donors, fundraisers, and sponsors, thank you for joining forces with us to build more inclusive communities and to help transform the lives of kids with disabilities."
This year's fundraising goal of $800,000 will build on the momentum of years past. Last year Capes for Kids exceeded its goal, raising over $700,000. The funds raised will help support research and critical hospital programs and services that include but are not limited to:
Bloorview Research Institute (BRI), which focuses on enhancing care, developing assistive technologies, and evaluating barriers that restrict the inclusion of children with disabilities.
The Family Support Fund, which givesfinancial aid to families for special equipment, transportation, accommodations, medications.
The Independence Program (TIP), which gives young adults with disabilities the chance to live alone for three weeks and helps them develop valuable life skills.
Music therapy programs, which give kids and youth the chance to be social, artistic and creative.
Therapeutic Clowns that use music and comedy to help kids during certain procedures and therapies.
The Spiral Garden outdoor art, garden and summer camp program, which helps kids' imaginations bloom.
Andrea and Peter's daughter, Bella, is a client at Holland Bloorview who lives with global developmental delay, autism spectrum disorder and Pitt-Hopkins Syndrome – a rare genetic condition impacting intellectual development. "Bella has been part of the Holland Bloorview family since she was three years old and her team of doctors, nurses, therapists and support groups have helped our family thrive," said Andrea. "We want others to know that our daughter, who happens to have disabilities, is a courageous, funny, resilient, brave, generous and forgiving individual – and is so full of love. We want to share our journey in hopes of creating a healthy dialogue to see the positive in each other's differences."

Anyone can register to participate or donate at CapesforKids.ca. You can make your own cape or earn a Capes for Kids branded cape by raising your first $100 ($50 for children and youth). This past weekend, the public had the chance to engage with Capes for Kids at an installation  displayed at the CF Toronto Eaton Centre.
Capes for Kids is made possible through the generous support of donors, including Presenting Sponsor BMO, Captain Sponsors Lego® and TD Bank Group and Capes Partners Altus Group, KJ Harrison Investors, FanExpo Canada, INFOR Financial and RBC, and Capes Pickup Partner Penguin Pickup. Special thanks to media partners Adapt Media, Astral Media, Boom 97.3 FM, The Globe and Mail, On the Go Media, Pattison Outdoor, Rogers Media and StarMetroland Media.
---
About Holland Bloorview Kids Rehabilitation Hospital
Holland Bloorview Kids Rehabilitation Hospital creates a world of possibility by supporting children and youth living with disability, medical complexity, illness and injury. Holland Bloorview is a top 40 Canadian research hospital that is fully affiliated with the University of Toronto and serves over 7,500 families annually. Providing both inpatient and outpatient services, Holland Bloorview is renowned for its expertise in partnering with clients and families to provide exceptional care and is the only organization to ever achieve 100 per cent in two successive quality surveys by Accreditation Canada. Holland Bloorview is a founding member of Kids Health Alliance, a network of partners working to create a high quality, consistent and coordinated approach to pediatric health care that is centred around children, youth and their families. For more information or to donate, please visit hollandbloorview.ca or connect on Twitter, Facebook, Instagram, LinkedIn and parent-blog BLOOM.
For media inquiries, please contact:
Ashley Cruz
Senior Media Relations Specialist
Holland Bloorview Kids Rehabilitation Hospital
acruz@hollandbloorview.ca
T: 416-425-6220 x6409; C: 647-406-3567