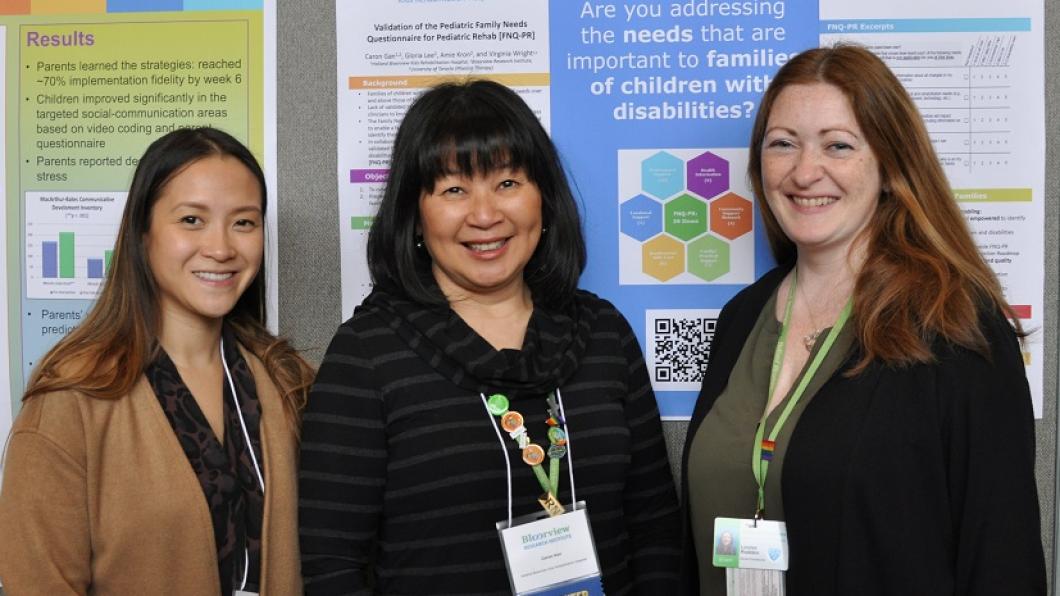 At the forefront of radical change
The 14th annual BRI Symposium showcases client- and family-centred research that is forging new frontiers in childhood disability research 
Imagine a device that can monitor a child's brain function in real time during their rehabilitation recovery process. Or a customizable app that can help children with cerebral palsy address their complex communication needs. Or how health care providers can start having positive conversations with children and youth with disabilities around sexuality.
These scientific advancements and new research paradigms were presented by Holland Bloorview's dedicated family leaders, scientists, clinicians and other presenters at the 14th annual BRI Symposium last month.
Some 240 delegates – from clinicians and scientists to families and community partners – took in a day of fascinating research panels, keynote speeches, poster presentations, a partnership showcase and an award ceremony with honoured guests Raymond Cho, Minister for Seniors and Accessibility and Assistant Deputy Minister Susan Picarello, Accessibility Policy, Employment Strategy and Outreach.
"Our families, scientists, researchers, and trainees exemplify unparalleled courage, compassion, excellence and innovation to drive world-class research and discoveries," said Julia Hanigsberg, CEO of Holland Bloorview, in her welcome address. "This is creating a more inclusive and stronger health care system, and is eliminating stigma and barriers faced by individuals with a disability."
Among the highlights of the day was a riveting keynote by Jonathan Nayler, a young teen who shared his lived experiences of inclusion and equity; breakout sessions on topics ranging from the critical role of arts-based research to the impact of big data on pediatric disability research; research talks on emerging technologies in brain monitoring and re-thinking augmentative and alternative communication; quick hit presentations highlighting the breadth of innovative and life-changing research at the BRI; as well as a fascinating closing keynote on the role of assistive robotics in the future of personalized care by Dr. Maja Mataric, Chan Soon-Shiong Distinguished Professor of Computer Science, Neuroscience, and Pediatrics at the University of Southern California. Sherri-ann Stringer, a family leader and co-chair of the symposium, held the audience in rapt attention as she gave a moving account of her family's journey at Holland Bloorview and the reasons why she has devoted so much of her time to give back.
"The symposium really highlights how research is fueling radical change," said Tom Chau, vice-president of research at Holland Bloorview and director of the Bloorview Research Institute. "These developments have propelled us to a cardinal juncture in childhood disability research, a pivotal point in time where, at every turn, there is the opportunity to effect decisive change."