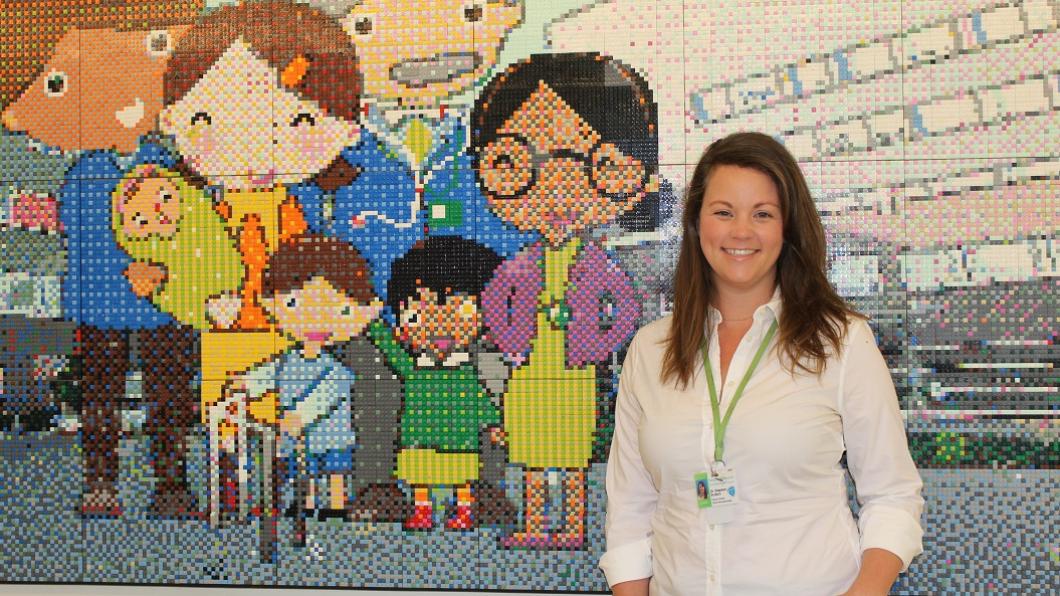 Elevating Acquired Brain Injury Research to the Next Level
Dr. Shannon Scratch awarded Holland Family Professorship in Acquired Brain Injury
Dr. Shannon Scratch has been awarded the Holland Family Professorship in Acquired Brain Injury for a five-year term. This is a joint hospital-university named chair between the University of Toronto, Holland Bloorview Kids Rehabilitation Hospital and the Holland Bloorview Kids Rehabilitation Hospital Foundation.
As an early career researcher, this new professorship will enable Dr. Scratch and her research team at the NOvEL Lab bring personalized interventions such as the CIHR-funded Move&Connect project to even more families with acquired brain injury (ABI) and concussion as well as to clinicians who are part of their health-care team.
It will also enable her to conduct more research studies including a MRI study with SickKids, Sunnybrook and CAMH that will examine the brain structure and psychological profiles of children with prolonged post-concussion symptoms to understand which interventions are the best fit.
Dr. Scratch's appointment builds on the Bloorview Research Institute's reputation as leaders in the field of acquired brain injury. "Across the institute, scientists are developing and exploring novel ways to help children with this condition to fulfill their potential, from supporting young people with ABI enter the workforce to using brain stimulation to help children with ABI recover," says Dr. Tom Chau, vice president of research. "Shannon's well-deserved appointment will continue to propel our research forward to help even more clients with ABI and concussion and their families."
Dr. Scratch shares her thoughts on her professorship and how it'll elevate her lab's research:
How will this Professorship support your work around acquired brain injury and how will it take it to the next level?
With this professorship, I'll have the resources needed to move my research programs along more quickly. The NOvEL lab is a busy place right now with trainees, publications, and data collection. This professorship will allow us to fund bright trainees and have clinical integration support to promote our intervention studies in clinic and offer different care opportunities to families.
Why is it so important to have your research grounded in client and family needs?
There's so much research that show's if you're not engaged with the topic, it doesn't matter how good the intervention is, it won't be that effective. The best way to help engagement is to ask people what will help them. When you're designing resources and interventions, it's really important to understand what people want, then create programs in their vision.
Have you always wanted to be a clinician scientist?
Yes. In fact, if it wasn't for the advocacy of a clinician scientist for a member of my family, my family wouldn't look the way it does today. She met us in clinic and was able to use her research position to help develop options for us all. She inspired me to do the same for other families, but through my clinical interest in psychology and neuropsychology.
How does your work as a clinician scientist advance your research in ABI and persistent concussion at Bloorview Research Institute?
Holland Bloorview is home to the Persistent Concussion Clinic, which is the only one in Ontario, arguably the only one in Canada that is publicly funded. And because we have this clinic, we can build research programs to help these kids. I feel lucky as an early career researcher. I have clinic access, great people to work with, families that are really interested being involved in research and see its value for their children and other families like them. It's so nice to see all of our hard work paying off for the people that matter most!
 What research are you working on right now that is centred on acquired brain injury?
When you think about ABI, it doesn't just affect one person, it impacts the family, the child's school, siblings, so we have to tap these different areas if we want the outcome for kids to be holistic and help them move forward in different parts of their lives. One of the areas we are focusing on is the school environment.  We know that educators are not taught about ABI while they're training. So, in collaboration with teachers, we created Teach-ABI to teach educators about ABI and strategies to support students in their classrooms. It was written by teachers for teachers. Right now, we are piloting Teach-ABI with elementary school teachers in Ontario, thanks to some national funding. We're also starting a high school adaptation because we know high school students and educators need supports that are specific to their experiences. We also know the high school environment is different and there's a lot of unique needs for these kids. One day, it would be amazing to see Teach-ABI used by teachers across Canada and in different countries around the world.
Are there other researchers you have been collaborating with on ABI or concussion research?
Yes, I've been working with Dr. Elaine Biddiss in the PEARL Lab on R2Play, which is a new assessment to help clinicians decide if a young person can return to playing sports after experiencing a concussion. I've learned so much as a scientist in working with Elaine. It's so nice working with someone else who loves to build solutions for challenging clinical problems. Her perspectives and training are so different than mine, but we compliment each other's skills. We also just graduated two incredible master's students, Emily Lam and Danielle Duplessis, from the project. With their different backgrounds in engineering and rehabilitation, they worked together to build a prototype that we can now mock up and test. Concussion and ABI needs that. You have to have solutions from different ways of thinking to help kids and families.
What are you looking forward to?
Right now, I'm excited to get back to work onsite. We've lost some of the collaboration and camaraderie you have working next to other scientists – that energy for discovery. I'm excited to have that back. The BRI's great at developing solutions for complex problems, and by working together as a team, we can reach that goal.
And what about where you hope this professorship will take your research?
I'm excited to build the training arm of the NOvEL Lab and ensure our trainees have the funding they need to move their research projects forward.
I also am excited to bring this work beyond the walls of Holland Bloorview to different hospitals, different labs and to other countries. It will help me activate networks of ABI researchers to work together and with families to reach common goals.