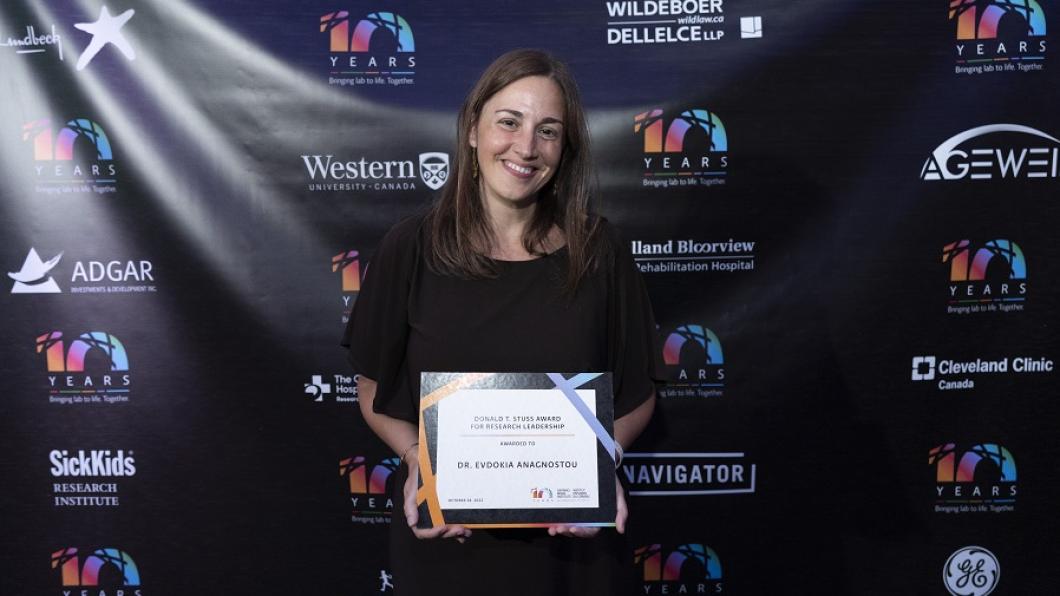 Dr. Evdokia Anagnostou awarded with inaugural Donald T. Stuss Award by the Ontario Brain Institute (OBI)
The OBI is acknowledging the strength and leadership of Dr. Anagnostou's involvement with the organization over the years.  
Dr. Evdokia Anagnostou, assistant director and senior scientist of the BRI, was recognized with the inaugural Donald T. Stuss Award for Research Leadership by the OBI last month at a gala event honouring excellence in brain health.
The OBI recognizes leadership excellence in brain health research, commercialization and care. The award is designated to pay tribute to an innovator who exemplifies OBI's qualities of extraordinary leadership while expanding the understanding of brain function, injury and rehabilitation.
"I am incredibly honoured to receive the inaugural Donald T. Stuss award in research leadership, for our work at the POND network," says Dr. Anagnostou, co-director of the POND Network. "He was a ground-breaking clinician scientist, a visionary leader responsible for the creation of two world-leading institutions, including the Ontario Brain Institute, and the mentor of many leaders in Canada and beyond. It takes a village to do this work and I accept this on behalf of all, and in particular Dr. Jason Lerch who has been my co-lead for many years."
The POND network is a large network of scientists, clinicians, families and youth, industry partners and policy makers, attempting to understand the different conditions that underlie neurodevelopmental disorders, develop tailored, personalized pathways to care and envision a future of meaningful outcomes for all children and youth with neurodevelopmental differences.
Dr. Anagnostou is a highly acclaimed researcher, child neurologist and senior clinician scientist. With being published 200 times, and cited more than 16,000 times in high-profile journals Dr. Anagnostou is an award-winning scientist shaping the future of research in neurodevelopmental conditions and childhood disabilities.
For the past 20 years, Dr. Anagnostou has dedicated her research to challenging and re-examining neurodevelopmental disorders and focusing on underlying biology rather than labels.  The senior scientist, who holds a Canada Research Chair (Tier 11) in Translational Therapeutics in ASD has transformed traditional ways of thinking and redefining individual patterns of disease, leading to more meaningful and healthier futures for all. Her revolutionary research has led to securing more than $120 million dollars in research funding for the Autism Research Centre at Bloorview Research Institute.
"Don taught us the key principles of frontal lobe function as they relate to leadership: one must set the context through the large vision as well as the immediate focus, establish key principles, manage energization, task setting and monitoring, celebrate success and recognize the distance travelled, and truly understand the importance of relationships," says Dr. Kirk Nylen, deputy scientific director at OBI of Dr. Anagnostou's award. "Through her leadership of POND, Evdokia has demonstrated all of these qualities and the network has achieved great success as a result."
Holland Bloorview congratulates Dr. Anagnostou on her extraordinary accomplishments and awards.