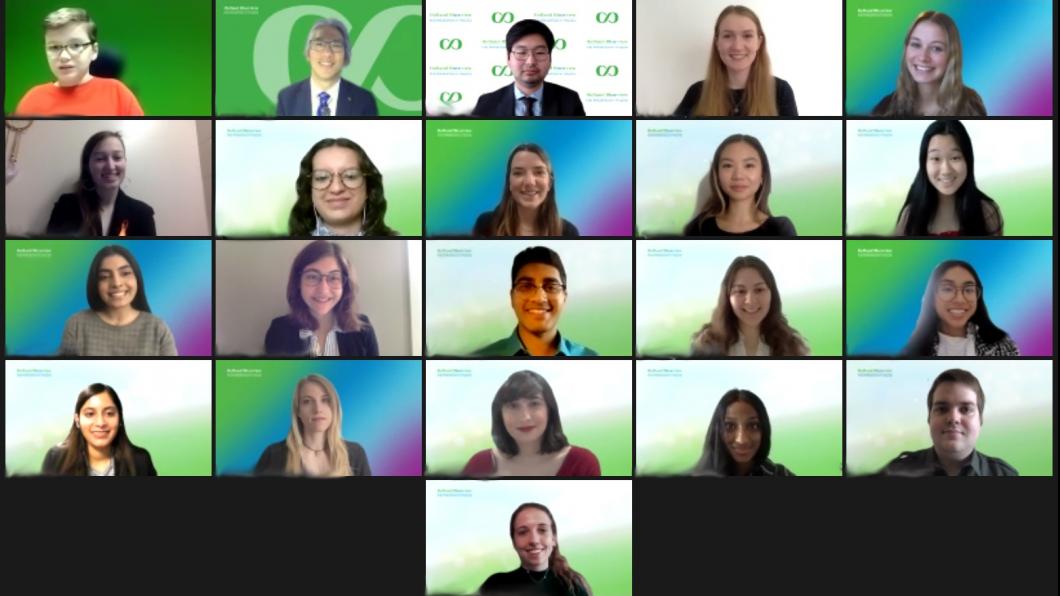 Celebrating Ward Summer Students at Research Day
Undergraduate students across disciplines share their experiences in the Ward Summer Family Student Research Program
Celebrating Ward Summer Students at Research Day
Undergraduate students across disciplines share their experiences in the Ward Summer Family Student Research Program.
The Ward Family Summer Student Research Program held its 15th annual Research Day on July 20th, with the largest cohort to date. Nineteen undergraduate students across disciplines presented their innovative research virtually due to COVID-19 pandemic restrictions. This competitive program attracts thousands of undergraduate students to apply each year from coast to coast. This year, the program received over 3,200 applications – the most to date.
Over the past 12 weeks, the students, whose academic disciplines ranged from biomedical engineering to psychology, worked closely with researchers on topics ranging from brain-controlled interfaces to the impact of technology use on kids with autism.
This year, the Ward Family Summer Student Research Program included a new stream for students of Indigenous descent. In doing so, these students had opportunities to collaborate with scientists and researchers and to gain valuable practical experience in the research field.
Additionally, Zachary Rayment, one of Holland Bloorview's client ambassadors, co-hosted this year's event  with Tom Chau, vice-president of research and director of the Bloorview Research Institute.
Here are just a few highlights of the students and their experiences with the Ward Family Summer Student Research Program:
Ethan Dhanraj, Biomedical and Software Engineering, McMaster University, PRISM Lab, Dr. Tom Chau 
My research at Holland Bloorview's Bloorview Research Institute has been both enjoyable and educational. The project to which I have contributed has been exciting and complements my undergraduate studies very well. I also have really appreciated getting to know other students in the program.
Danielle Nicolardi, Honours Specialization in Health Sciences, Western University, EPIC Lab, Dr. Tim Ross, Best Research Poster Award Winner
Being a part of the Ward Family Summer Student Research Program has been an incredibly empowering experience as a student, especially as an Indigenous student. Having the opportunity to design and carry out my own project has taught me how to conduct research. It means so much to me that through the support and guidance of everyone at Holland Bloorview, I am proud to put my name on this project. I'm also proud that I was able to create a research poster capable of winning an award on Research Day.
Sarah Qureshi, Health Sciences and Public Policy, University of Toronto, EPIC Lab, Dr. Tim Ross
Working in the EPIC Lab this summer has been a wonderful experience and I was able to gain exposure into the world of research. The project I've been working on these past three months has allowed me to gain invaluable skills and perspectives that I will take with me on my future endeavours. Additionally, my time as a research student has further informed my research interests, while giving me the space to learn and grow. I am also immensely grateful for the networking and mentorship opportunities the Ward program has provided.
Sophie Weaver, Honours Specialization in Kinesiology, Western University, EPIC Lab, Dr. Tim Ross, Best Oral Presentation Award Winner
Winning the best presentation award is a huge honour. It makes me feel that my hard work and the importance of my research topic is being recognized. This has given me confidence to help further strengthen my presentation skills and assist me in future presentations! 
Anna Kiriakidis, Community Social Services – Psychotherapy and Mental Health, University of Guelph-Humber, NOvEL Lab, Dr. Shannon Scratch
The Ward program gave me the opportunity to learn about research first-hand, and gain work experience that I don't think I would be able to find any where else as an undergraduate. I was constantly learning and always felt supported and inspired by the many professionals that I had the pleasure of working with. 
Alanna Jane, School of Medicine, Queens University, Autism Research Centre, Dr. Melanie Penner, Best Oral Presentation Award Winner
Being a part of this program is a wonderful opportunity to learn more about the supports and resources available to children with Autism Spectrum Disorder. Working with the ECHO Autism team and meeting a group of highly enthusiastic and caring healthcare professionals has been a real highlight of my summer! I am humbled to have won one of the best presentation awards among such an outstanding and talented cohort of young scientists. Thank you to Dr. Melanie Penner for her mentorship!
Congratulations to all 19 students for their amazing contributions advancing childhood disability research and making the future brighter for all children and their families!
Special thanks to the Ward Foundation and CIBC for generously supporting the Ward Family Summer Student Research Program.
Missed Research Day? You can watch it here. Learn more about the students' research here.