Community Event
Print the page
Introduction to Family Navigation Hub & Disability Funding Q&A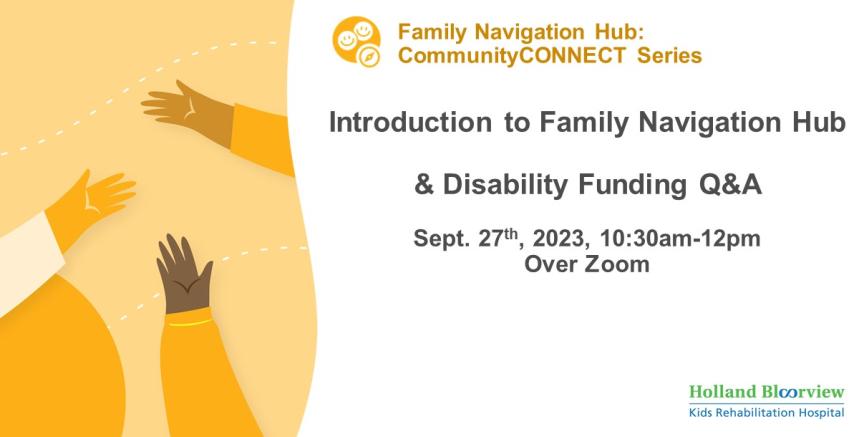 This information session is part of the CommunityCONNECT series hosted by the Family Navigation Hub at Holland Bloorview. This monthly virtual event series shares information and resources with families related to social needs such as stable housing, food security, access to childcare and more.
This session will provide families with information about the Family Navigation Hub and future CommunityCONNECT events to look out for. The session will also feature information about some of the most common funding sources related to pediatric disability. Most of the session will be devoted to an open Q&A about disability funding with Social Worker Jessica Reid.
Please bring your questions!
This session will include information about:
* Provincial government funding programs such as Special Services at Home (SSAH), Assistance for Children with Severe Disabilities (ACSD), Assistive Devices Program (ADP) and Ontario Autism Program (OAP)
* Community-based funding options such as Easter Seals fundingand supports, Holland Bloorview's Family Support Fund as well as private charities providing funding to children with disabilities.
* Where you can find support with completing funding forms and learn more about funding options
This event will take place over Zoom. Live automated captions will be provided. If you have any questions, if you require language interpretation or any other accommodations, please reply to this email or contact Stephanie Moynagh at 416-425-6220 ext. 6146 prior to the event.
Deaf or Hard-of-Hearing and want to reach us by phone? Try Relay Service: www.bell.ca/Accessibility_services/Bell_Relay_service. Or if you have a TTY or VCO phone, dial 711 and give the number provided.